DC Comics News has compiled a list of DC Comics titles and collectibles shipping to comic shops for October 26, 2016.
Check back every Friday with the DC Comics News Pull Box to see all the cool new DC Comics titles and collectibles that will be available at your favorite local comic shop! So, what titles or collectibles will you be picking up this Wednesday? You can sound off in the comments section below! Click on Comic shop Locator to find the comic shop nearest to you!
COMICS
ACTION COMICS #966 $2.99
BATGIRL #4 $2.99
BATMAN BEYOND #1 $2.99
BLUE BEETLE #2 $2.99
DEATHSTROKE #5 $2.99
DETECTIVE COMICS #943 $2.99
FLASH #9 $2.99
FROSTBITE #2 (of 6) $3.99
FUTURE QUEST #6 $3.99
HAL JORDAN AND THE GREEN LANTERN CORPS #7 $2.99
HELLBLAZER #3 $2.99
JUSTICE LEAGUE #1 DIRECTORS CUT $5.99
SCOOBY DOO TEAM UP #19 $2.99
SIXPACK & DOGWELDER HARD-TRAVELIN HEROZ #3 (of 6) $3.99
SUICIDE SQUAD #5 $2.99
TEEN TITANS #1 $2.99
TITANS #4 $2.99
VIGILANTE SOUTHLAND #1 (of 6) $3.99
WONDER WOMAN #9 $2.99
WONDER WOMAN 75TH ANNIVERSARY SPECIAL #1 $7.99
DCN Pull Box Triple Spotlight
DEATHSTROKE #5 $2.99
(W) Christopher Priest (A) Joe Bennett, Mark Morales (CA) Aco
"The Professional" part five! After Slade kidnaps Damian and leaves Rose in the care of Batman, the World's Greatest Assassin and the World's Greatest Detective trade partners in a battle of wills!
---
FLASH #9 $2.99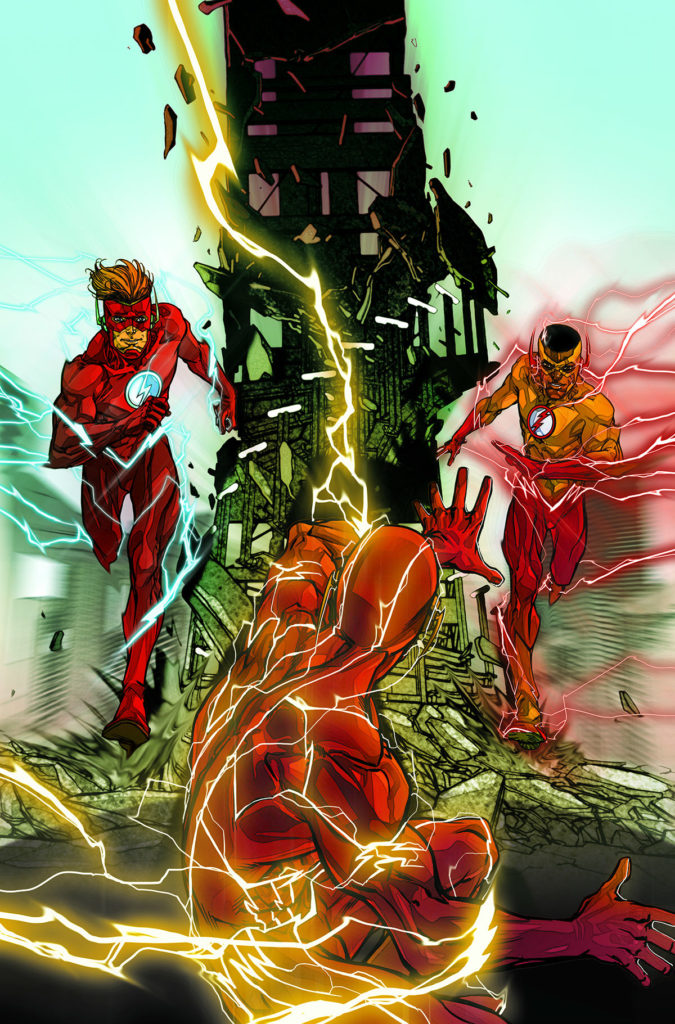 (W) Joshua Williamson (A) Neil Googe (CA) Carmine Di Giandomenico
"KID FLASH OF TWO WORLDS!" In this single-issue tale, Wally West meets Wally West! The original Kid Flash meets his cousin for the very first time in this special issue, which continues The Flashes' investigation into the events that began in DC UNIVERSE: REBIRTH #1.
---
SUICIDE SQUAD #5 $2.99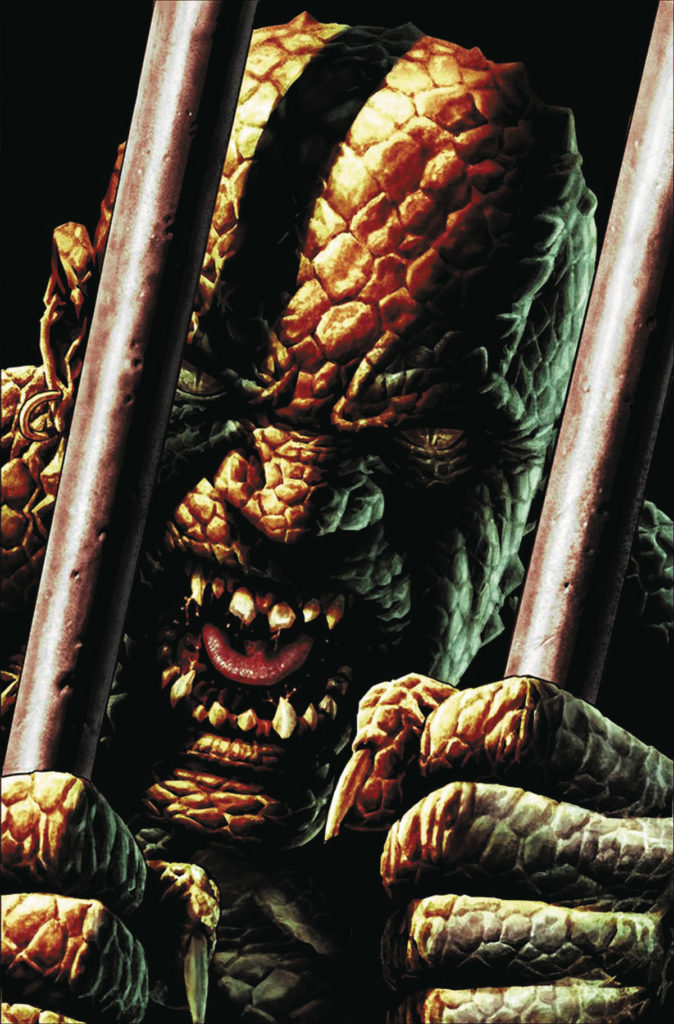 (W) Rob Williams (A) Jim Lee, Scott Williams (CA) Lee Bermejo
"THE BLACK VAULT" part five! Amanda Waller needs Kryptonite, and only Lex Luthor has it! But for the Metropolis mastermind, a deal like this won't be cheap-or easy. It's a war on two fronts as Waller leads a smoldering charm offensive in the Lexcorp penthouse while the Suicide Squad attacks the most heavily guarded subbasement on the entire planet.
And in the back up story she saved the Squad's bacon in the Black Vault, but who is Hack?  Where did she come from?  And why is she such a Harley Quinn fangirl?  Discover the secrets of the Suicide Squad's newest recruit in this crucial tale by series writer Rob Williams and red-hot artist Stephen Byrne (GREEN ARROW).
---
Variant Covers
Note: Variant Prices To Be Determined By Retailer
ACTION COMICS #966 (Gary Frank variant) $2.99
BATGIRL #4 (Francis Manapul variant) $2.99
BATMAN BEYOND #1 (Martin Ansin variant) $2.99
BATMAN BEYOND #1 (Blank variant) $2.99
BLUE BEETLE #2 (Cully Hamner variant) $2.99
DEATHSTROKE #5 (Shane Davis variant) $2.99
DETECTIVE COMICS #943 (Rafael Albuquerque variant) $2.99
FLASH #9 (Dave Johnson variant) $2.99
FUTURE QUEST #6 (Dan Parent variant) $3.99
HAL JORDAN AND THE GREEN LANTERN CORPS #7 (Kevin Nowlan variant) $2.99
HELLBLAZER #3 (John Cassaday variant) $2.99
SUICIDE SQUAD #5 (Lee Bermejo variant) $2.99
TEEN TITANS #1 (Chris Burnham variant) $2.99
TITANS #4 (Mike Choi variant) $2.99
VIGILANTE SOUTHLAND #1 (Mitch Gerads variant) $3.99
WONDER WOMAN #9 (Jenny Frison variant) $2.99
WONDER WOMAN 75TH ANNIVERSARY SPECIAL #1 (Nicola Scott variant) $7.99
WONDER WOMAN 75TH ANNIVERSARY SPECIAL #1 (Liam Sharp variant) $7.99
GRAPHIC NOVELS
FLASH BY GEOFF JOHNS TP BOOK 03 $24.99
GET JIRO BLOOD AND SUSHI TP $14.99
GOODNIGHT BATCAVE HC $14.99
NEIL GAIMANS MIDNIGHT DAYS TP $16.99
NIGHTWING TP VOL 05 THE HUNT FOR ORACLE $24.99
SUPERMAN THE FINAL DAYS OF SUPERMAN HC $29.99
SUPERMAN THE MAN OF STEEL TP VOL 09 $19.99
BOOKS/MAGAZINES
DC COMICS ENCYCLOPEDIA HC UPDATED ED $40.00
DC SUPER HEROES BIG BOOK OF GIRL POWER HC $16.99
DC SUPER HEROES BIG BOOK OF SUPERPOWERS HC $16.99
DC SUPER HEROES ON THE GO BOARD BOOK $9.99
MERCHANDISE/COLLECTIBLES
DC COMICS 1000PC PUZZLE ASST W/ DISPLAY $15.99
DC COMICS BATMAN 2 SIDED 600 PIECE DIECUT JIGSAW PUZZLE $19.99
DC WATCH COLLECTION #5 BATMAN CLASSIC TV SERIES $34.95
SUICIDE SQUAD 1000 PIECE JIGSAW PUZZLE $15.99
V FOR VENDETTA LOGO SNAP KEYCHAIN $8.95
V FOR VENDETTA MASK CERAMIC MUG $12.95
V FOR VENDETTA V SNAP KEYCHAIN $8.95
WOMEN OF DC COMICS LASER CUT FIG KEYRING 24PC BMB DS $5.99
ACTION FIGURES/STATUES
BATMAN BLACK & WHITE STATUE JOKER BY FRANK MILLER $80.00
DC COMICS BOMBSHELLS KILLER FROST STATUE $125.00
DC COMICS SUPER HEROES GREEN LANTERN HAL JORDAN BUST $50.00
DC COMICS SUPER PETS JOKER FISH PLUSH $15.00
DC COMICS SUPER PETS OSITO PLUSH $15.00
GOTHAM SELECT AF SERIES 3 ASST $24.99
CLOTHING
BATMAN CHOKEOUT BY ROSS T/S MED $19.95
BIG BANG THEORY HOWARD WOLOWITZ 6IN AF $24.95
BOOSTER GOLD PX ASH HEATHER T/S LG $17.99
BOOSTER GOLD PX ASH HEATHER T/S MED $17.99
BOOSTER GOLD PX ASH HEATHER T/S SM $17.99
BOOSTER GOLD PX ASH HEATHER T/S XL $17.99
BOOSTER GOLD PX ASH HEATHER T/S XXL $20.99
HARLEY QUINN BOOM BY CONNER T/S XXL $22.95
NEW TEEN TITANS PX PUTTY T/S LG $17.99
NEW TEEN TITANS PX PUTTY T/S MED $17.99
NEW TEEN TITANS PX PUTTY T/S SM $17.99
NEW TEEN TITANS PX PUTTY T/S XL $17.99
NEW TEEN TITANS PX PUTTY T/S XXL
STARMAN PX RED T/S LG $17.99
STARMAN PX RED T/S MED $17.99
STARMAN PX RED T/S SM $17.99
STARMAN PX RED T/S XL $17.99
STARMAN PX RED T/S XXL $20.99
Please comment below and don't forget to like, share and follow us on:
Facebook: https://www.facebook.com/dccomicsnews
Twitter: @DCComicsNews
Pinterest: http://www.pinterest.com/dccomicsnews/
Tumblr: http://dccomicsnews.tumblr.com
Instagram: @dccomicsnews