[Editor's note: Thank you for your patience waiting for this review while we updated our website host. This review may contain spoilers.]
Writers: Raúl Fernández, James T Tynion IV
Artist: Alvaro Martinez
Summary
In the wake of the "Night of the Monster Men," Gotham is reeling back to its cynical and psychotic self. The opening frame of this issue and story starts with a big statement. Wayne Enterprises has been broken into and someone has made a large statement. "No More Batman" has been sprayed in deep red, covering the Wayne Enterprises logo. Film footage from the night before reveals a new super villain group that has enough power to terrify Lucius Fox.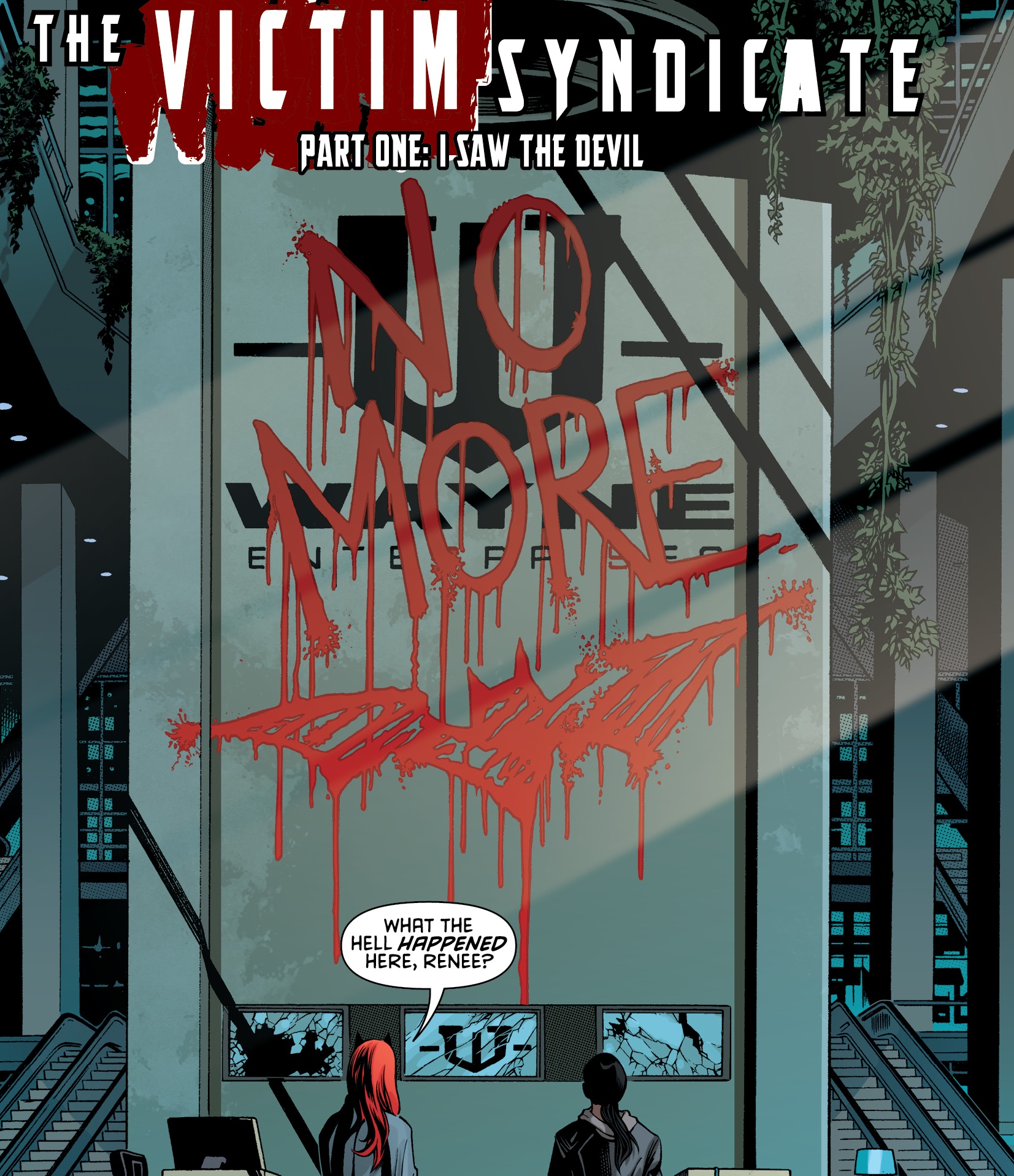 The Bat-Family has been separated, shattered, and in need of some R&R. Batwoman and Batman are at odds, Stephanie is in the wind, and Orphan and Clayface are trying to get back to normal. But Gotham moves on and so do its citizens.
Positives
This issue has some fantastic art; each character stands out. Fans of classical dress and Victorian wear will absolutely love Kate Kane in this issue. Some old characters are reintroduced while others are reinvented. In this issue, we see further development that I never expected. Clayface keeps getting more interesting as he develops as a character. The theme of Gotham triumphing carries on in this issue from the New 52 era of Detective Comics and Batman. Another new and emerging occurrence in Detective Comics that is continuing is the focus on female characters that are truly interesting and I am enjoying that so much.
Negatives
The introduction of a new villain so soon is unnecessary. The gravity of everything that has happened in Detective Comics thus far and the aftermath of the Monster Men has left a serious need for rest. The structure of the issue could have been rearranged to reveal the villains later to give a sensation of calm and reflection before a new fight begins.
Verdict
I enjoyed this issue. Seeing the new Bat-Family develop further and support each other is interesting. Watching the aftermath of everything take its toll on Batman is interesting as well when being contrasted and commented on by Kate Kane, a woman who has also suffered great loss in her life.