[Editor's note: Thank you for your patience waiting for this review while we updated our website host. This review may contain spoilers.]
Writer: Gary Phillips
Artist: Elena Casagrande
Colorist: Giulia Brusco
Summary
The Vigilante is a character who has had a number of incarnations over the past 75 years since his first appearance in Action Comics #42. That original version was Greg Sanders (later Saunders), a western themed trick shooting and roping hero who patrolled the streets of New York City. The most well-known version is probably Adrian Chase, the District Attorney by day and vigilante by night who first appeared in during the Marv Wolfman/ George Perez era of The New Teen Titans. Vigilante: Southland, however features a completely new character and with it a comic that feels quite different from anything else out there.
Donny is a janitor at Del Pueblo in South Los Angeles. Much to the chagrin of his girlfriend, Dorrie, he's more interested in playing pick-up basketball and smoking pot than anything else. He played pro ball overseas but eventually washed out and hasn't been able make himself productive since. Dorrie, on the other hand, is a social activist trying to drive Donny to do something with his life.
At night, Dorrie dresses in what appears to be the Vigilante garb, breaks into the university looking for something evidence of something in one of the offices. The next morning she is the victim of a hit and run. This tragic event seems to give Donny some purpose as he is quite interested to find out what happened. It's interesting that he thinks it is something more than a hit and run. He goes to what appears to be a mobster for help and we learn that Donny has a past he's left, but this incident has him turning back toward it for answers. As the mystery unfolds, it's clear that Donny is right, Dorrie was up to something and the people she was about to uncover are coming after Donny. Oh, and Dorrie's mother seems to be mixed up in it too.
Positives
Lots of diversity here. I don't think I can recall a comic set in South L.A. Nor can I recall a lead character that smoked pot in a mainstream comic. There's a decent mystery at the heart of this story as well. The art and color go a long way in setting the tone for the series. There is a solid street level feel and the hatching and color palate help evoke this. Casagrande and Brusco do a wonderful job in setting the tone with the art.  Lastly, Donny's hidden past should prove to be an interesting sub plot to the main story.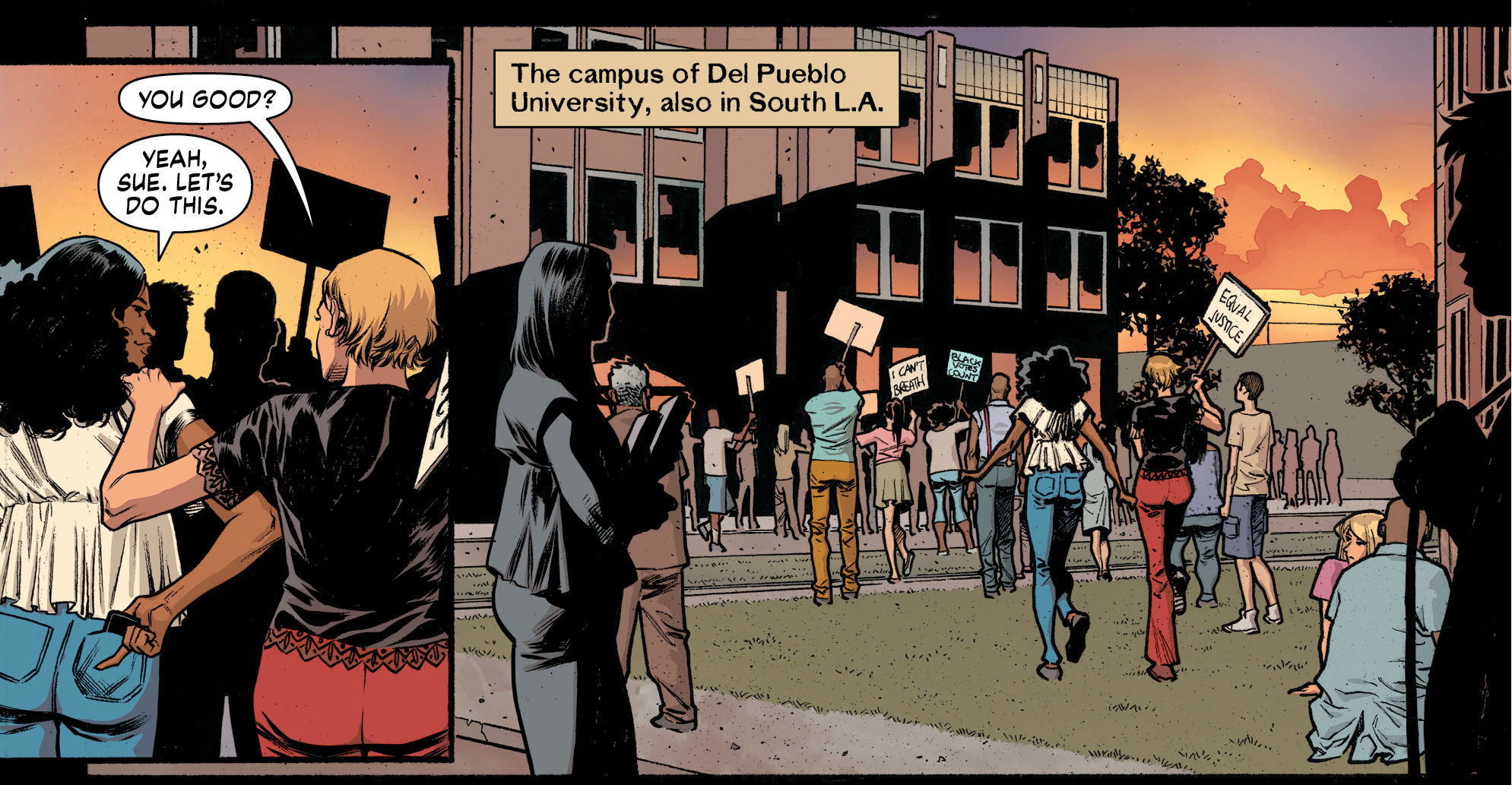 Negatives
The story is a bit telegraphed. It's pretty easy to see that Donny is going to don the Vigilante gear to get justice for Dorrie. Donny comes off as a stereotypical slacker/pothead. He's got a past that also seems to lean towards the stereotypical as well, but I'll reserve judgment until it plays out. The biggest drawback to the issue was that the most likable character with the most potential, Dorrie, got killed before the halfway point in the issue. Unfortunately, Dorrie is a bit stereotypical too. Why is this smart, socially conscious woman involved with a loser like Donny?
Verdict
This was unremarkable, but not unreadable. In trying to play the diversity card, the execution leans too far into the stereotypical. The only really likable character is dead. It's an uphill battle for the creative team to get some empathy for Donny going. Weak start to this mini-series.