[Editor's note: This review may contain spoilers.]
Writer: Rob Williams
Artists: Jim Lee and Carlos D'Anda
Inkers: Scott Williams, Sandra Hope, Matt Banning, Jim Lee and Gabe Eltaeb
Summary
In the main story, something bad is on the loose in Belle Reve. Everyone has gone totally insane and is lusting for blood. When we last saw Flag, his bullet was in the air flying at Waller's head. Turns out, Katana is really, really fast. It also turns out, Waller will mess you up. Do not cross her.
In the back story, named "Crocodile Tears," we see a young and skinny Waylon Jones and learn the origin of his name. It is not good. Hence, the tears.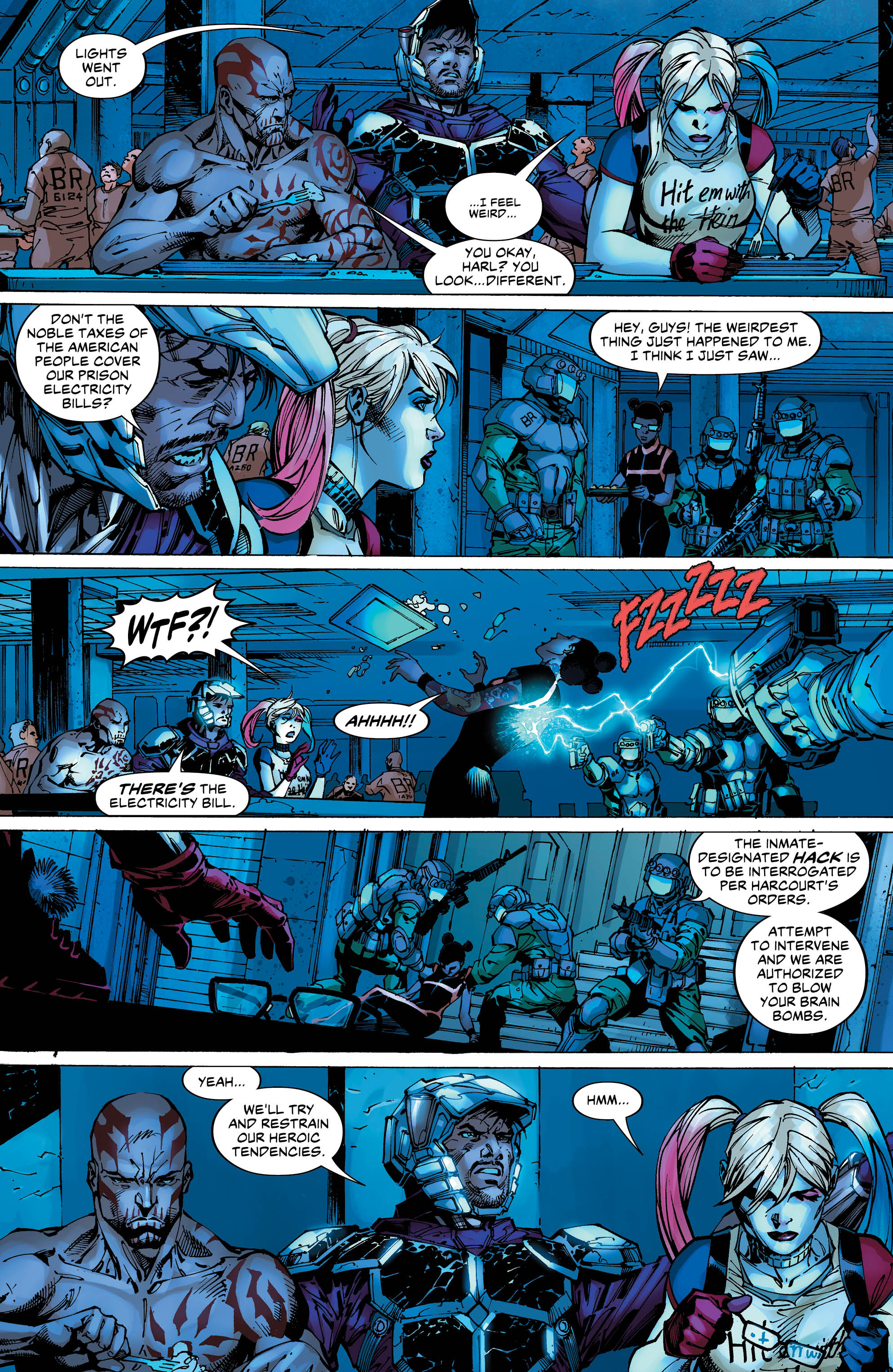 Positives
Blood and chaos. Rob Williams has given the master, Jim Lee, a blank check. Essentially, Lee gets 13 pages of madness. Belle Reve has fallen into darkness and some rage virus seems to be spreading. The worst killers in the world are all there. Because they are having lunch, they are all in the same room. The world's best swordswoman is also there. She is so awesome that she can stop bullets and Kryptonians. She has been affected by this madness too. That is not good for anyone except for the readers. Why? JIM LEE everyone! Here. Look.
Look at that. The one guy in the bottom left of the panel. His face looking right at us. Well, not looking exactly, but dying a miserable death at us. How do we know it is miserable? Look at him. Do you want to switch places with him? No? I didn't think so.
Also, go back and take a look at the cover. Deadshot's teeth are bullets. Come on. That is just showing off. As promised, each week I will quote some member of Task Force X because Rob Williams is a genius with dialogue and you should get to get a taste of it.
This week, the director herself is in the spotlight.
"Who else wants a piece? Harcourt? Katana? Wanna find out who the biggest monster in Belle Reve really is?"
She says this after breaking Flag's nose with her forehead, which is covered in blood. So, so good.
Don't believe me? Take a look.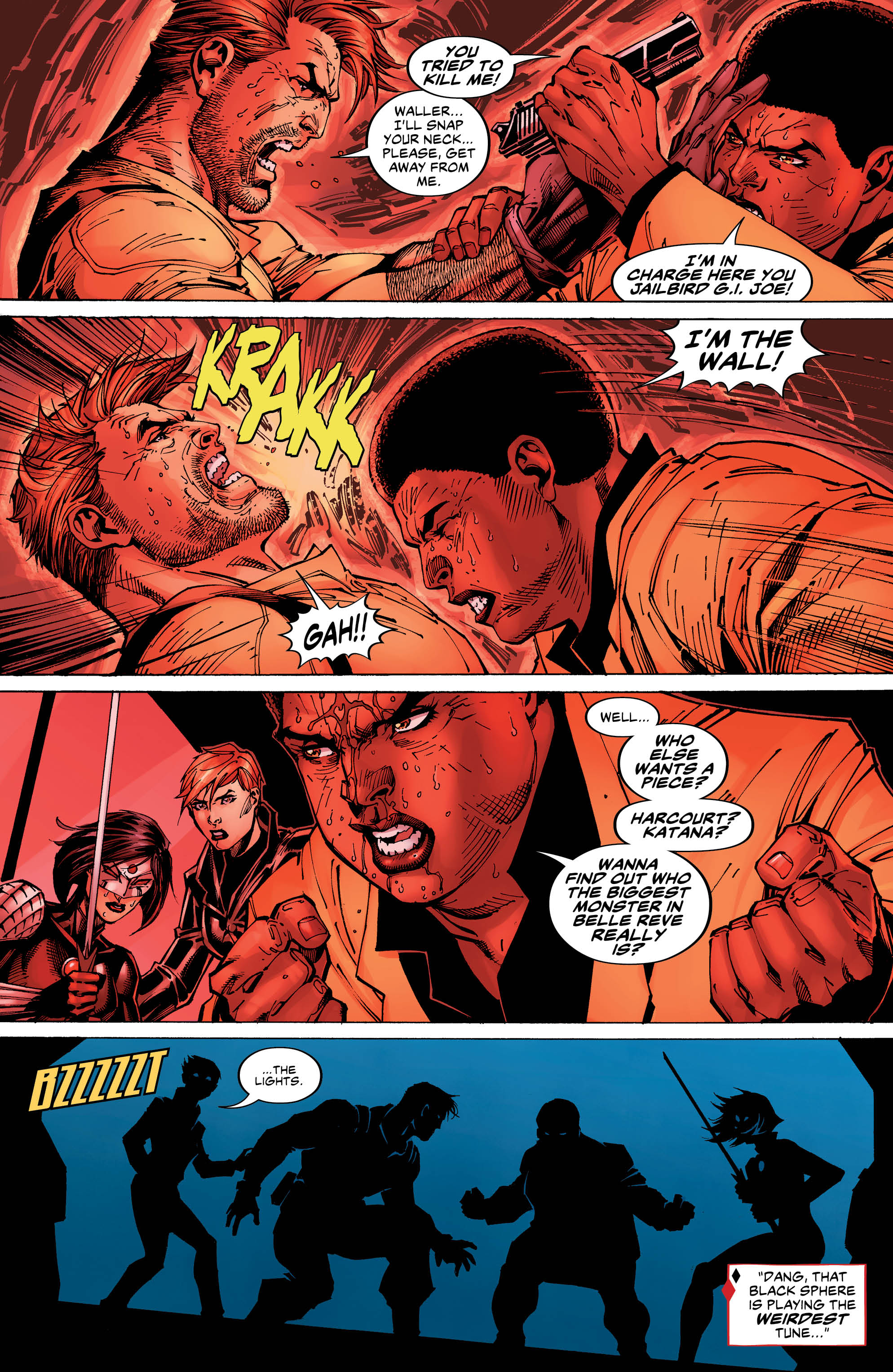 In the origin story in the back of the book, artist Carlos D'Anda takes a swing at Killer Croc. He is spectacular. I have never considered what Waylon must have looked like as a kid. Now, I can never unsee it. Mr. D'Anda, take a bow sir. That last page is the stuff of nightmares. Of all the back stories, this might be my favorite. Williams hints that Croc is not a monster. He hates being called Killer Croc and now we know why. In the pre-Rebirth era, Roy Harper and Jones hug it out. It seems that his monster with a heart of gold has lived through the temporal rearranging done by Dr. Manhattan. I am glad to see it.
Negatives
Once again, I have nothing to report here.
Verdict
Hack is such an interesting character and now we know how important she is as Boomerang is inside her code. I am not sure how all of that will play out, but I know I would not want that lunatic living inside my brain. The next issue is called "Harley Quinn vs the Suicide Squad." Really, it is not Harley Quinn but Dr. Quinzel. It is going to be so good. Thankfully, I only have to wait two weeks.