DC Comics News has compiled a list of DC Comics titles and collectibles shipping to comic shops for December 28, 2016.
Check back every Friday with the DC Comics News Pull Box to see all the cool new DC Comics titles and collectibles that will be available at your favorite local comic shop! So, what titles or collectibles will you be picking up this Wednesday? You can sound off in the comments section below! Click on Comic shop Locator to find the comic shop nearest to you!
COMICS
ACTION COMICS #970 $2.99
ALL STAR BATMAN #5 $4.99
BATGIRL #6 $2.99
BATMAN BEYOND #3 $2.99
BLUE BEETLE #4 $2.99
CLEAN ROOM #15 $3.99
DARK KNIGHT III MASTER RACE #7 (OF 8) $5.99
DEATHSTROKE #9 $2.99
DETECTIVE COMICS #947 $2.99
FLASH #13 $2.99
FROSTBITE #4 (OF 6) $3.99
FUTURE QUEST #8 $3.99
HAL JORDAN AND THE GREEN LANTERN CORPS #11 $2.99
HARLEYS LITTLE BLACK BOOK #5 $4.99
HELLBLAZER #5 $2.99
JUSTICE LEAGUE SUICIDE SQUAD #2 (OF 6) $3.99
MOTHER PANIC #2 $3.99
SCOOBY DOO TEAM UP #21 $2.99
SIXPACK & DOGWELDER HARD-TRAVELIN HEROZ #5 (OF 6) $3.99
SUPER POWERS #2 (OF 6) $2.99
SUPERGIRL BEING SUPER #1 (OF 4) $5.99
TEEN TITANS #3 $2.99
TITANS #6 $2.99
VIGILANTE SOUTHLAND #3 (OF 6) $3.99
WONDER WOMAN #13 $2.99
DCN Pull Box Triple Spotlight
JUSTICE LEAGUE SUICIDE SQUAD #2 (OF 6) $3.99
(W) Joshua Williamson (A) Tony S. Daniel, Mark Morales (CA) Amanda Conner
The first major event storyline of DC's Rebirth era begins with a day Amanda Waller always knew would come: the Justice League discovers the existence of the Suicide Squad! This government-sponsored black-ops team of super-villains with bombs implanted in their brains is obviously a deal-breaker for Earth's paragons of truth and justice! But you can bet the Wall and her Task Force X won't go down without the fight to end all fights as this weekly series gets under way!
---
SANDMAN MYSTERY THEATRE TP BOOK 02 $29.99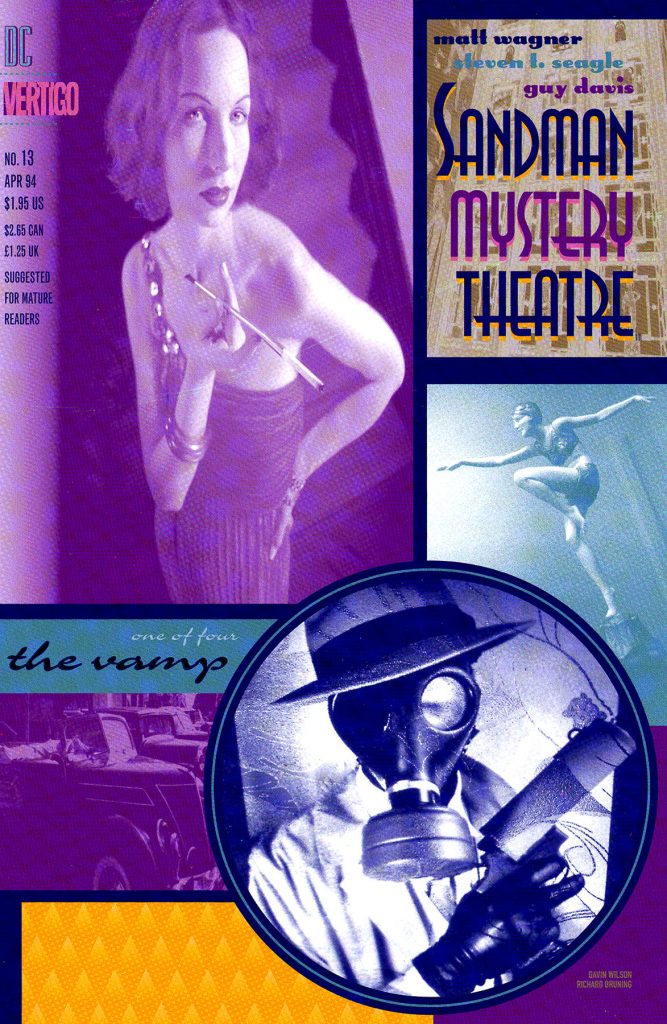 (W) Matt Wagner, Steven T. Seagle (A) Guy Davis, Vince Locke, David Lloyd, John Bolton, Stefano Gaudiano, George Pratt, Alex Ross, Peter Snejbjerg, Dean Ormston (CA) Gavin Wilson
Don't miss these epics from SANDMAN MYSTERY THEATRE #13-24 and ANNUAL #1! In "The Vamp," Wesley Dodds dreams of grisly murders as young socialites are found drained of blood. Then, in "The Scorpion," a whip-wielding madman has targeted the Sandman. And in "Dr. Death," the elderly in Manhattan are dying under mysterious circumstances, and it's up to the Sandman to stop the murderer!
---
SCOOBY DOO TEAM UP #21 $2.99
(W) Sholly Fisch (A/CA) Dario Brizuela
It's hard enough for Scooby and the gang to crack the mystery of a Dickensian Yuletide ghost…but it's harder with "help" from Mystery, Inc.'s newest member: Harley Quinn!  Harley's decided to try a new career as a ghost-busting detective-and when she swings that giant mallet, nobody's going to tell her "no." But the gang doesn't suspect the real reason for Harley's relocation: She's on the run after a "lover's spat" with The Joker-and Mistah J wants her back!
---
Variant Covers
Note: Variant Prices To Be Determined By Retailer
ACTION COMICS #970 (Gary Frank variant) $2.99
ALL STAR BATMAN #5 (Jock variant) $4.99
ALL STAR BATMAN #5 (Declan Shalvey variant) $4.99
BATGIRL #6 (Francis Manapul variant) $2.99
BATMAN BEYOND #3 (Martin Ansin variant) $2.99
BLUE BEETLE #4 (Cully Hamner variant) $2.99
DARK KNIGHT III MASTER RACE #7 (OF 8) (Chris Burnham variant)$5.99
DARK KNIGHT III MASTER RACE #7 (OF 8) (Howard Chaykin variant)$5.99
DARK KNIGHT III MASTER RACE #7 (OF 8) (Klaus Janson variant)$5.99
DARK KNIGHT III MASTER RACE #7 (OF 8) (Jim Lee variant)$5.99
DARK KNIGHT III MASTER RACE #7 (OF 8) (Frank Miller variant)$5.99
DEATHSTROKE #9 (Shane Davis variant) $2.99
DETECTIVE COMICS #947 (Raphael Albuquerque variant) $2.99
FLASH #13 (Dave Johnson variant) $2.99
FUTURE QUEST #8 (Dave Johnson variant) $3.99
HAL JORDAN AND THE GREEN LANTERN CORPS #11 (Kevin Nowlan variant) $2.99
HELLBLAZER #5 (Yasmin Putri variant) $2.99
JUSTICE LEAGUE SUICIDE SQUAD #2 (OF 6) (Amanda Conner variant) $3.99
JUSTICE LEAGUE SUICIDE SQUAD #2 (OF 6) (Terry Dodson variant) $3.99
MOTHER PANIC #2 (Paul Rentler variant) $3.99
TEEN TITANS #3 (Chris Burnham variant) $2.99
TITANS #6 (Mike Choi variant) $2.99
WONDER WOMAN #13 (Jenny Frison variant) $2.99
GRAPHIC NOVEL
52 TP VOL 02 $34.99
BIRDS OF PREY TP VOL 03 $19.99
CLEAN ROOM TP VOL 02 EXILE $14.99
JLA TP VOL 09 $29.99
METAMORPHO TWO WORLDS ONE DESTINY TP $14.99
SANDMAN MYSTERY THEATRE TP BOOK 02 $29.99
SECRET SIX TP VOL 02 THE GAUNTLET $16.99
MERCHANDISE/COLLECTIBLES
DC COMICS MOBILE VAN PLAYSET ASST $PI
DC COMICS VARIANT PAK BATMAN ROGUES GALLERY TWO FACE $199.99
DC HARLEY QUINN METAL BOTTLE OPENER $14.99
DC WATCH COLLECTION #6 BATMAN 1989 MOVIE $34.95
SUICIDE SQUAD JOKER BUST BANK $17.99
SUICIDE SQUAD JOKER LAPEL PIN $9.95
SUICIDE SQUAD LAPEL PIN SET 1 $14.95
SUICIDE SQUAD LAPEL PIN SET 2 $14.95
SUICIDE SQUAD LAPEL PIN SET 3 $14.95
ACTION FIGURES/STATUES
DC COMICS SUICIDE SQUAD HARLEY QUINN Q-POP FIGURE $14.95
DC SUPERHERO BEST OF FIG MAG SPECIAL #1 BATMAN BATCYCLE $39.95
FLEISCHER SUPERMAN RESCUE LOIS LANE STATUE $125.00
HELLRAISER HELL ON EARTH PINHEAD 12IN VINYL FIG $49.99
HIKARI DC NOIR HARLEY QUINN LIMITED ED SOFUBI FIG $79.99
MORTAL KOMBAT X RAIDEN 3-3/4IN ACTION FIGURE 9PC CS $16.99
MORTAL KOMBAT X SCORPION 3-3/4IN ACTION FIGURE 9PC CS $16.99
MORTAL KOMBAT X SUB ZERO 3-3/4IN ACTION FIGURE 9PC CS $16.99
POP BTAS BATMAN VINYL FIG $10.99
POP BTAS HARLEY QUINN VINYL FIG $10.99
POP BTAS POISON IVY VINYL FIG $10.99
POP HARRY POTTER BELLATRIX VINYL FIGURE $10.99
POP HARRY POTTER MAD EYE MOODY VINYL FIGURE $10.99
CLOTHING
FLASH TV II SYMBOL T/S LG $19.95
FLASH TV II SYMBOL T/S MED $19.95
FLASH TV II SYMBOL T/S SM $19.95
FLASH TV II SYMBOL T/S XL $19.95
FLASH TV II SYMBOL T/S XXL $22.95
HARLEY QUINN GEM BY TURNER T/S XXL $22.95
KID FLASH REBIRTH SYMBOL T/S LG $19.95
KID FLASH REBIRTH SYMBOL T/S MED $19.95
KID FLASH REBIRTH SYMBOL T/S SM $19.95
KID FLASH REBIRTH SYMBOL T/S XL $19.95
KID FLASH REBIRTH SYMBOL T/S XXL $22.95
WONDER WOMAN 75TH ANNIVERSARY T/S LG $19.95
WONDER WOMAN 75TH ANNIVERSARY T/S MED $19.95
WONDER WOMAN 75TH ANNIVERSARY T/S SM $19.95
WONDER WOMAN 75TH ANNIVERSARY T/S XL $19.95
WONDER WOMAN 75TH ANNIVERSARY T/S XXL $22.95
WONDER WOMAN 75TH ANNIVERSARY WOMENS T/S LG $19.95
WONDER WOMAN 75TH ANNIVERSARY WOMENS T/S MED $19.95
WONDER WOMAN 75TH ANNIVERSARY WOMENS T/S SM $19.95
WONDER WOMAN 75TH ANNIVERSARY WOMENS T/S XL $19.95
Please comment below and don't forget to like, share and follow us on:
Facebook: https://www.facebook.com/dccomicsnews
Twitter: @DCComicsNews
Pinterest: http://www.pinterest.com/dccomicsnews/
Tumblr: http://dccomicsnews.tumblr.com
Instagram: @dccomicsnews