[Editor's note: This review may contain spoilers.]
Writers: Rob Williams and Si Spurrier
Artist: Riley Rossmo
Inker:  Ivan Plascencia
Summary
Several years ago, a plucky government operative came up with an idea to stop a madman from Jangsun who had created a bunch of Metahumans, one of whom was a living bomb, to destroy the rest of the world. The idea was to send American meta-humans to battle these other villainous metas. Sounds like a great job right? Well…This government operative was none other than friend to all, Amanda Waller and the band of metas was none other than Task Force X. Things did not go well.
Positives
I have to come to realize that anything Rob Williams does is going to be really good. In this issue, he gets to make Lobo say words. LOBO! Right. I failed to mention that in the summary, but he is on the cover, so, you already knew. Hey everyone: LOBO!  There is something about Lobo that is unique to the DC Universe. He and Waller on the same team is kind of brilliant. Of course she would go after him. If you had to stop a madman and had unlimited resources, who would you hire?  Right. Lobo.
This early version of the Suicide Squad is creepy, oddly mixed and thinks murder is part of the curriculum. So, you know, the Suicide Squad. The difference here is that while the current configuration has an ounce of humanity, this group has never heard the word and one must assume Lobo doesn't know how to spell it. They are vicious killers. Once they realize what they are doing is actually killing the community, they stop and go home for tea.  Just kidding. They keep killing everyone. It is brutal. Wait, why is it a positive that a bunch of civilians died? Well, we need to be reminded that Task Force X are not heroes no matter what the movies tell us. Killers are killers. They do what they do. It is bad news. Also, in a universe full of heroes with good intentions, bad things still happen. It is important to remember.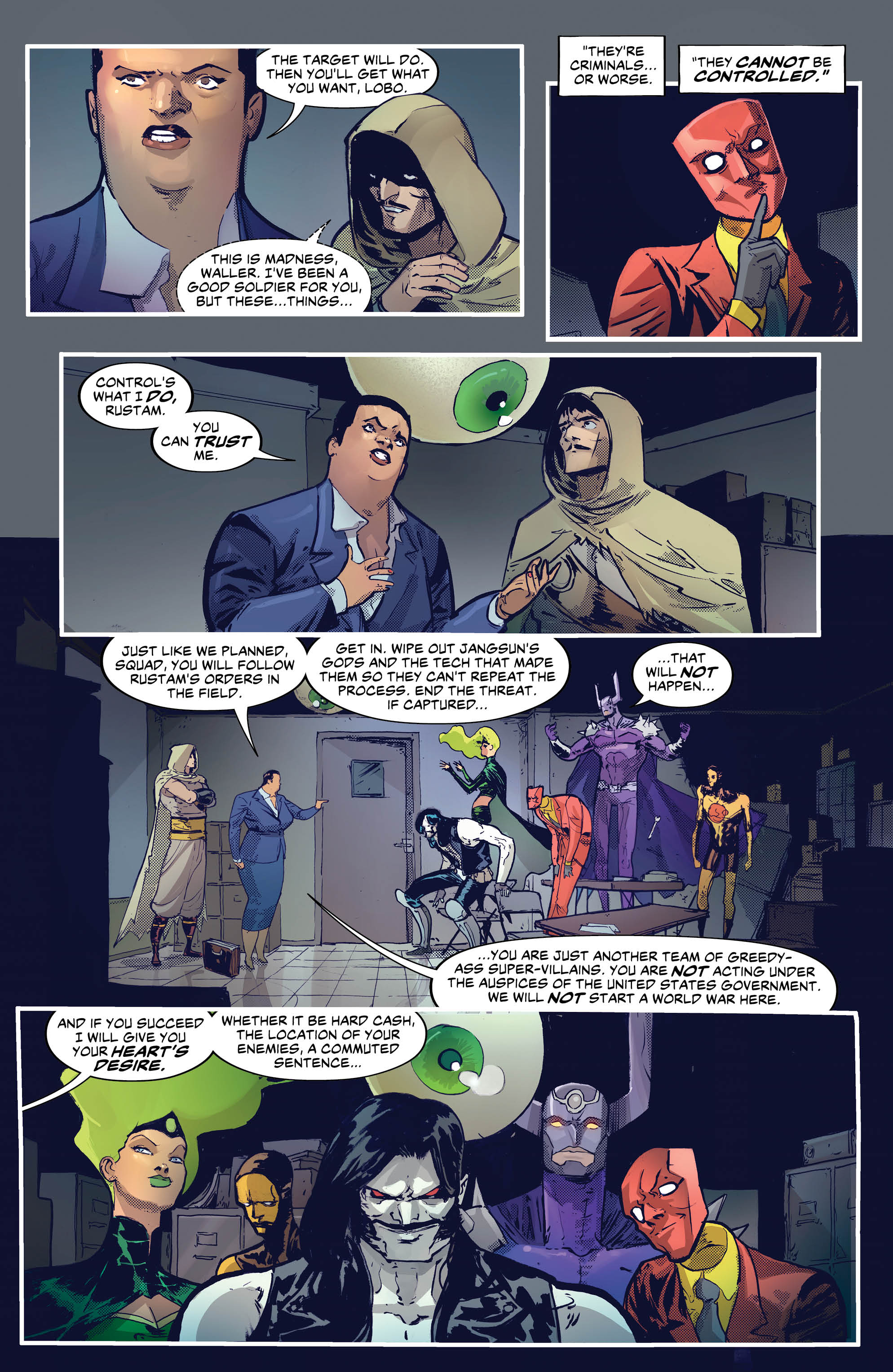 Negatives
It is hard to say that Riley Rossmo is the weak link here because this is high-quality work. However, I am not sure if you knew that Jim Lee was doing this book. Rossmo has some great action sequences and they are done well. The biggest issue is the lack of definition. It is kind of Rossmo's thing and in some cases, it works really well but with this book, more is more. Sure, it is a flashback issue and that might be what he is going for here, but it just seems out of place with what has been happening all along. It is a really weak criticism I know.
Verdict
This story is part of the Justice League vs. Suicide Squad arc, but clearly is not about that, not really. Still, it is clever. It is fun. It has Lobo (that is always good) and it has Waller at her creepy beginnings. All-in-all it is pretty solid.