[Editor's note: This review may contain spoilers.]
Writers: Dave Justus & Lilah Sturges
Penciller: Steve Rolston
Inker: Ande Parks
Coloring: Michael Wiggam
Summary
One of the strengths of the Fables series was the every-so-often issue that would take a different point of view than what the reader was used to and in that issue not only tell a unique and interesting story, but expand the world of Fables at the same time. Everafter: From the Pages of Fables #6 is exactly that kind of issue.
This issue opens in the tent of the Amazing Szymon, a magician. With him is a young girl who is a resident of the camp in which they both live. She is flirting and teasing him for a story. He relents and tells the story of his life. He begins with his fascination with magic that began when he was a boy and first saw a magician at a children's party. He grew up to become a well respected stage magician until he became bored with it once he knew how every trick was performed.
As he declines, his performances become lackluster and he's about to be dropped from his contract. This coincides with the Everaftering and he becomes a fable and can suddenly do magic the likes of which he's never know. And most importantly, he has no idea how he's doing it. Shortly, he's greeted by Feathertop who explains what's happened and offers to show him all about being a fable. Szymon bites. Feathertop soon presents him with a mission to another dimension to retrieve a pop singer who's being held against her will. This includes a magic letter to be opened upon completion of the mission that will get him home.
As one might expect, things don't go as planned for Szymon. He gets the singer home, but the letter doesn't work. He is able to escape on the strength of his own resourcefulness and magic, however. As his story concludes, it turns out the girl he's been entertaining is not quite what she seems. There is no happy ending for Szymon.
Positives
The change of perspective works extremely well. Szymon's story is interesting, funny and exciting. And the whole things shows us more about Feathertop and what he's like. It actually makes us fear a bit for Bo and Peter. How will they fare working for Feathertop? The surprise twist at the end was completely unsuspected and well played. Despite it making perfect sense, I never saw it coming. It also throws a different light on Connor Wolf's shape shifting abilities, Father Tiresias indeed.
Negatives
Very little to criticize. Just that pesky penchant or overuse of the "F" word.  Well done!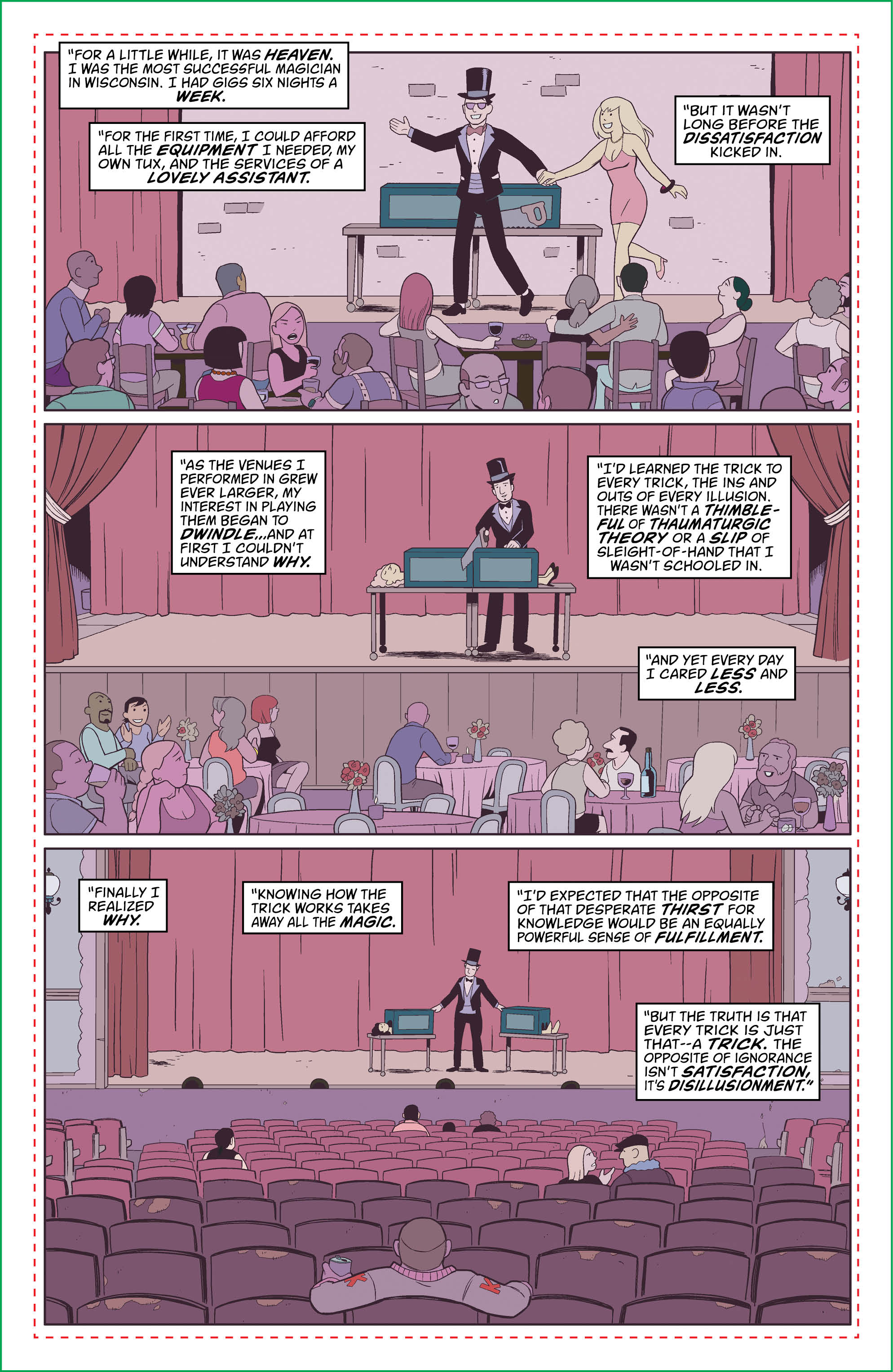 Verdict
Everafter: From the Pages of Fables #6 is a great change of pace issue that adds to the world of the Everaftering while also telling an interesting tale from a different perspective. While a detour from the main story line, it is once again, great comics!