Sideshow Collectibles are now taking pre-orders for their Zatanna Premium Format Figure!
The Zatanna Premium Format Figure will have a cost of $499.99 (which does not include shipping). Sideshow Collectibles have payment plans starting as low as $56.25 a month. You can now click on our Sideshow Collectibles banner (conveniently  located at the top right of your screen under the search bar) & purchase merchandise in a safe and secure way. Simply click the banner, and add to your collection. It's that easy!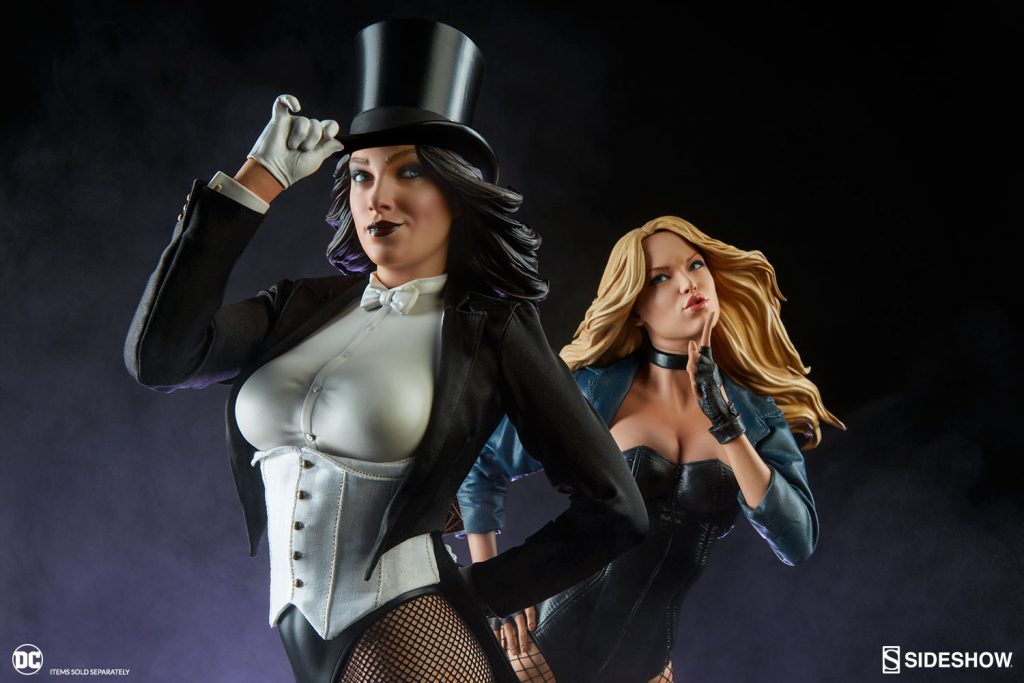 This Premium Format Figure will measure 23″ in height and weigh 15 lbs! Figure comes with a Sideshow exclusive "white rabbit on the base, already pulled out of the hat for display convenience." Combine Zatanna with other Sideshow Collectibles Premium Format Figures, such as Black Canary or Batman to create dynamic displays! This Premium Format Figure is expected to ship April 2018-June 2018.
Description:
Sideshow is proud to present the mystical, magical mistress Zatanna, and she's sure to put a spell on you!
Joining the lineup of some of DC's greatest heroines, Zatanna takes the stage in this quarter scale Premium Format Figure designed to showcase this amazing magician in action. She is the daughter of the famous Zatara, and she speaks backward to perform powerful spells and protect the innocent.
Magicians are masters of misdirection, and with this beautifully sculpted Zatanna statue, you won't know where to look first! She wears a sleek black top hat, tipping it with a white-gloved hand while she gives you a knowing smile.
Zatanna has a few tricks up her sleeves which are a part of the tailored fabric black jacket and white vest that make up her work clothes. She is also wearing her signature fabric fishnets to complete this classic look. Zatanna holds playing cards and her wand behind her as she prepares to dazzle you with the prestige of her trick.
The mistress of magic comes with a detailed, unique portrait to capture her charm, complete with painted makeup and a flowing hairdo sculpted in her effortless, sensational style. Of course, magicians never reveal their secrets, even when it comes to fashion!
Zatanna will need a volunteer for her next illusion- will it be you? Add her to your collection today! It's as easy as saying, "I tnaw Annataz!"
Artists
Stanley "Artgerm" Lau (Design)

Alex Pascenko (Design)

Zac Roane (Design)

Dylan Forman (Design) 

Kris Anka (Design)

Steve Lord (Sculpt)

Alfred Paredes (Sculpt)

Factor 31 (Rapid Prototyping)

Karl Deen Sanders (Mold & Cast)

Chadwick Andersen (Mold & Cast)

Holly Knevelbaard (Paint)

Kat Sapene (Paint)

Esther Skandunas (Costume Fabrication)

Jennifer Johnson (Costume Fabrication)

The Sideshow Design and Development Team
Please comment below and share.
Don't forget to like us or follow us on:
Facebook: https://www.facebook.com/dccomicsnews
Twitter: @DCComicsNews
Pinterest: http://www.pinterest.com/dccomicsnews/
Tumblr: http://dccomicsnews.tumblr.com
Instagram: @dccomicsnews