DC Comics News has compiled a list of DC Comics titles and collectibles shipping to comic shops for June 28, 2017.
Check back every Friday with the DC Comics News Pull Box to see all the cool new DC Comics titles and collectibles that will be available at your favorite local comic shop! So, what titles or collectibles will you be picking up this Wednesday? You can sound off in the comments section below! Click on Comic shop Locator to find the comic shop nearest to you!
COMICS
ACTION COMICS #982 $2.99
ASTRO CITY #45 (RES) $3.99
BATGIRL #12 $3.99
BATMAN 66 MEETS WONDER WOMAN 77 #6 (OF 6) $3.99
BATMAN BEYOND #9 $3.99
BATMAN ELMER FUDD SPECIAL #1 $4.99
BATMAN THE SHADOW #3 (OF 6) $3.99
BLUE BEETLE #10 $3.99
DARK KNIGHT III MASTER RACE #9 (OF 9) COLLECTORS EDITION $12.99
DETECTIVE COMICS #959 $2.99
FLASH #25 $3.99
HAL JORDAN AND THE GREEN LANTERN CORPS #23 $2.99
HELLBLAZER #11 $3.99
JONAH HEX YOSEMITE SAM SPECIAL #1 $4.99
JUSTICE LEAGUE OF AMERICA #9 $2.99
KAMANDI CHALLENGE #6 (OF 12) $3.99
LUCIFER #19 $3.99
MOTHER PANIC #8 $3.99
SCOOBY DOO TEAM UP #27 $2.99
SUICIDE SQUAD #20 $2.99
SUPERGIRL BEING SUPER #4 (OF 4) $5.99
TEEN TITANS #9 $3.99
WONDER WOMAN #25 $3.99
DCN Pull Box Triple Spotlight
FLASH #25 $3.99
(W) Joshua Williamson (A) Carmine Di Giandomenico (A/CA) Howard Porter
"RUNNING SCARED" part one! When Eobard Thawne murdered Barry Allen's mother, he killed a piece of The Flash's past. Now, Reverse-Flash is back to kill Barry's future! The Flash's biggest storyline yet begins as he is pushed to his limits and his secrets are laid bare in a chase through time itself! Don't miss the extra-sized anniversary issue!
---
BATMAN THE SHADOW #3 (OF 6) $3.99
(W) Scott Snyder, Steve Orlando (A/CA) Riley Rossmo
The Joker has entered the fray, and he's been offered unspeakable power in return for helping the Stag kill Batman! It's up to the Shadow to protect Batman from the pair's combined onslaught and the mystical powers of Shamba-La! Co-published with Dynamite!
---
ACTION COMICS #982 $2.99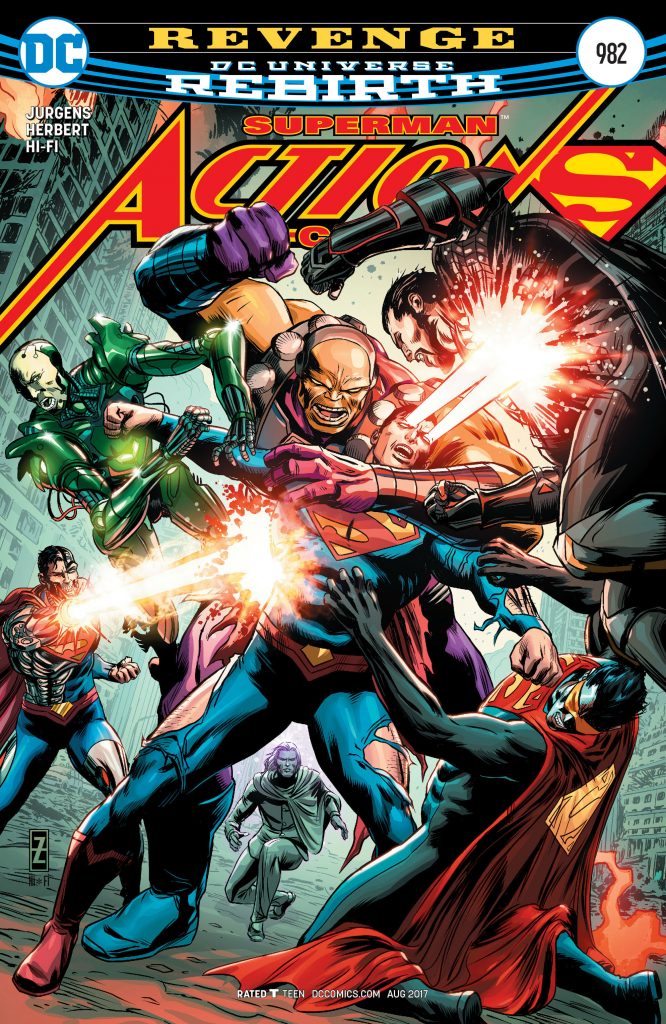 (W) Dan Jurgens (A) Jackson Herbert (CA) Mikel Janin
"REVENGE" part four! General Zod takes command as he leads Cyborg Superman, Eradicator, Mongul, Blanque and Metallo against Superman-but his real motives are yet to be revealed and may have far graver consequences for Superman than anyone imagines.
---
Variant Covers
Note: Variant Prices To Be Determined By Retailer
ACTION COMICS #982 VAR ED $2.99
BATGIRL #12 VAR ED $3.99
BATMAN BEYOND #9 VAR ED $3.99
BATMAN ELMER FUDD SPECIAL #1 VAR ED $4.99
BATMAN THE SHADOW #3 (OF 6) RISSO VAR ED $3.99
BATMAN THE SHADOW #3 (OF 6) SALE VAR ED $3.99
BLUE BEETLE #10 VAR ED $3.99
DETECTIVE COMICS #959 VAR ED $2.99
FLASH #25 VAR ED $3.99
HAL JORDAN AND THE GREEN LANTERN CORPS #23 VAR ED $2.99
HELLBLAZER #11 VAR ED $3.99
JONAH HEX YOSEMITE SAM SPECIAL #1 VAR ED $4.99
JUSTICE LEAGUE OF AMERICA #9 VAR ED $2.99
KAMANDI CHALLENGE #6 (OF 12) VAR ED $3.99
MOTHER PANIC #8 VAR ED $3.99
SUICIDE SQUAD #20 VAR ED $2.99
TEEN TITANS #9 VAR ED $3.99
WONDER WOMAN #25 VAR ED $3.99
GRAPHIC NOVEL
ABSOLUTE Y THE LAST MAN HC VOL 03 $125.00
BATMAN BEYOND TP VOL 01 ESCAPING THE GRAVE (REBIRTH) $16.99
BATMAN BY AZZARELLO & RISSO DELUXE ED HC $39.99
CAVE CARSON HAS A CYBERNETIC EYE TP VOL 01 GOING UNDERGROUND $16.99
DARK KNIGHT III MASTER RACE #9 (OF 9) COLLECTORS EDITION $12.99
DARK NIGHT A TRUE BATMAN STORY TP $16.99
FLASH TP VOL 09 FULL STOP $16.99
SUPERMAN ACTION COMICS REBIRTH DLX COLL HC BOOK 01 $34.99
SUPERMAN ACTION COMICS TP VOL 03 MEN OF STEEL (REBIRTH) $16.99
WONDER WOMAN 100 PROJECT TP $12.99
MERCHAND
ISE/COLLECTIBLES
BATMAN DK TRILOGY TUMBLER W/BANE 1/25 MOD KIT $44.99
BATMAN METAL DIE CAST BAT SIGNAL KIT $39.95
DC CLASSIC WONDER WOMAN COLOR PEWTER KEYRING INNER CS $6.99
DC MOVIE WONDER WOMAN 24IN SHIELD COSTUME PROP $24.99
DC MOVIE WONDER WOMAN 26IN SWORD COSTUME PROP $14.99
HW DC SUPER HERO GIRLS CHARACTER CAR ASST $PI
PEZ DC SUPER HERO GIRLS 12PC BLISTER DIS $1.99
ACTION FIGURES/STATUES
DC BOMBSHELLS AQUAMAN STATUE $125.00
HARRY POTTER ORDER O/T PHOENIX 1/6 ALBUS DUMBLEDORE AF $259.00
SUICIDE SQUAD DEADSHOT S.H.FIGUARTS AF $54.99
WATCHMEN MINIMATES BOX SET $24.99
CLOTHING
BATMAN HEAT T/S LG $19.95
BATMAN HEAT T/S MED $19.95
BATMAN HEAT T/S SM $19.95
BATMAN HEAT T/S XL $19.95
BATMAN HEAT T/S XXL $22.95
Please comment below and don't forget to like, share and follow us on:
Facebook: https://www.facebook.com/dccomicsnews
Twitter: @DCComicsNews
Pinterest: http://www.pinterest.com/dccomicsnews/
Tumblr: http://dccomicsnews.tumblr.com
Instagram: @dccomicsnews