Aquaman, starring Jason Mamoa and Amber Heard, is expected to be released next year in 2018 as part of the DC extended universe. Although its release is still several months away, fans are always excited when images get released from the sets of these movies. Not only do these images provide a glimpse into seeing our favorite comic book characters portrayed in real life, but they can also reveal how production of the film is progressing.
On her Instagram account, Amber Heard revealed an image of her between shooting takes alongside Aquaman himself Jason Mamoa and the film' director James Wan. Here's the image below: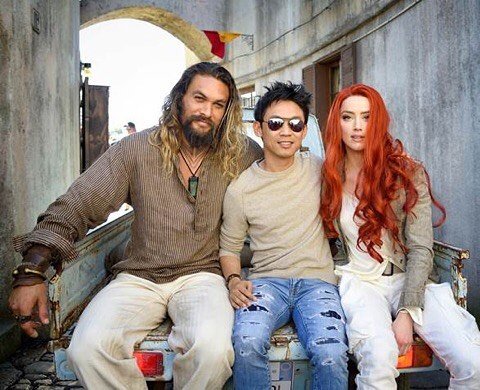 It appears that the actors and their director are getting along really well (which is great to hear). In an era, of troubled production stories and behind-the-scenes drama between artists on various movie sets, it's great to see images like these to give fans confidence in the production.
On another note, YouTube user bigfootkam posted a video of filming from the Aquaman set in which you can see Amber Heard getting ready for a scene at a seaside tavern, presumably the same one that Arthur Curry himself frequents in the Justice League trailer. You can see the video below:
Aquaman is set to release in 2018.