[Editor's note: This review may contain spoilers.]
Writer: Steve Orlando
Artists: Robson Rocha, Daniel Henriques, Michael Atiyeh, & Stanley "Artgerm" Lau
Summary
The ultimate and final showdown between Supergirl and the Emerald Empress is about to take place!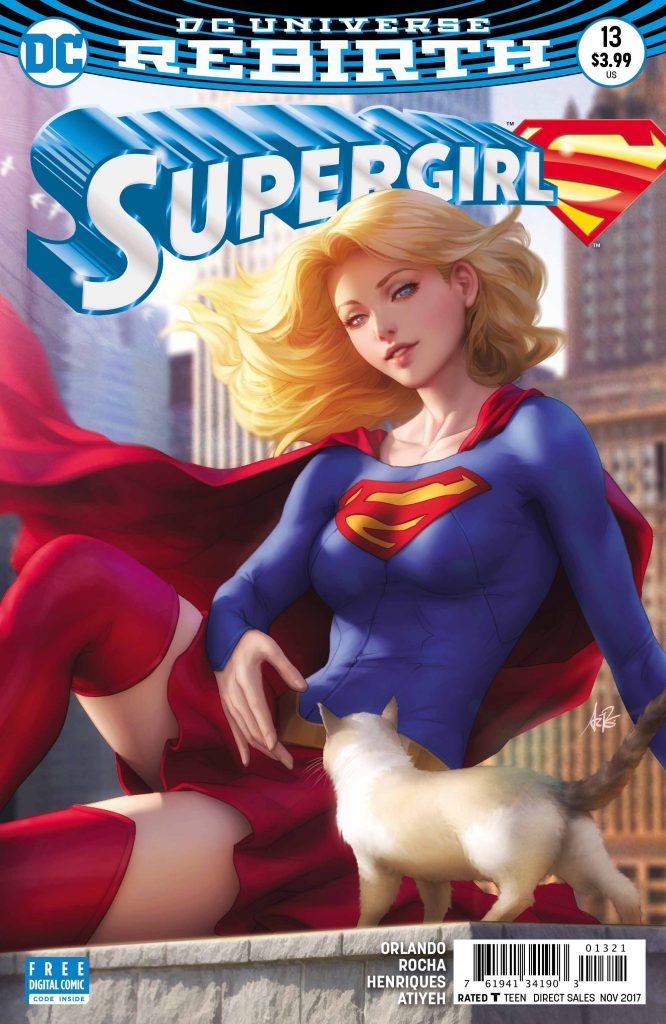 Positives
When I review comic books, I tend to read through the book once a few days before I review it, and then again just before I start writing. By doing it this way, I get a much better picture of the book, and my feelings toward it. When I first read through this issue of Supergirl, I really enjoyed it, but there were a few things that bothered me, such as how the people of National City can turn on Supergirl so quickly. After reading though it a second time, I realized that some of those things that first bothered me, didn't as much anymore as I understood why things happened the way they did, and what Orlando was trying to convey.
This issue was a great conclusion to the story arc, and Orlando's best work on Supergirl thus far. The action pages and scenes were great, with Supergirl figuring out how to defeat Emerald Empress, and essentially save the day, but it came at a cost, and it's that cost that makes the issue so great. Action scenes and villains are common place in comics, but it's how heroes deal with these villains and the ramifications of their battles that defines them.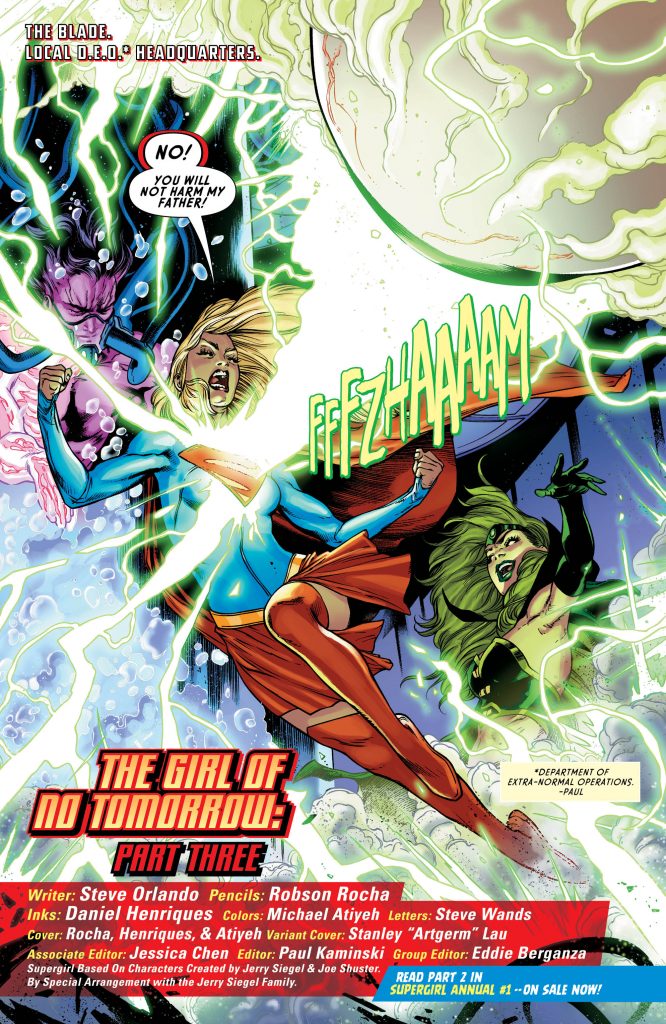 As I mentioned earlier, the people of National City turned on Supergirl after watching her (via Catco News App) talk to her father Zor-El, aka, Cyborg Superman, while he was in stasis. I couldn't understand at first why they turned on her so quickly, but then I realized its not much different then our news coverage today. We believe, for the most part, what we see on the news. We also know that there are two sides to every story, and in today's news, despite all talk of being transparent, we usually only get one side, and depending where you get your news from, it will usually dictate what side that is. National City works the same way. Yes, Supergirl kept her father alive, but the people only saw one side to it, and before Supergirl could get a chance to explain, the people turn on her.
Now, even though that may not be a very original idea, I absolutely loved what came out of it. Despite the entire city being against her, Supergirl still loves them and wants to protect them. Orlando finally gives us a Supergirl that is about compassion and love, rather then hurt and solitude. It was great!
Supergirl's status with National City wasn't the only thing that changed. The attack of the Fatal Five changed the face of the DEO, which makes it for very dynamic and entertaining storytelling.
The art in this issue was great as well. Beautiful facial expressions, colors, and gorgeous lines just made this already incredible story that much better.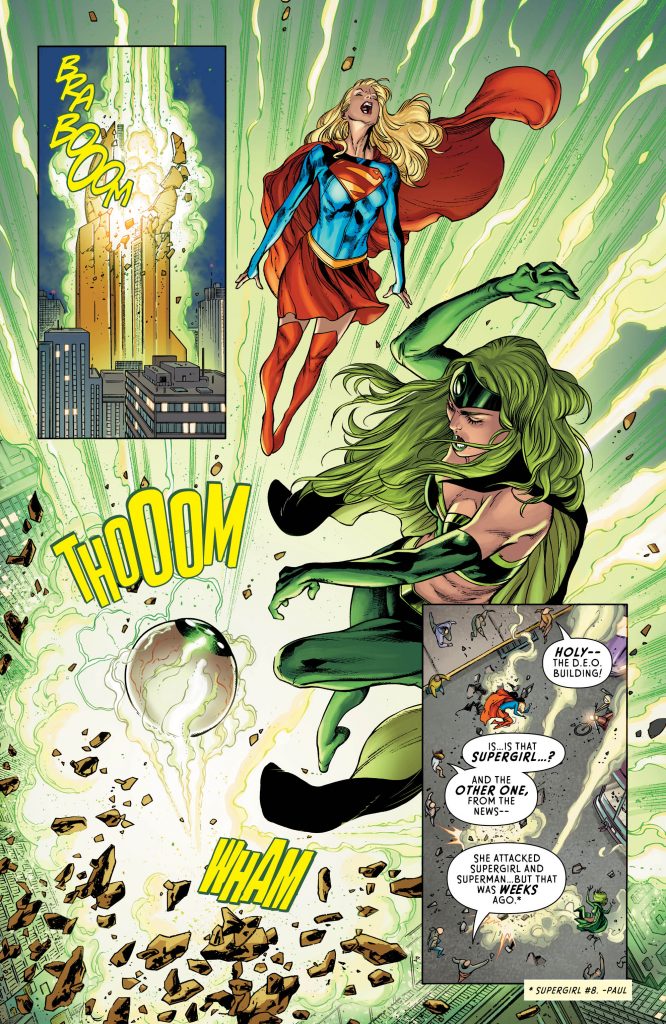 Negatives
No real negatives to mention.
Verdict
The best Supergirl issue since the launch of Rebirth. We finally get a Supergirl that's mature and stands for what Supergirl should stand for. Superman can stand for Truth, Justice and the American Way, but what makes Kara Zor-El unique is that she loves everyone, and like she said in this issue, "Compassion means not picking and choosing who you care about, even if you fear them." If you're going to only pick up one Supergirl Rebith issue, makes sure it's this one.