[Editor's note: This review may contain spoilers.]
Writer: Benjamin Percy
Artist: Otto Schmidt
Summary
The explosion at the end of the previous issue left Hal Jordan unconscious, so Green Arrow has to take down the Ninth Circle's satellite on his own while Black Canary and Red Arrow attempt to save Wendy from the Auctioneer.
Positives
The cover by Otto Schmidt is great. It's very cool to see Oliver and Dinah in a group shot with the other members of the League again. The two have been separate from the League for such a long time so we don't get to see covers like this a lot. All of the characters look great and I like the green background.
The interior art by Schmidt is great as well. Like with the cover, I like seeing Schmidt's take on the League. I have loved his work on Ollie, Dinah and Emi, so it's cool to see him draw some of DC's other heroes, especially in one place.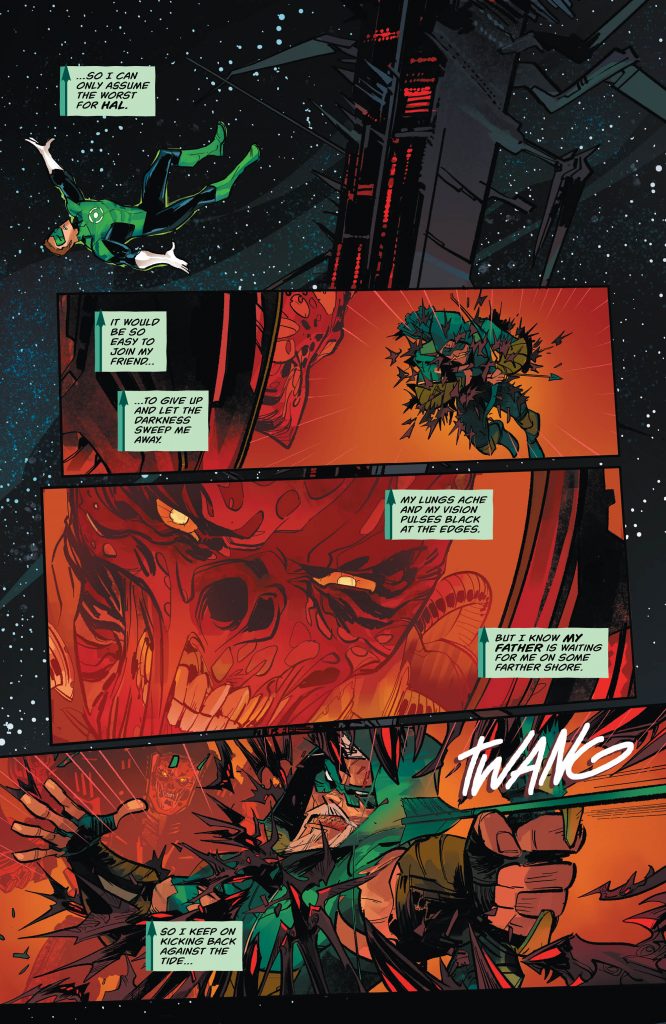 This story has been about Ollie teaming up in order to get the job done. And I do love that, but it's cool that he's left on his own for much of this issue. He can't rely on Hal or Dinah to save him. He's got to get the job using his own resources; it makes the issue a lot more tense and gives Green Arrow a lot of cool moments.
Negatives
There are no negatives worth mentioning in this issue.
Verdict
This is a solid issue. The art is great and it's cool to see Ollie side by side with the League. The issue does a lot to prove that Ollie is a worthwhile hero in his own right, but being part of a team is often necessary. It's a fun read and I recommend it.