[Editor's Note: This review may contain spoilers]
Writer: Greg Pak
Artists: Shane Davis, Michelle Delecki, Hi-Fi
Summary
In the 10th issue of The Kamandi Challenge, Kamandi escapes from his imprisonment at the steely hands of the robots with the help of some badass biker sharks called the School Frenzy of the Water-Spouts, a faction warring against the robot legion. Along with some warriors from a jungle death cult, Kamandi is given the task of assassinating the robots' Commander at their control tower in the middle of the jungle, where Kamandi believes his mother might be imprisoned. One explosive turn after another, Kamandi stumbles closer to the truth.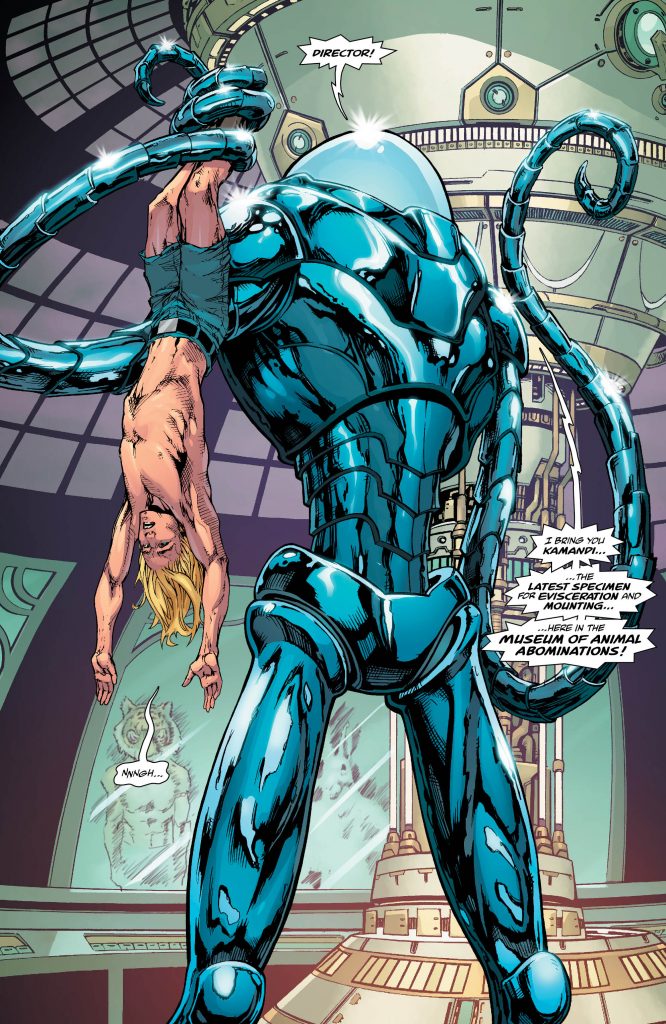 Positives
Last month's issue saw Kamandi pitted against an unstoppable sentinel, trapped inside a prison cell for weeks waiting to find out what was on the other side of the cell door, where the robot was dragging the prisoners. This month we discover what the prison facility is and Kamandi makes a break for it, but not before discovering some more clues about his past as well as his mother's potential whereabouts before he leaves.
Answering last month's issue – which changed pace drastically from other issues and created far more questions than answers – this story, being filled with information and a major plot development, is immensely satisfying, and it's wonderful that this story can flow so well from one creative team to another from month to month, especially as the story comes together and the murkier elements of Kamandi's past become clearer as they do in this issue.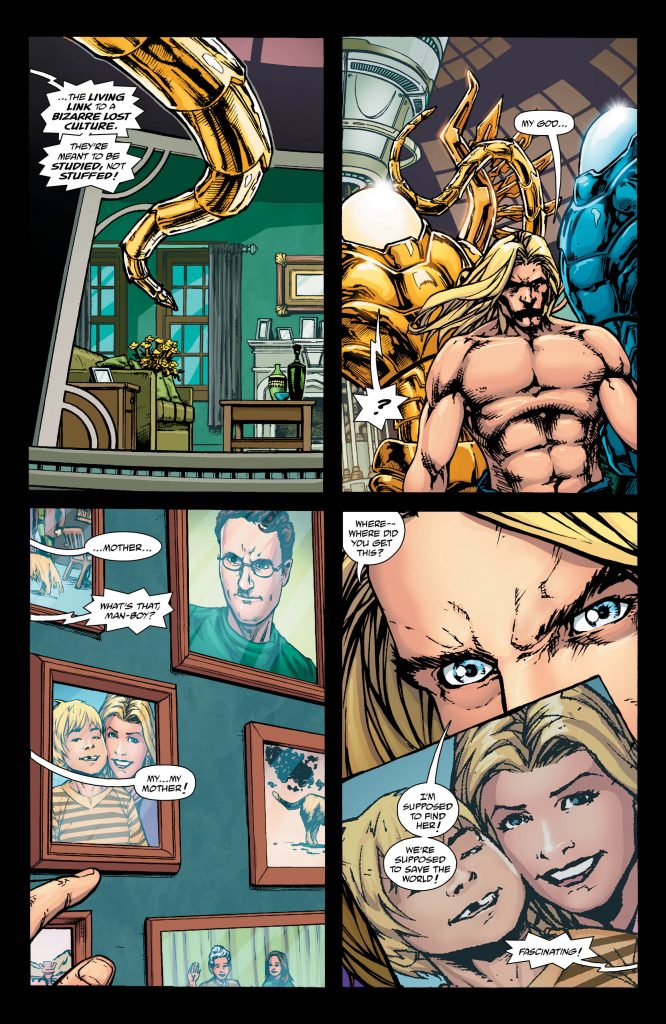 It was pretty funny for the robot that was set up to be so intimidating in the previous issue finally gets dialogue only to get chewed out by his superior officer. It's never an inconvenient time to feature robots arguing with each other, if not for the sheer entertainment value then at least for the exposition they can provide about the bizarre mutant-dominated world you've found yourself in. It would appear these bad-tempered automatons are programmed to collect and eliminate the animals in the region as instructed by their Commander.
This issue may also contain some of my favourite Kamandi companions so far; I am a huge fan of anthropomorphized sharks (a lá Bruce from Finding Nemo), so giving a school of Great Whites some prison tattoos, mohawks and semi-automatic machine guns is more than enough to excite the crap out of my inner nine-year-old self. The Death Worshippers were also morbidly fascinating characters, albeit they feature very briefly in this issue.
Negatives
The Death Worshippers that Kamandi meets when he returns to land with the Sharks seemed especially interesting to me and I would have liked more time spent with Dead Woman, Dead Man or Dead Girl before the end of the issue. This story covers a lot of groups and moves the plot forward hugely in terms of Kamandi's own personal quest to find his family, but it's definitely a shame that Dead Woman had to leave the story so quickly after being introduced, even if it does help her make her point.
Verdict
Moving swiftly forward towards stranger shores, The Kamandi Challenge #10 is a wonderful response to last month's issue; packed full of more wonderful animal friends and robot enemies, explosive scenarios and at least one big dramatic reveal, this issue is well-written, beautifully drawn and reveals even more about Kamandi's hidden past and the fate of his lost family.