[Editor's Note: This review may contain spoilers]
Director: Gregory Smith
Writers: Sarah Tarkoff & Emilio Ortega Aldrich
Starring: Stephen Amell, David Ramsey, Emily Bett Rickards, Willa Holland, Paul Blackthorne, Echo Kellum, Rick Gonzalez, Juliana Harkavy, Katie Cassidy
Summary
Black Siren has resurfaced, killing random victims in Star City, and the Team are on the clock looking for her next target, while Felicity meets Elena again and tells her that Cayden James has gotten mad. The two work together and ends up in a surprise twist.
Positives
For this episode, we got some great reveals and some comebacks. Laurel a.k.a. Black Siren is back and is wreaking havoc in Star City once again, but this time she is not alone. If you remember last season, Elena, the lady from Helix, alongside Felicity broke the leader of Helix out of ARGUS. This man is Cayden James. However, last season, we didn't get to see his face, but fret not, we have him in this episode, up and ready for destruction. It is an awesome treat for any DC Comics fan. The actor playing Cayden James is no other than Michael Emerson and if you are aware of his work you probably know that Emerson voiced The Clown Prince of Crime in Batman: The Dark Knight Returns Part 2 and he is one freaky Joker. Now, back to this episode, Michael Emerson brings a new character on board and we get a glimpse that he is not just menacing, he is also a mysterious villain and personally I can't wait to see what he will do next.
Katie Cassidy once again gave a great performance as Black Siren. In this episode, she is somehow repaying the debt he owed from Cayden James after rescuing him from Lian Yu. I also like the dynamic and the tension between Laurel and Dinah and again when they faced off, we can feel the anger on both sides.
One awesome moment in this episode is the switching of roles. Last episode, we see Diggle fully take on the role as the Green Arrow and in this episode, we see Felicity on the field and this time Oliver takes on the seat as Overwatch. However, we can see that Oliver is not that good when it comes to computers but still manages to help Felicity and the team. Now, the reason I mentioned this is because we are witnessing that the codenames of each hero don't define them. As if anyone who is willing to make a difference in the city can take on the mantle of any hero if he/she is not available. We also saw this on DC's Legends of Tomorrow where the Legends crash landed in the future version of Star City where Grant Wilson and other criminals are now taking over. Then we get to see Green Arrow but with a different identity. Conner Hawke, also known as John Diggle Jr., took over for Oliver after he was presumed dead. On this part, we get to see that the persona as the Green Arrow or any superhero can be taken over by anyone. It is just a name, but the important thing is the values and virtues the hero stands for.
With regards to plot, this episode is still vague on what its end goal is. In Supergirl, we see that Reign is slowly rising up. In The Flash, The Thinker has started to plot against the team while Barry and the team are trying to find on who is responsible on creating new metas. While on DC's Legends of Tomorrow, aside from fixing the aberrations they created, they are also investigating what evil force is rising from the darkness. Meanwhile, on Arrow, we are still unsure of what will happen. Yes, Special Agent Watson is investigating Oliver and the Green Arrow. We also have Black Siren lingering around considering that she will be an integral character for this season, says the executive producers. But as of now, we still do not know what the series will be going up against. Although one thing is certain, the code Cayden James entered will be a key point to their plan. We just have to wait and see.
Finally, one last thing is the part where Oliver got a call from a mysterious man. After the call, Oliver reveals that his old pal Slade needs his help. This is awesome and hopefully for the next episode we get a backstory on who Slade was, before the Mirakuru. According to Executive Producer Marc Guggenheim, there will be a two part storyline dedicated to Deathstroke and I think that this episode, if you're a Manu Bennett and a Deathstroke fan, is going to kick some serious ass!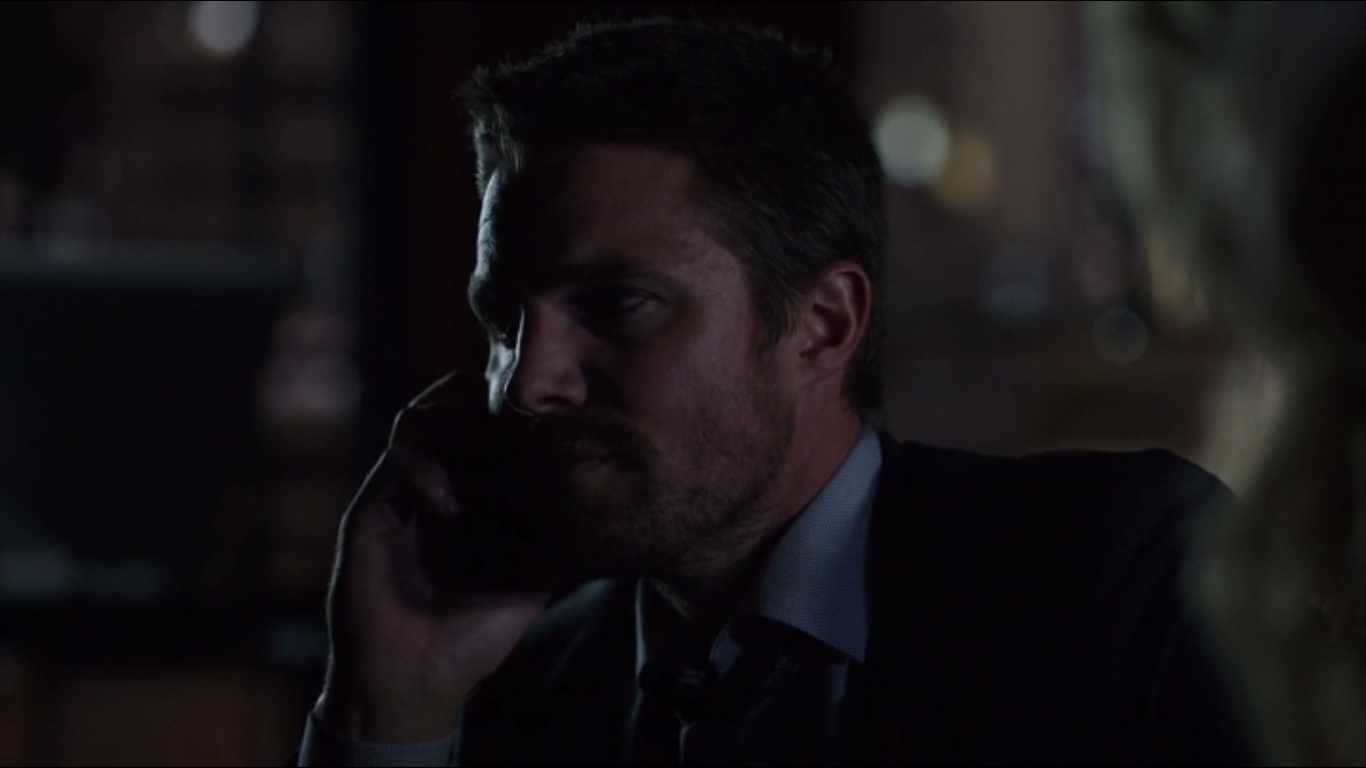 Negatives
Now, an episode this action packed cannot be perfect. There were some things that needs to be addressed. One is that there was no mention of Thea's condition. How is she doing? Is she still alive? Yes, we know from the first episode that she is in deep coma but it's already the fourth episode and nada, no one is talking about her. I know, it would be a hard topic for Oliver but still, you need to, once in a while, say what the condition of your characters are, especially when they're in a deep, deep coma.
The next one is the fight choreography. I know it's a minimal detail, but on my part it is a huge deal. For six seasons, Arrow never changed how they make their fight scenes. It's cool but most of the times it gets a little redundant. I can't even help and compare this show with Marvel's The Defenders. In Defenders, every character has a distinct fighting style. Matt Murdock is trained in martial arts but can give the hard punches. Danny Rand is like water, flexible and can still land some serious blows. While Jessica Jones and Luke Cage use their brawn and most of the time street fight. What I'm trying to say is that the fight choreographers should give their characters some distinct fighting style. It gives a whole new flow on how fight scenes can go.
Verdict
For this episode, we still don't know the endgame of Black Siren and her team and we should keep an eye on who would be joining their merry band of misfits. This episode is not that bad, but still gave progress to the story and even gave glimpses on what's to come.