[Editor's Note: This review may contain spoilers]
Director:  Antonio Negret
Writers: Oscar Balderrama & Rebecca Bellotto
Starring: Stephen Amell, David Ramsey, Emily Bett Rickards, Willa Holland, Paul Blackthorne, Echo Kellum, Rick Gonzalez, Juliana Harkavy, Katie Cassidy and Special Guest Star, Celina Jade Kirk Acevedo and Manu Bennett
Summary
Slade is continuing to uncover the mysteries around his son. Oliver decides to help Slade and stop The Jackals. Back in Star City, the Green Arrow and the team come across "The Dragon" who is stealing valuable technology in the city.
Positives
This is the second and final part of the two part episode which continues to dive inside the story of Slade Wilson and uncover his secret past. In this episode, we learned that after the Amazo; the ship on Lian Yu which was owned by the maniac Dr. Ivo; sank, Slade was washed to the Philippine Coast where he was found by his son Joe who is now in the A.S.I.S. as an agent. For a year, Slade stayed there and began mending his broken relationship with his son. It's a good resolve because that is one of the hanging questions when it comes to Arrow. We see Slade train and bond with his son but then the Mirakuru began to take over. The serum began to strengthen him again and worse, he is seeing hallucinations of Shado. His anger began to take over and killed some of the members of A.S.I.S.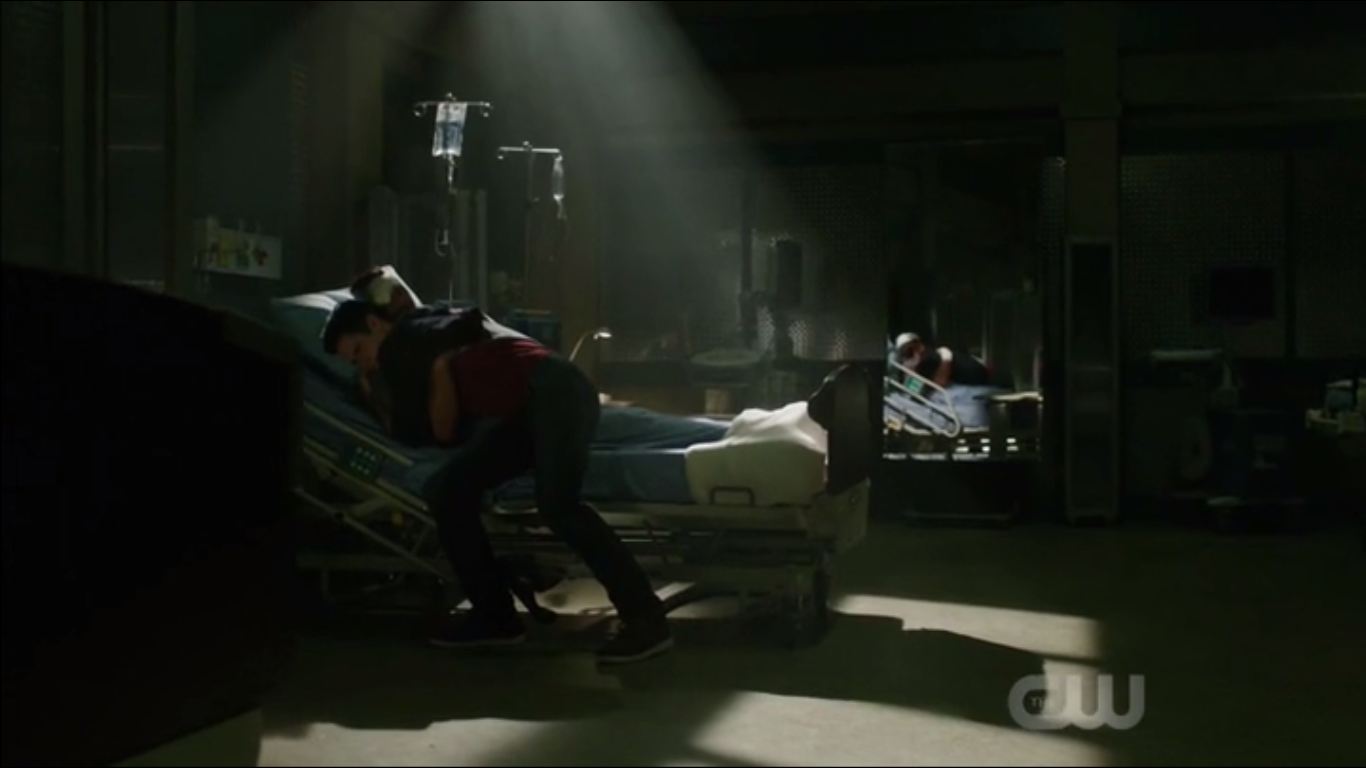 In present time, we see Slade joining Joe's Jackals but Oliver tries to talk him out and convinces him to stop his son from his evil plans. Now, we see Slade conflicted. He wants to stop Joe from harming anyone, but he can't because it's his son. He doesn't want to harm his son. Any father would do that. Although I am not a father myself yet, I know how my father feels when someone hurts me verbally and what more when someone would hurt me physically. It would definitely be chaos.
This episode, even though it is SO far away from Father's Day, is a clear viewpoint on how one father would love his son. We also see this when Oliver is caught and tied to a chair. Joe wants Slade to fulfill his promise, to kill the man that cost him his own right eye. Oliver, who was trying to talk him out the situation, mentions that they have a responsibility with their sons, both with Joe and William. Slade snaps out from his insanity and frees Oliver. We see that being a father changes one's perspective. It changed Oliver when he learned that William existed and in this season he is trying to be a good father to his son. On the other hand, Slade still wants to be a good father to his son but it seems that he is too late.
Aside from Slade's story we still have the story back in Star City where a new player comes in and begins to steal some dangerous technology. Felicity refers to him as "The Dragon". Then we also get the reveal that The Dragon, aka Ricardo Diaz, is the one manufacturing the drugs Diggle is using to suppress his tremors. It then escalates quickly when Diggle's moral virtues are challenged. Either he exposes Diaz and his operations and loses the only thing that is making him fine or he tells his friends, invades Diaz's turf and destroys all the illegal chemicals in the building. Diggle decides, thanks to Layla's advice, that the team needs to shut down Ricardo's operation for good, even if it pains him to do it. After the mission, Diggle opens up to the team, excluding Felicity who is with William playing Injustice 2, and honestly admits his fault. They accepted him and Curtis even volunteered to help him with his condition. It is a great point for this episode. I was hoping that they would let this go on until episode thirteen or fourteen, that Diggle's condition would worsen and the team would eventually know and then things go haywire. But, gladly, they resolved this earlier in the season, giving more room for Diggle to recover and find a way to cure his tremors. It is also a good way because it is time for Team Arrow to be more honest with each other. Secrets are so five seasons ago and we all know what happens when a character on this show, or any show, hides a game changing secret, it goes bad.
Also, one last point for this episode is when Slade was confronting Joe and his son tells him that Slade still has one more son which is none other than Grant. Now, if you are following the events of every DC/CW series and have watched the episode in DC's Legends of Tomorrow entitled Star City 2046, you probably recall that Grant Wilson is there and is acting as the current Deathstroke. I'm starting to think that the future of Star City in 2046 is going to be inevitable. Last year, in the third season of The Flash, Barry Allen altered the timeline by saving his mother creating Flashpoint. But when Barry began experiencing memory loss, Barry, with the help of Eobard Thwane, restored the original timeline but made significant alterations. One of these alterations is Diggle's child. At first, Dig had a daughter named Sara but when Barry altered the timeline, he not only messes with his own timeline, but others as well, which in turn altered baby Sara into baby John Diggle Jr. Now, if you still remember the 2046 episode in Legends, John Diggle Jr. is the given name to Conner Hawke who is the Green Arrow at that time, fighting against Grant Wilson's Deathstroke. *Mind Blown!* Hopefully, Slade is not too late in locating his son before he descends down the same path Joe and he went through.
Negatives:
One flaw for this episode is Ricardo Diaz. Before the premiere of season six, EP Marc Guggenheim and Wendy Mericle told fans in San Diego Comic Con that one of the big bads for this season was going to be Ricardo Diaz, aka Richard Dragon. Fans were excited because in the New 52 Green Arrow, Richard Dragon and John Diggle had a history together and we were hoping that he would be as bad ass as his comic book counterpart. But when he was introduced, he was not even menacing. He looks ordinary. He didn't even scare me in the slightest. But this is just his first episode, so we can give him some slack. But hopefully for future episodes, writers please, make him more menacing.
Verdict
For this episode, it is good but had its downsides. Slade's past is now clearly painted and the only thing that remains as a mystery is how he will find his son Grant. Hopefully, the Executive Producers of the show will give him a mini arc which explores Slade's adventures in finding his son, or possibly even a series of short episodes for something like CW Seed. That would be one heck of a series. One complaint is just Ricardo Diaz. Make him into a more interesting character. In that way he can be a villain that will be remembered and not just another drug dealer.