[Editor's Note: This review may contain spoilers]
Director: Stefan Pleszczynsk
Writers: Judalina Neira and Sam Chalse
Starring: Grant Gustin, Candice Patton, Carlos Valdes, Danielle Panabaker, Jesse L. Martin, Tom Cavanaugh, Neil Sandilands, Kim Engelbrecht, Jessica Camacho, Hartley Sawyer, Katee Sakhoff, Kendrick Sampson
Summary
The Thinker traps Barry in a speed-proof cage while Amunet kidnaps Caitlin to perform a difficult surgery, forcing Iris to choose who to save.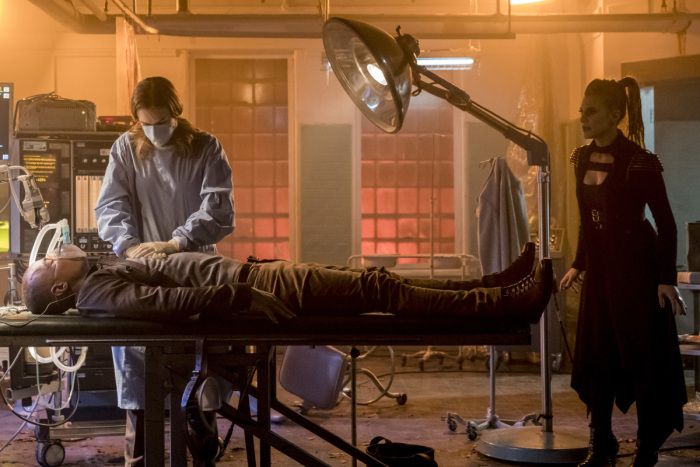 Positives
After two months of dancing around Team Flash, The Thinker finally struck and he proved to be the Christmas Grinch. What makes this episode work is how two seemingly unrelated incidents prove to be an intricately-constructed web of misdirection, deceit, and cruelty crafted by Clifford DeVoe. The focus was equally divided between Barry trying to understand his foes from behind the trap DeVoe and his wife managed to spring, and Caitlin's abduction by returning foe Amunet while doubting her relevance to the team. Her dilemma is understandable, given that her alter-ego Killer Frost has been on the side of the angels lately regardless of the circumstances. It is ironic that the pep talk that reminds her of her self-worth comes from Amunet, albeit just so she would perform the surgery on her captive. It is also a test of her ingenuity as a doctor and lab technician both how she succeeds in the surgery and how she outwits Amunet to escape.
As for Barry, comic fans probably went nuts at his demonstration of vibrating to the point of invisibility – something I remember Wally West doing in the Identity Crisis story, which I found very cool – and cringed at how easily he fell into DeVoe's real trap at the end of the episode. Those who follow the series will recall a scene from the Season One finale in which Barry, through the Speed Force, sees a vision of himself talking to someone from behind bars.
The fact that he has been successfully framed for murder of the man he had been suspended already for under suspicion of harassment now cements that future for poor Barry. The cause of death adds another psychological wound to Barry, because, like his father, he has been found with a dead body and a bloody knife on the floor, most likely with his fingerprints. This also throws in future complexities for both him and for Team Flash, such as to whether Ceceile will be forced to prosecute Barry, and Joe unable to take the case due to conflict of interest.
Then there is the team's inability to account for Barry's whereabouts at the time the body was killed. He sped over to the apartment when he got the alarm, and he's relatively faster than the average vehicle. His very identity could be jeopardized by this, and Wally may be forced to adopt the mantle of The Flash again. This could also be Ralph's chance to prove himself as a detective and contribute to the investigation.
What makes this episode stand out is The Thinker's actions have given cause to deliberate where this could go. As to the new version of Clifford DeVoe, played by Kendrick Sampson, he does a good job in channeling Neil Sandiland's smug intonations and arrogance.
And finally, as for the character of The Mechanic, this episode shows her resolve is starting to falter a little. She has agreed to not only frame a good man for murder for the sake of her husband's vision, but to also sacrifice another innocent so that her husband may live on in a new body. While not covered much, this is a character who has had to sacrifice much so that her husband may realize his yet-to-be-revealed "Enlightening," and may not be as dedicated as she professes to Barry in this episode. There is a momentary but noticeable pause after she kisses the new Clifford. Could that hesitancy just be an adjustment she has to make, or is she silently questioning the lengths to which her husband is willing to go? Further, how long will he view her as his partner?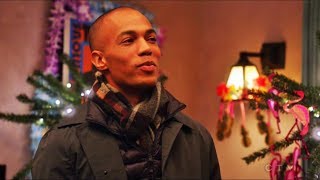 Negatives
There's not many negatives I can count for this episode except for these few points that made no sense. Amunet's characterization giving strength to the term "dumb blonde with superpowers" with her origin story and whacked out logic lower her as a legitimate threat to Caitlin. I just feel this is a waste of Sackhoff's talents. As for the new Thinker, it'll be a shame to not see more of Neil Sandiland's version of Clifford DeVoe. I really felt that he hit his stride as the chief antagonist in both this episode and the one prior to last week's crossover. Then there's also the question of timing; when exactly did DeVoe pull off the brain swap? If he was no longer coherent in his original body, then who was Barry fighting? Further, how did he wind up in Barry and Iris' apartment?
And I greatly believe that Ralph is underused as a sleuth and played up for comic relief; I know he's a sleaze in recovery, but although we've seen his heart, we have yet to see any of the skills he's boasting about all the time. And I'm still scratching my head about the "baking soda" joke involving killer frost. Anyway, those are my only complaints for this week.
Verdict
The fact that we're coming from the happiest day in Barry and Iris's life to possibly the worst day of Barry's is a complete 180 that defines this year's villain. Although we are losing a brilliant actor in Sandilands, I have hope that the replacement will show promise.
Given this is the final review for the year of 2017 for me, I just want to say that it's an honor to have this assignment. I've been a Flash fan since before the show began and have been a faithful follower of the show. As a journalist I have to be objective, but thankfully the geek in me can show his face in the moments that I give an A-plus to. Anyway, Ho Ho Ho, Flash fans! Wishing everyone – readers and staff – a safe and happy holiday season and a joyous new year. See you after the break!