[Editor's Note: This review may contain spoilers]
Written, Drawn and Colored by: Neal Adams
Summary
The Spectre, Etrigan the Demon and the Phantom Stranger smell death around Deadman—and they've come to get a whiff! But they're about to learn how little they know—because the secrets they seek are actually held in the mind of Deadman's father…and those secrets lie very close to a near-death experience.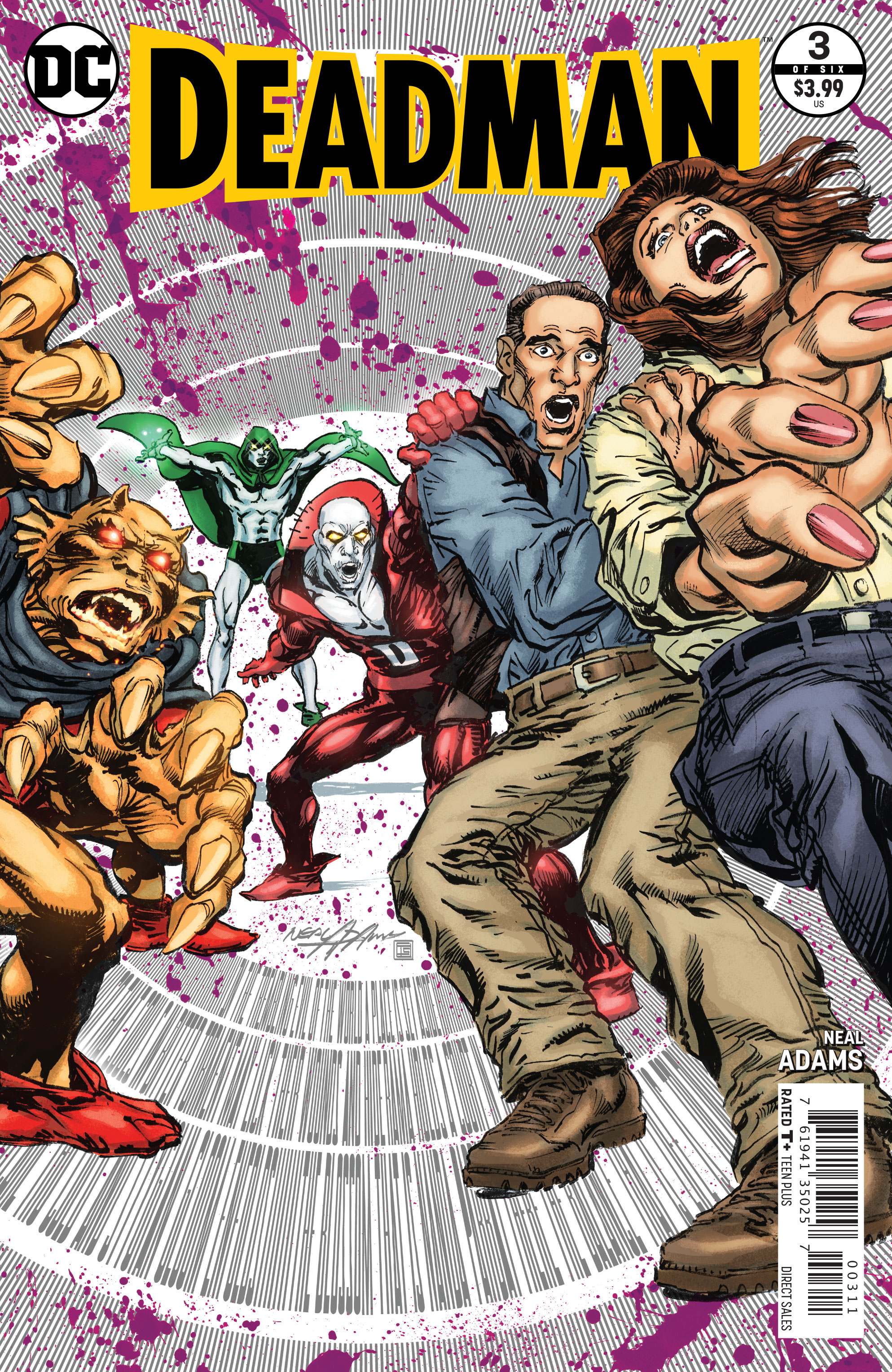 Positives
The plot element that drove Deadman's original run in Strange Adventures was Boston Brand's search for his killer.  This series is able to capture that same feeling as Boston is on a new quest.  Not who, but why?  The real why.
This is Adams best visual issue of the three.  It starts on the splash with a very Will Eisner/The Spirit homage as Deadman's name is spelled out in the pool of blood that has flowed from the deceased.  Also, Adams' textural approach is not unlike his contemporaries Joe Kubert and Nick Cardy, Kubert plying his trade most significantly on Sgt. Rock in Our Army at War and Cardy being the artist on Teen Titans at the same time Adams was drawing Deadman's original run.
Adams has always been good at showing emotion, and this issue is no exception.  There are plenty of emotional twists and turns that provide Adams the opportunity to showcase his skill.  Whether depicted in facial expressions or body language, Adams makes the most of it by presenting the moment as only he can.  Even if it wasn't clear that this was Neal Adams, one could easily mistake some of the blocking and staging as a swipe.  But, it's not really a swipe if you already did it.
Utilizing the Spectre more prominently in this issue is a welcome element.  Adams drew about half of his solo series in the late sixties and it seems appropriate that he should revisit the character in Deadman.  Having the Spectre ball up Boston's Chi and throw it into his dad's brain is a stroke of genius that utilizes the Spectre to his fullest power, while advancing the plot and keeping a spiritual element at the forefront of the story.
Negatives
The plotting and scripting definitely feels like Adams is shooting from the hip.  As mentioned previously, it was not uncommon back in the late '60's and early '70's to plot a story with a huge surprise or twist that until the reveal made the reader somewhat uncomfortable or confused.  While not completely incomprehensible, there are some odd plot elements in this issue:  meeting Boston's parents, an unknown brother, Aaron and a sister, Zeea.
While they are here for the story Adams is telling, their sudden significance is startling to readers familiar with the character.  It seems obvious that the ghost of Bob Haney haunts this story and all of Neal Adams recent DC work.  Adams has enveloped Haney's approach of story over continuity.  It's not altogether a bad thing, just disjointed at times.
Verdict
There's not a better looking DC comic out there on the stands.  For that alone, Deadman is worthy of your purchase.  Most importantly, though, Adams is able to rekindle what made the original run of the character work so well- the agony of the spirit.  There's no one better than Neal Adams to provide Boston Brand with some closure.