[Editor's Note: This review may contain spoilers]
Director: Salim Akil
Writers: Salim Akil
Starring: Cress Williams , Nafessa Williams , China Ann McClain ,Christine Adams, James Remar, Damon Gupton and Marvin Jones III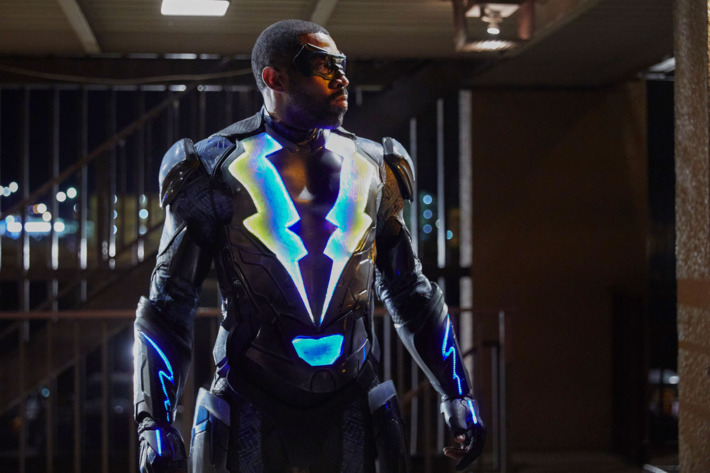 Summary
Jefferson Pierce (Cress Williams) is a man wrestling with a secret. As the father of Anissa (Nafessa Williams) and Jennifer (China Ann McClain), and principal of a charter high school that also serves as a safe-haven for young people in a neighborhood overrun by gang violence, he is a hero in his community. But nine years ago, Pierce was a hero of a different sort. Gifted with the superhuman power to harness and control electricity, he used those powers to keep his hometown streets safe as the masked vigilante Black Lightning, but he left the Superhero days behind. Almost a decade later, Pierce's crime-fighting days are long behind him…or so he thought.
Positives
From the first few minutes of the premiere episode, the show already feel quite different from not only the other superhero shows populating the television landscape, but from anything else on the four major networks. The creators seek to show the world that this hero lives in the real world and he is subject to the same prejudices as any person of color, as one of the main scenes shows him being illegally searched by the police.
The music that plays throughout the show is another highlight, as it introduces the world of Freeland with Billie Holiday's "Strange Fruit", heightens the tensions with Isaac Hayes "Walk on By", and ends with Bobby Bland's "Aint No Love" and Gil Scott Heron's" A Stone Of Ages", giving viewers a delightful sound bed. Another aspect of the show, I found interesting is that they show a realistic portrayal of the dynamics of father-daughter relationships, as those are rarely shown with the complexity required, but this shows gets that understanding in multitudes.
The best thing about the show is how they remedied, what I call the "Michael Corleone Syndrome", where Al Pacino's character in Godfather Part III gets pulled back into the world of the Mafia, much like how Jefferson Pierce, despite his best intentions, has to become Black Lightning once again.
Negatives
The introductions of Tobias Whale, his archenemy, and Peter Gambi, his mentor, as well as the mere mention of Lady Eve all feel more like devices to keep the plot going versus being major characters in the show, I am hoping they get more spotlight in future episodes.
Verdict
WATCH THIS SHOW NOW!!!!!