DC Comics News has compiled a list of DC Comics titles and collectibles shipping to comic shops for February 21, 2018.
Check back every Friday with the DC Comics News Pull Box to see all the cool new DC Comics titles and collectibles that will be available at your favorite local comic shop! So, what titles or collectibles will you be picking up this Wednesday? You can sound off in the comments section below! Click on Comic shop Locator to find the comic shop nearest to you!
COMICS
AMERICAN WAY THOSE ABOVE AND BELOW #6 (OF 6) $3.99
AQUAMAN #33 $3.99
BATMAN #41 $2.99
BATMAN AND THE SIGNAL #2 (OF 3) $3.99
BATMAN SINS OF THE FATHER #1 (OF 6) $2.99
BATMAN TEENAGE MUTANT NINJA TURTLES II #4 (OF 6) $3.99
BATWOMAN #12 $3.99
BOMBSHELLS UNITED #12 $2.99
BRAVE & THE BOLD BATMAN & WONDER WOMAN #1 (OF 6) $3.99
CAVE CARSON SWAMP THING SPECIAL #1 $4.99
DAMAGE #1 2ND PTG $2.99
DAMAGE #2 $2.99
DEATHBED #1 (OF 6) $3.99
FUTURE QUEST PRESENTS #7 $3.99
GREEN LANTERNS #41 $2.99
HARLEY QUINN #38 $2.99
INJUSTICE 2 #20 $2.99
JUSTICE LEAGUE #39 $2.99
MAD MAGAZINE #550 $5.99
NIGHTWING #39 $2.99
SUPER SONS #13 $3.99
SUPERMAN #41 $2.99
TEEN TITANS GO #26 $2.99
TRINITY #18 $3.99
WONDER WOMAN CONAN #6 (OF 6) $3.99
DCN Pull Box Triple Spotlight
BRAVE & THE BOLD BATMAN & WONDER WOMAN #1 (OF 6) $3.99
(W) Liam Sharp (A/CA) Liam Sharp
Don't miss the start of a new, six-issue miniseries written and illustrated by Liam Sharp (WONDER WOMAN)! When a Celtic god's murder leads to a war between the fairy folk and a possible breach between worlds, Wonder Woman must find the murderer and keep the peace while Batman investigates strange occurrences in Gotham City. As Diana must turn to the World's Greatest Detective for help, the two heroes quickly learn their cases may be connected.
---
DAMAGE #2 $2.99
(W) Robert Venditti (A/CA) Tony S. Daniel, Danny Miki
Damage can smash his way through a warzone, but can he smash his way through the Suicide Squad? Colonel Jonas takes on Amanda Waller in a race to see who can get to Damage first. And while Waller sends Harley Quinn, Deadshot, Parasite and Giganta to capture Damage by any means necessary, Colonel Jonas has her own wicked plan in play…
---
DEATHBED #1 (OF 6) $3.99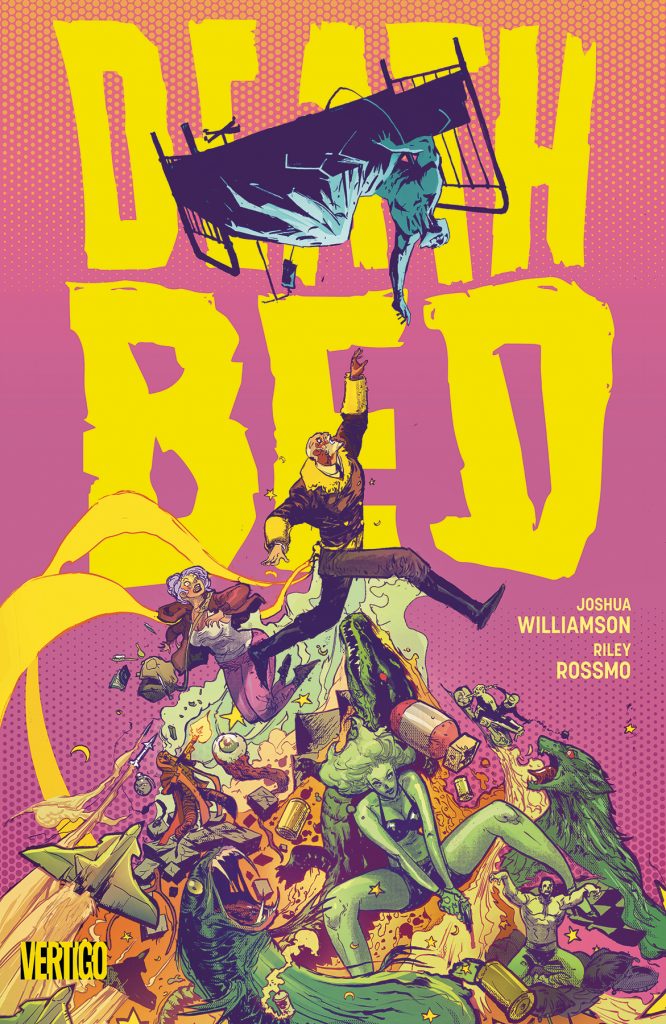 (W) Joshua Williamson (A/CA) Riley Rossmo
Myth, hack, sex symbol, stark raving lunatic-all of these words have been used to describe Antonio Luna, the world's greatest living adventurer. Or at least he was until 20 years ago, when he mysteriously vanished from the public eye. Now the ninety-year-old has returned and claims to be on his deathbed. Which is where Valentine Richards, a failed novelist turned reporter, comes in. Val is hired to travel to Luna's remote castle home and uncover where the old star has been all these years, and just how much of what he says is actually true. But once Val starts to hear Luna's tale, she finds herself entering into an insane world of psychedelic violence and explosive supernatural adventure. This brand-new series is a bold collaboration between Joshua Williamson (THE FLASH, FROSTBITE) and Riley Rossmo (THE BATMAN WHO LAUGHED). Before it's through, they promise to take you to the Moon and back-and everywhere in between-plus some places that are totally off the map.
---
Variant Covers
Note: Variant Prices To Be Determined By Retailer
AQUAMAN #33 (Joshua Middleton variant) $3.99
BATMAN #41 (Olivier Coipel variant) $2.99
BATMAN SINS OF THE FATHER #1 (variant) $2.99
BATMAN TEENAGE MUTANT NINJA TURTLES II #4 (Eastman variant) $3.99
BATWOMAN #12 (Michael Cho variant) $3.99
FUTURE QUEST PRESENTS #7 (Julian Totino Tedesco variant) $3.99
GREEN LANTERNS #41 (Brandon Peterson variant) $2.99
HARLEY QUINN #38 (Frank Cho variant) $2.99
JUSTICE LEAGUE #39 (J.G. Jones variant) $2.99
NIGHTWING #39 (Yasmine Putri variant) $2.99
SUPER SONS #13 (Dustin Nguyen variant) $3.99
SUPERMAN #41 (Jonboy Myers variant) $2.99
TRINITY #18 (Bill Sienkiewicz variant) $3.99
WONDER WOMAN CONAN #6 (Aaron Lopresti variant) $3.99
WONDER WOMAN CONAN #6 (Ivan Reis variant) $3.99
GRAPHIC NOVEL
DC UNIVERSE BY NEIL GAIMAN TP $19.99
FLASHPOINT UNWRAPPED HC $29.99
MOTHER PANIC TP VOL 02 UNDER HER SKIN $16.99
NEW TEEN TITANS OMNIBUS HC VOL 02 NEW ED $75.00
ROBIN YEAR ONE DELUXE EDITION HC $34.99
SUPERMAN PRESIDENT LUTHOR TP NEW ED $29.99
YOUNG JUSTICE TP BOOK 02 $29.99
MERCHANDISE
DC HEROES AQUAMAN PX VINYL DECAL $6.00
WONDER WOMAN MOVIE GOD KILLER SWORD PROP REPLICA $249.99
ACTION FIGURES/STATUES
DC MULTIVERSE 6IN AF ASST 201801 $22.99
DC MULTIVERSE 6IN AF ASST 201802 $22.99
SUPERGIRL TV SUPERGIRL PX STATUE $65.00
Please comment below and don't forget to like, share and follow us on:
Facebook: https://www.facebook.com/dccomicsnews
Twitter: @DCComicsNews
Pinterest: http://www.pinterest.com/dccomicsnews/
Tumblr: http://dccomicsnews.tumblr.com
Instagram: @dccomicsnews