[Editor's Note: This review may contain spoilers]
Directed by: Julius Ramsay
Written by: Lina Patel
Starring: Cameron Cuffe, Rasmus Hardiker, Ann Ogbomo, Georgina Campbell, Shaun Sipos, Blake Ritson, Colin Salmon
Summary
Daron-Vox visits Kol-Da in her holding cell while Nyssa tries to convince Jana-Zod to work with her and together they can save Lyta.
Seg rescues a woman named Ryka who then takes him to where she is from. There he sees a crest that is a fusion between the House of Zod and House of El crests. But when her people discover Seg is an El, they begin acting suspicious and even potentially violent towards him.
Lyta's death sentence is stopped by Daron-Vox who claims that Kol-Da has recanted. Jayna is relieved, but still ashamed of her daughter.
With Ryka's help, Seg leaves the group but soon finds himself captured by The Commander once again.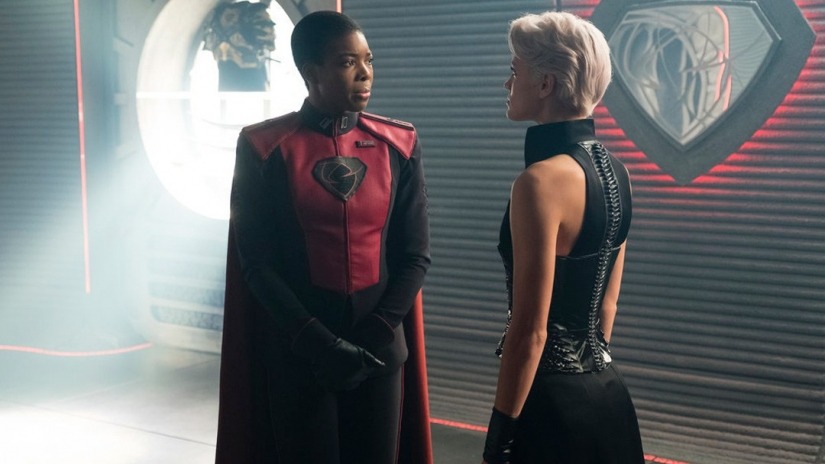 Positives
It's always good to get backstory on compelling characters and this week's episode we finally learn a little about Jayna-Zod's upbringing and training. Not only does it help us learn more about the character, but because of that backstory, we understand how significant of a decision she makes when it comes to her daughter Lyta. Without the backstory it seems natural to do anything to save your child. But when you understand how honor, discipline and staying true to values of the House of Zod are, then you realize how conflicted she really is, and her decision is that much more impactful.
The ending cliffhanger is an unexpected twist. I was certain I figured out the connection of The Commander until he revealed who he really was. It's always a plus when you are caught off guard by the unexpected.
Negatives
This episode feels too much like a filler episode. When you have a series that is only ten episodes per season, then there shouldn't be a need for filler episodes.  This episode could've made it's point in the first fifteen minutes and then progressed the story in a much more impactful way. Instead we went full circle with the capture of Seg by The Commander.
Like last week's episode the lack of defining the threat of Brainiac and building up the tension of his arrival ultimately detracts from the story and pacing.
Verdict
The series started strong, but episodes like this indicate the show doesn't have much to say in the long run. This is the halfway point of the season and we have learned nothing new about Brainiac or his threat. Instead we have learned about a few pointless relationships that won't matter if Brainiac is successful.
This is not an episode that makes me want to abandon the series, but they need to move the story and get us to something significant.