[Editor's Note: This review may contain spoilers]
Director: James Bamford
Writers: Wendy Mericle and Marc Guggenheim
Starring: Stephen Amell, Emily Bett Rickards, David Ramsey, Echo Kellum, Rick Gonzales, Katie Cassidy, Juliana Harkavy, Paul Blackthorne, Jack Moore, Caity Lotz, Sydelle Noel, David Nykl, Kirk Acevedo, Audrey Marie Anderson
Summary
With a new ally, Oliver and the rest of Team Arrow engage Ricardo Diaz in an epic battle for the future of Star City.
Positives
The writers went to great pains to deliver a spectacular finish to a season that had both good and lackluster points. While it can be seen as a cleanup, it is done so in a way that doesn't feel forced. What stands out this episode is a version of Oliver that has been humbled by recent events and what his decisions have cost both him and Star City. He failed as mayor, as team leader, and as friend. Even before the actual deal with the FBI was revealed, seeing Oliver make the effort to own up to his mistakes to the most injured parties of Team Arrow conveyed a sense of melancholy and foreshadowing of what's to come. Giving Diggle a Green Arrow costume is significant because it's Oliver's way of acknowledging that the mantle is bigger than him. Further, it's a burden that could have and should have been shared. Both men acknowledge their mistakes and it's been a long time coming.; the crusade began with the two of them in that Big Belly Burger conversation in season one, and it's been a hell of a journey since.
The suit is a dead giveaway with regards to the deal he made with Watson; Oliver is passing the torch to his brother-in-arms to carry the crusade forward without him. And the scene in which John is watching the press conference with the suitcase open gives the viewers confirmation he is committed to that idea. It's a question, however, as to how he will be able to balance his role at A.R.G.U.S. with his renewed responsibilities as Green Arrow 2.0? The press conference in question is a brilliant game-changer; even if Oliver manages to leave prison, his secret identity is over. The finale needed a speech like this; it's both an admittance of defeat for Oliver while a rallying cry to Team Arrow.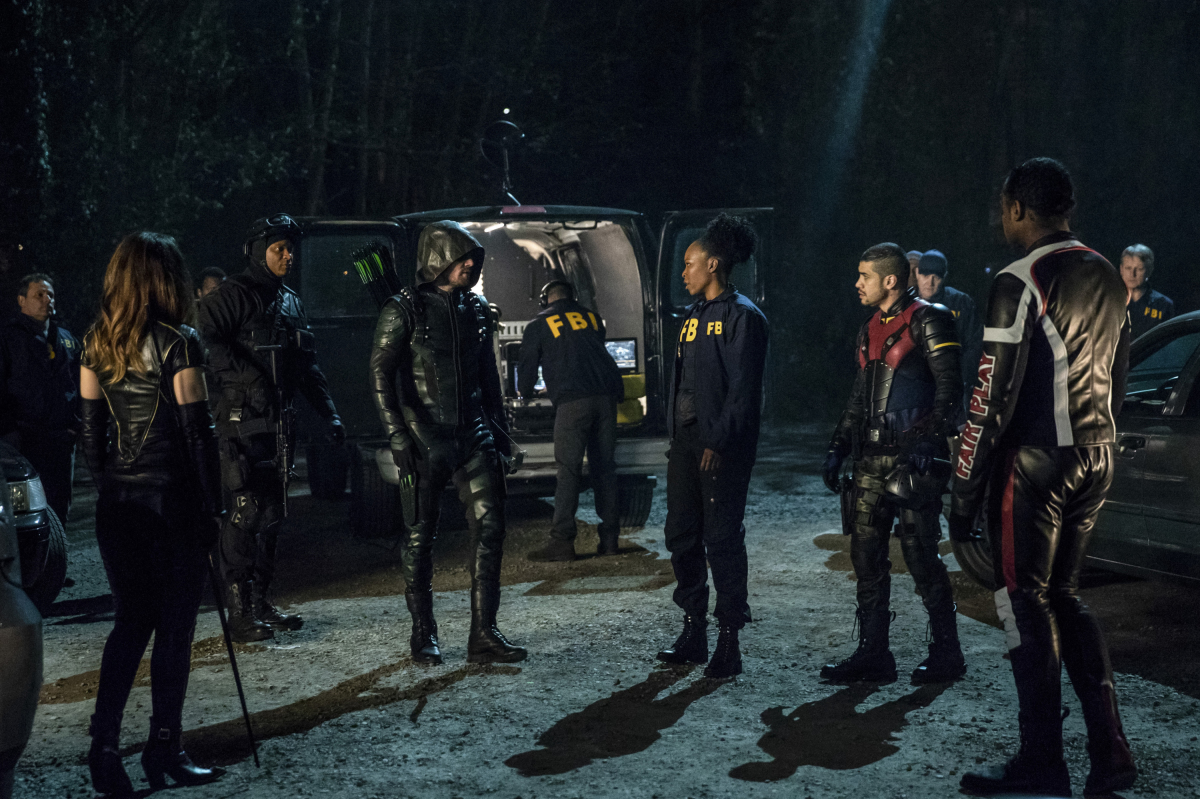 The writers managed to return real-world consequences to the season finale; it would have been hollow if Watson agreed to let the whole gang do as they pleased afterwards. The briefness of his conversations with Felicity as she tries to pry out what is going on is felt; he knows what this will do to her, and Oliver is torn between her and what has to be done before the issue can be discussed at length. The viewer is with Felicity witnessing each of Oliver's conversations and can read her sense of unease, although this is what she had been hoping for since the schism. While it can be seen that she is being underused or kept at arm's length, the truth is Oliver doesn't know how to tell her the price of the deal. Anyone can relate to that; who can tell the love of their life, with a straight face, that they will be facing life in prison? Emily plays the subtly-neurotic-yet-devoted-wife to perfection. She strives to be strong for Ollie in spite of her falling apart inside. Her concern for her new family was the maternal presence that the paternally-dominated subplots needed.
Poignant also are Oliver's conversations with Lance, both before the big fight and in the hospital. Both men have fought each other and side-by-side over the course of six years, and there was no need for flashbacks thanks to great dialogue. The nod to that infamous lie detector test in season one was a nice touch. Paul Blackthorne's contributions to this show cannot be understated. A made-for-the-show character, Quentin Lance has gone through an incredible story arc from detective to beat cop to captain to deputy mayor and finally to mayor. But through it all, the core of this character remained; he was a man of honor and a devoted father with layers. His headbutting with Oliver also brought out the best in the main character as well. Seeing him regard the man whom he once blamed for his daughter's alleged death slowly come to respect and admire him as a leader was well done. It also revealed how Oliver never held Lance in contempt of anything; rather, he saw him as the father he wished he had and one that he can only aspire to be to his own son.
Bringing Sarah Lance (Caity Lotz) back for this finale was a definite sign that something significant was going to happen involving Quentin. Besides Laurel, her relationship with her father defined the character because the series began with his being crushed by her death. This is also a significant loss for Sarah; first her sister was slain, and now her father.
This brings us to a very fascinating dynamic to explore next season; how will she – if she can – relate to Earth-2 Laurel? The scene that she first sets eyes on her is perfect; you see the recognition and sense of renewed hope in Caity's eyes, only for reality to slowly dawn on her. The lack of glee in Laurel's eyes enhances that big let-down feeling conveyed. The scene in which both sisters are crying is both poignant and significant because it's the first genuine connection they will make.
The last father subplot that shines here is Rene. Not only is he given a much-needed thank-you from his mentor, but that moment with the phone call with Zoe was very touching. He is doing his utmost to put his little girl's mind at ease when he's faced with certain death. With that move, the writers fool the audience into thinking that the sacrifice play he makes to save that FBI agent at the last minute will be his last.
The final fight is nothing short of excellent; the camerawork keeps up with the fast-paced choreography and hyper-reality Oliver Queen thrives in. No one is overshadowed or underused. The buildup to the final confrontation between Queen and Diaz – a memorable villain embodied by Kirk Avededo and definitely welcomed back – is slow and worth the wait. The choreographed battle, albeit brief, was both as physical and psychological as it had to be. The outrage at his escape is keenly felt; the viewer is with Oliver at his anger at Laurel's interference and what it means for his family and the rest of the team. What makes Diaz work is that he never broke stride; Acevedo sold him as a ruthless opponent that would never yield short of his own death. The writing team has elevated him on a level higher than Malcolm Merlyn or Damian Dahrk, and enhanced his threat to an everlasting danger at large.
Negatives
I'm not a big fan of the "Longbow Hunters" name drop. Given the legendary status of that immortal story, it led people into thinking that something big was going to happen that would carry over into next season. When expecting that and receiving bombs instead was a big upset. While it will most likely be reserved for next season – hopefully the next big bad Diaz has in reserve – it was the one let down of the episode. The disappearance of Anatoly is negligible. Honestly I'd want to get out of dodge too if I was at risk of being killed for treachery.
Verdict
Despite some ups and downs this season, the sixth season of Arrow has been brought to a memorable close with the loss of a beloved cast member, a new status quo for its lead, and a big bad both alive and at large to strike again next year in a big way. Stephen's performance – a restrained grief and rage tempered with self-disciplined big picture mentality – was brilliant. The bedrock of the Arrowverse is behind bars and will most likely be tested to his utmost for the next three months. And I am encouraged to come back doing reviews for lucky season seven. I look forward to hearing those immortal words "My name is Oliver Queen" next October. Have a good summer, everyone!