DC Comics isn't short of iconic characters, both hero and villain.  I mean this is the company that has Superman, Batman, Wonder Woman, Brainiac, Martian Manhunter, Lex Luthor, Joker, Riddler, The Green Lantern Corps, The Sinestro Corps, Green Arrow, Star…Starro?
Starro appeared for the first time in The Brave And The Bold #28 in March 1960 as the first villain to face the newly formed Justice League of America.  Now I understand it's not easy to take Starro The Conqueror seriously; I mean, despite being one of the Justice League of America's first and major villains and one of the most powerful telepaths in the entire universe. It's hard to look past his "over the top" and sometimes "goofy" egomaniacal personality, and add being a giant starfish doesn't help too much either…until now.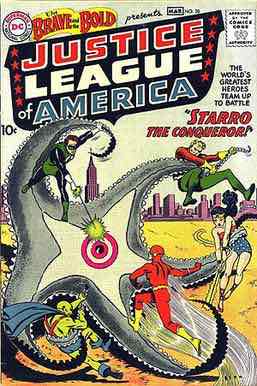 In the fallout of Dark Nights: Metal, the DC Universe is in chaos.  The Justice League, due to Brainiacs involvement, has splintered into four different groups who are all out to save the universe from the Omega Titans. The Omega Titans are seeking to conquer every living thing they come across, starting with Brainiacs homeworld of Colu.  In Justice League: No Justice, Starro quickly becomes a major player and hero while on Team Mystery (Superman, Martian Manhunter, Starfire, Sinestro, Starro.)  Starro has developed not only an amazing working relationship with Martian Manhunter but a seemingly unbreakable personal friendship and bond with the alien that Starro has nicknamed "Marty."
Authors Scott Snyder, James Tynion IV, and Joshua Williamson along with artist Riley Rossmo brought Starro to life in No Justice.  They managed to preserve what helped make Starro such an imposing adversary for the Justice League but also gave him great humor and amazing charm and charisma. They also gave him an incredible story arc that cements the former foe as a great asset to the hero ranks inside the pages of No Justice.  Starro eventually makes the ultimate sacrifice for his team by laying down his life for the cause, but in comics, we all know that nobody stays dead.
There is no telling where DC and its writers will take Starro in the future, but it will be hard to ignore such a fantastic hero turn for the once dangerous villain.
Justice League: No Justice is now available in retails stores everywhere.