[Editor's Note: This review may contain spoilers]
Writer: Tim Seeley
Artists: Travis Moore (Main story) Otto Schmidt (Epilogue)
Colors: Tamra Bonvillain
Summary
Warning! This issue contains the Bat-Limo, a fishing boat, inter-dimensional portals and niiiice suits.
Okay. This just isn't fair. Tim Seeley is clearly having way too much fun writing these wedding preludes! Welcome to a bat-chelor party featuring Nightwing, Superman… and Hush. Why does someone always have to crash these things?
Positives
Like I said, this issue is fun! It's an action packed page turner which contains everything that's great, as well as a ton of things that are ridiculous, about comics… but in the best way possible. Rocket launchers, explosions, a dastardly – yet sympathetic – villain, a nick of time rescue and yet another chilling epilogue. Geez, if this is the kind of chaos that's leading to the Bat/Cat wedding, then the main event's gonna be murder!
My main take away from the issue is that it answers a lot of questions. Yes, it's official:
Nightwing: Batman and Catwoman are getting married. But Bruce Wayne and Selina Kyle aren't. Not publicly, anyway… it makes sense. There are just too many secret identity questions raised by a billionaire businessman marrying someone with Selina's rap sheet. But Superman and I aren't going to let the salacious drama stop us.

Superman: Right you are, Nightwing. Not when it's our sacred duty as Groomsmen to throw Batman…

Both: A Bat-chelor party!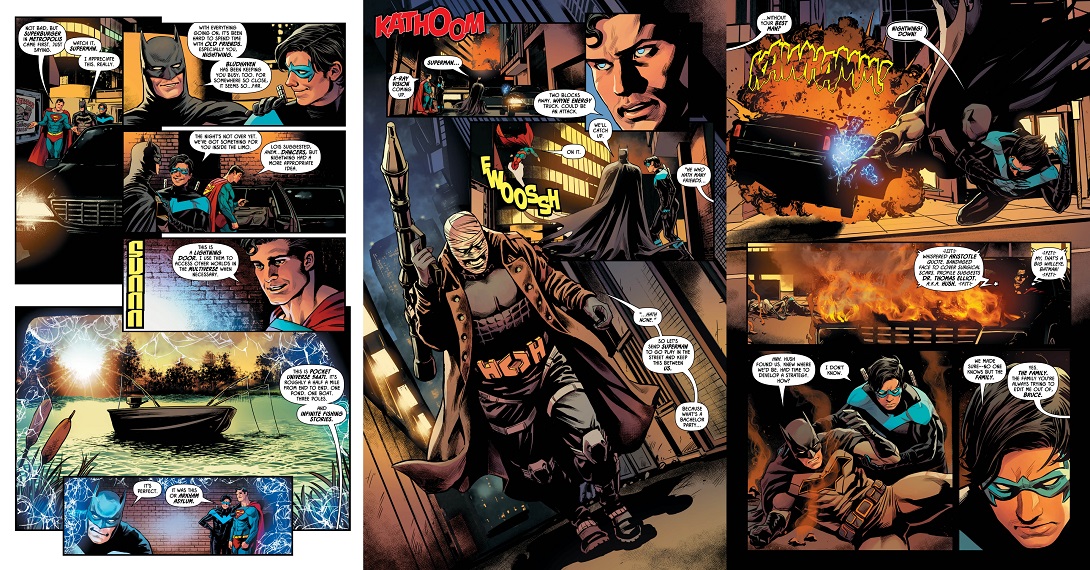 Negatives
Honestly, there are none. I adored this whacky slug-fest of a comic. What's not to love? Bats out with his buddies, Nightwing kicking butt, party crashers, and mirror dimensions? This book rocks! Tim Seeley delivers action aplenty, yet still delivers a beautiful character moment between Dick and Bruce too. Great stuff.
Travis Moore draws an amazing Nighting, a vintage Batman and a Man Of Steel that's, well… super! Tamra Bonvillain may have surname that's both an oxymoron, and terrifying to Daniel Craig, but the lady's one heck of an artist. Her colors over both Travis Moore in the main story, and Otto Schmidt in the epilogue, are flawless.
Another thing I love about Moore's Nightwing is that it's the first time that it actually looks like he's got a mask on. All too often it seems like comic-book characters are wearing face-paint, or makeup. Travis Moore draws the most believable, three dimensional mask I've ever seen on flat two dimensional page.
Lovely.
Verdict
Not a single complaint from this reader. Tim Seeley, Travis Moore, Otto Scmidt, Tamra Bonvillain and wonder wordsmith Dave Sharpe ("SUNNN" "KATHOOM" FWOOSSH") have just killed it. Hush is not a nice guy, but I felt for him… rocket-launcher notwithstanding. Comics don't always have to be thought provoking essays dissecting the human condition. Sometimes all they need to do is give us great characters, and entertainment. Sometimes all they have to be… is fun.
So, next week's third prelude sounds like it's going to be another winner. I eagerly anticipate Batgirl vs. The Riddler.
Images Courtesy Of DC Entertainment