DC Comics News has compiled a list of DC Comics titles and collectibles shipping to comic shops for June 20, 2018.
Check back every Friday with the DC Comics News Pull Box to see all the cool new DC Comics titles and collectibles that will be available at your favorite local comic shop! So, what titles or collectibles will you be picking up this Wednesday? You can sound off in the comments section below! Click on Comic shop Locator to find the comic shop nearest to you!
COMICS
AQUAMAN #37 $3.99
BATMAN #49 $2.99
BATMAN PRELUDE TO THE WEDDING RED HOOD VS ANARKY #1 $3.99
BATMAN SINS OF THE FATHER #5 (OF 6) $2.99
BATWOMAN #16 $3.99
BRAVE & THE BOLD BATMAN & WONDER WOMAN #5 (OF 6) $3.99
CAVE CARSON HAS AN INTERSTELLAR EYE #4 $3.99
DAMAGE #6 $2.99
DEATHBED #5 (OF 6) $3.99
FUTURE QUEST PRESENTS #11 $3.99
GREEN LANTERNS #49 $2.99
HARLEY QUINN #44 $2.99
INJUSTICE 2 #28 $2.99
JUSTICE LEAGUE #2 $3.99
MAD MAGAZINE #2 $5.99
MAN OF STEEL #4 (OF 6) $3.99
NEW CHALLENGERS #2 (OF 6) $2.99
SCOOBY DOO WHERE ARE YOU #93 $2.99
TEEN TITANS GO #28 $2.99
WILD STORM #14 $3.99
DCN Pull Box Triple Spotlight
BRAVE & THE BOLD BATMAN & WONDER WOMAN #5 (OF 6) $3.99
(W) Liam Sharp (A/CA) Liam Sharp
There's a grave missing detail of Batman and Wonder Woman's investigation into the death of King Elatha – it's not only about who killed him, but also what it means. As one king dies, another must arise… long live the new king Balor Evil-Eye! Now Batman and Wonder Woman must fight alongside Tir Na Nóg and destroy its causeways to our dimension!
---
AQUAMAN #37 $3.99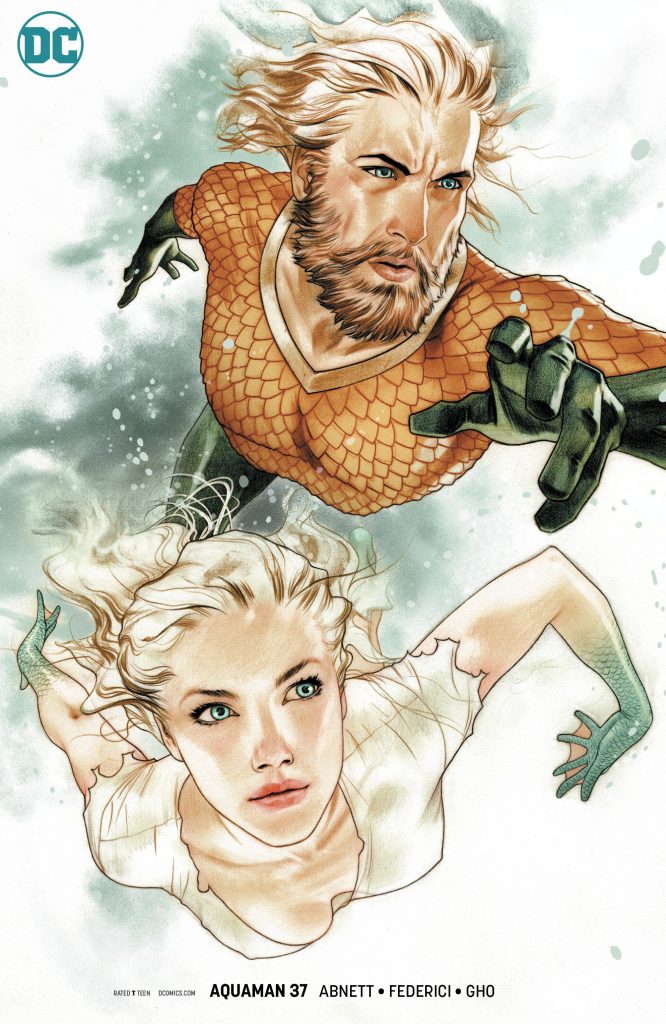 (W) Dan Abnett (A) Ricardo Federici (CA) Joshua Middleton
"The Kingslayer" part three! With the King of Atlantis' resistance down for the count, a magically monstrous King Rath rampages to extinguish them once and for all! Aquaman and Dolphin must gather whoever's left standing for one final battle, but Rath finds bigger fishmen to fry as he prepares to sink Atlantis deeper into the abyss!
---
DEATHBED #5 (OF 6) $3.99
(W) Joshua Williamson (A/CA) Riley Rossmo
What do you want to be when you grow up? For Antonio Luna… it was everything. He wanted to do it all, so he became a race car driver, a masked wrestler, an artist, a baseball player, a spy and countless other careers. But there was one life goal he never fulfilled… the one that got away. Now, for Luna to solve the mystery of who killed his friends and family, he will have to voyage to the one place he swore he never would return to and achieve his long-lost dream… even if it kills him.
---
Variant Covers
Note: Variant Prices To Be Determined By Retailer
AQUAMAN #37 VAR ED $3.99
BATMAN #49 VAR ED $2.99
BATWOMAN #16 VAR ED $3.99
FUTURE QUEST PRESENTS #11 VAR ED $3.99
GREEN LANTERNS #49 VAR ED $2.99
HARLEY QUINN #44 VAR ED $2.99
JUSTICE LEAGUE #2 VAR ED $3.99
WILD STORM #14 VAR ED $3.99
GRAPHIC NOVEL
AQUAMAN TEMPEST TP $16.99
BATMAN DETECTIVE COMICS TP VOL 06 FALL OF THE BATMEN REBIRTH $19.99
BATMAN THE DARK PRINCE CHARMING HC BOOK 02 (OF 2) $12.99
BATMAN THE GOLDEN AGE OMNIBUS HC VOL 05 $99.99
DARK NIGHTS METAL DARK NIGHTS RISING HC $29.99
JUSTICE LEAGUE TP VOL 06 PEOPLE VS THE JUSTICE LEAGUE $14.99
MYSTIK U TP $16.99
SUPERMAN ZERO HOUR TP $29.99
TRINITY TP VOL 02 DEAD SPACE REBIRTH $14.99
MERCHANDISE/COLLECTIBLES
DC COMICS FLASH OUTLINE PRINTED GLASS ART $19.99
DC COMICS SUPERMAN OUTLINE PRINTED GLASS ART $19.99
DC COMICS WONDER WOMAN OUTLINE PRINTED GLASS ART $19.99
HARRY POTTER 12 PIECE MAGNET BOOKMARK ASST $P
ACTION FIGURES/STATUES
DC ARTISTS ALLEY BATMAN BY CHRIS UMINGA B&W VINYL FIG $40.00
DC ARTISTS ALLEY BATMAN BY CHRIS UMINGA VINYL FIG $40.00
DC ARTISTS ALLEY SUPERMAN BY CHRIS UMINGA B&W VINYL FIG $40.00
DC ARTISTS ALLEY SUPERMAN BY CHRIS UMINGA VINYL FIG $40.00
DC ARTISTS ALLEY WONDER WOMAN BY CHRIS UMINGA B&W VINYL FIG $40.00
DC ARTISTS ALLEY WONDER WOMAN BY CHRIS UMINGA VINYL FIG $40.00
DCTV GOTHAM OSWALD COBBLEPOT ARTFX+ STATUE $69.99
POP HANNA BARBERA S5 JETSONS ASTRO VIN FIG $10.99
POP HANNA BARBERA S5 JETSONS GEORGE VIN FIG $10.99
POP HANNA BARBERA S5 JETSONS ROSIE VIN FIG $10.99
SUPERGIRL CW GALLERY PVC FIGURE $45.00
CLOTHING
BATGIRL SILHOUETTE T/S LG $19.95
BATGIRL SILHOUETTE T/S MED $19.95
BATGIRL SILHOUETTE T/S SM $19.95
BATGIRL SILHOUETTE T/S XL $19.95
BATGIRL SILHOUETTE T/S XXL $22.95
BATMAN BENDAY SYMBOL T/S LG $19.95
BATMAN BENDAY SYMBOL T/S MED $19.95
BATMAN BENDAY SYMBOL T/S SM $19.95
BATMAN BENDAY SYMBOL T/S XL $19.95
BATMAN BENDAY SYMBOL T/S XXL $22.95
BATMAN CAMO SYMBOL T/S LG $19.95
BATMAN CAMO SYMBOL T/S MED $19.95
BATMAN CAMO SYMBOL T/S SM $19.95
BATMAN CAMO SYMBOL T/S XL $19.95
BATMAN CAMO SYMBOL T/S XXL $22.95
DNM BATMAN WHO LAUGHS T/S LG $19.95
DNM BATMAN WHO LAUGHS T/S MED $19.95
DNM BATMAN WHO LAUGHS T/S SM $19.95
DNM BATMAN WHO LAUGHS T/S XL $19.95
DNM BATMAN WHO LAUGHS T/S XXL $22.95
DOOMSDAY CLOCK II T/S LG $19.95
DOOMSDAY CLOCK II T/S MED $19.95
DOOMSDAY CLOCK II T/S SM $19.95
DOOMSDAY CLOCK II T/S XL $19.95
DOOMSDAY CLOCK II T/S XXL $22.95
WATCHMEN RORSCHACH III T/S SM $19.95
WONDER WOMAN SKETCH T/S LG $19.95
WONDER WOMAN SKETCH T/S MED $19.95
WONDER WOMAN SKETCH T/S SM $19.95
WONDER WOMAN SKETCH T/S XL $19.95
WONDER WOMAN SKETCH T/S XXL $22.95
Please comment below and don't forget to like, share and follow us on:
Facebook: https://www.facebook.com/dccomicsnews
Twitter: @DCComicsNews
Pinterest: http://www.pinterest.com/dccomicsnews/
Tumblr: http://dccomicsnews.tumblr.com
Instagram: @dccomicsnews