[Editor's Note: This review may contain spoilers]
Writer: Tim Seeley
Artists: Minkyu Jung & Jose Marzan Jr. (Main story) Otto Schmidt (Epilogue)
Colors: Jordie Bellaire
Summary
R'as al Ghul has clearly shown his disapproval of the Bat/Cat union, Hush gatecrashed the Bat-chelor party, and now The Riddler is questioning (sorry) the upcoming nuptials too! How many obstacles can the course of true love overcome? In this third wedding prelude Batgirl faces off against Edward Nygma, and the whys and wherefores behind the battle are fresh, and surprising.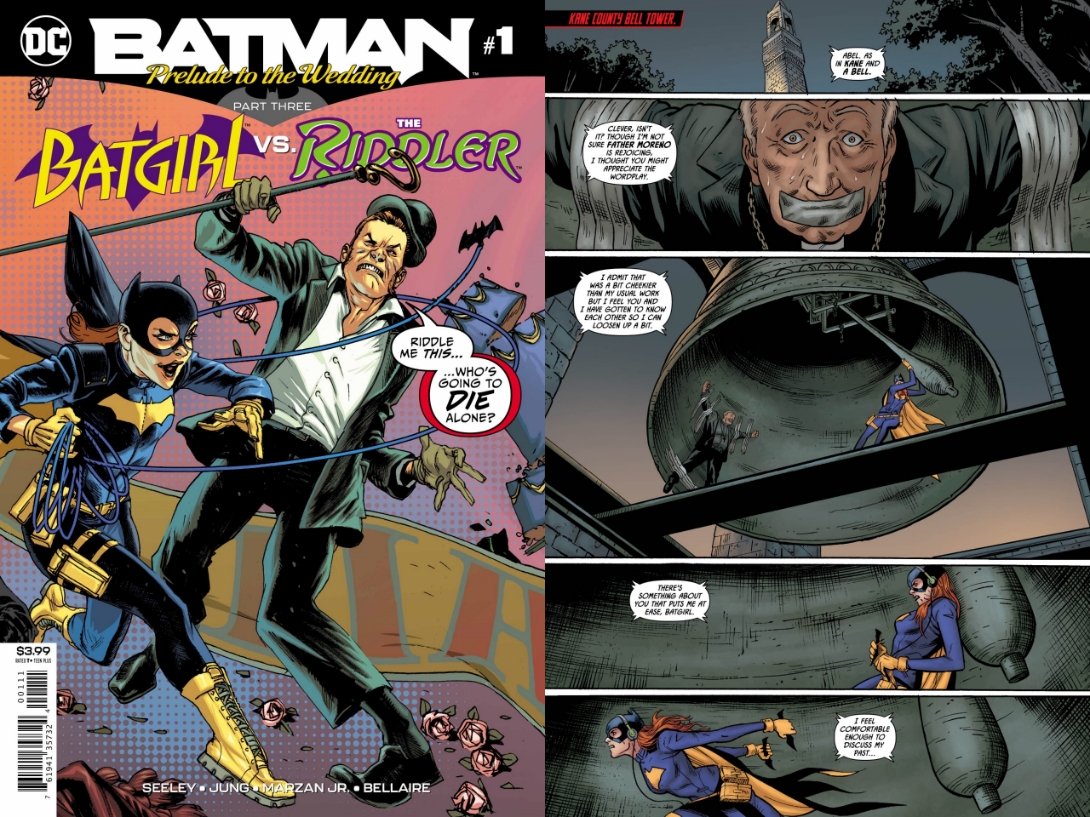 Positives
I love a good detective story, and Tim Seeley certainly delivers on that front. I really like the way that Nygma reverts to using analogue technology to try and confound Batgirl. Here we have one of the best trained crime fighters on the planet, who's a technological whiz to boot, running around Gotham's rooftops following clues recorded on tape. The Riddler's strategy is a sound one indeed. I imagine that some readers will have no clue as what a cassette even is!
As with the two previous wedding preludes Mr. Seeley is showing a real depth of knowledge, respect, and – dare I say it – love for these characters. These one-shot comics are designed to fit between the events of Batman #48-#50, but are so well crafted that this could just as easily slot in seamlessly with issues of Batgirl's own series too.
Negatives
The art on these stories has varied as wildly as the content. The first prelude was all martial arts rapid fire mayhem. The Nightwing prelude was a detailed action fest, and tribute to the golden and silver age of comics. This tale is a simpler affair, told in a cleaner, less meticulous style. I will admit that I am a bigger fan of more detailed comics art. Having said that, while this issue is not exactly to my taste visually, the visuals do the job of telling the story, and fit the writer's tone perfectly.
I would have liked these preludes to have been handled by one art team throughout, but the differences in atmosphere between each script match the strengths of each character/antagonist. For this reason I completely understand the varying art styles.
Verdict
I'm loving these one-shots so much. They take a different look at multiple aspects of comics lore in every issue. The pairings of hero and villain have been really well thought out, refreshing and fun to read. The Joker is slowly circling his prey, but his former love is now hunting him too. Next week we'll see Red Hood battle Anarky, leading to the Harley Vs. Joker main event. I've got my tickets, and I'm gonna be front row!
Images Courtesy Of DC Entertainment