[Editor's Note: This review may contain spoilers]
Director: Michael Slovis
Writer: Sam Catlin
Starring: Dominic Cooper, Joseph Gilgun, Ruth Negga, Betty Buckley, Liz McGeever
Summary
In an effort to save Tulip, Jesse and Cassidy take her to Jesse's family home, Angelville, where Jesse reunites with the people he fears most: his family. Tulip must wait in purgatory for her fate's ultimate ending.  Jesse must confront the man that killed his father and come to terms with a deal he makes for Tulip's life.
Positives
Still a master of the cold open, Preacher's hiatus brought no ring rust to the shows eerie and incredibly dark openings. Having such familiar ground makes long time fans feel right at home, ending the long run of silence from the show. The opening moments depicted Christina L'Angelle fighting to keep the secret of her son Jesse from her mother. This was done incredibly well and set up Jesse's mother as a force to be reckoned with for the rest of the episode. Up to this point we had only heard rumblings and a hand full of flash backs on Jesse's grandmother's sadistic ways, but now we have a clear indication of just how dark and deadly the mistress of Angelville can be.
The rest of the episode was just as good as the opening. Having Jesse go back home and almost pick up exactly where he left off grounds the character to a place we had not seen since before the Genesis powers. Jesse having a quick revenge filled bout with the man who killed his father was a long time coming and Tulip's past demons haunting her in purgatory gave new insight to perhaps the most secretive and layered character of the series thus far.
While Cassidy had little screen time he was not completely forgotten and did have a few funny moments such as his slapstick humor in the opening moments of the episode getting gun butted after a cute one liner.
Negatives
While the episode as a whole was great, a lot of questions from season 2 still remained unanswered. Where did Hitler run off to after being run over? Did Arseface catch up and confront him over his betrayal? Did the Saint of Killers get his weapons back, and is he hiding in a dark corner near by? Where is Herr Starr, and what did he do with that tiny part of Jesse's soul?  These are all questions I thought would get some resolution or at least be hinted at in this first episode. As fans, we have been waiting for them, but it seems like we will have to wait just a little longer.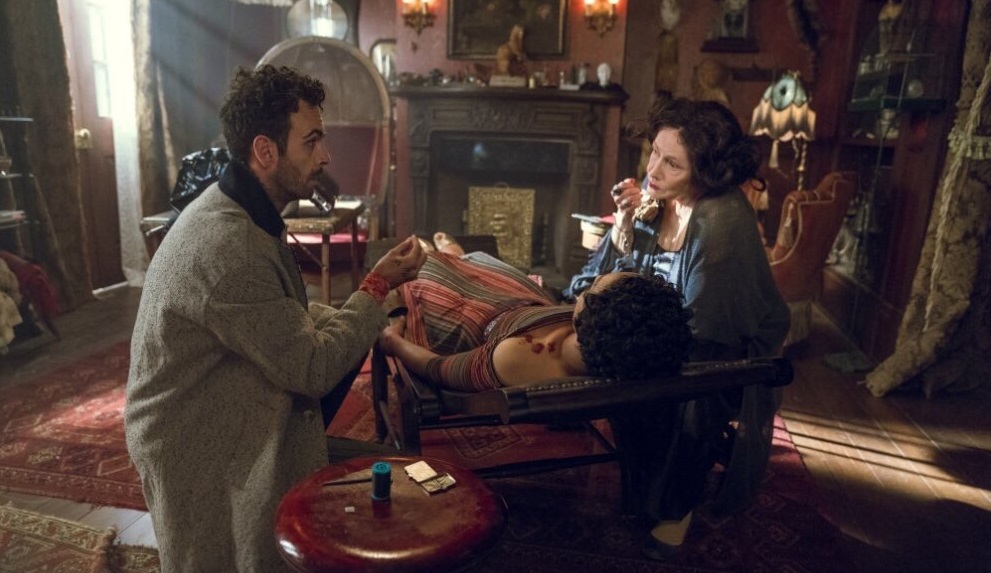 Verdict
The Tulip centered season premiere was a great start for what is sure to be an epic season. The episode not only set the stage and delved into the background of some shady characters, but allowed multiple facets to come in and shape this new story Preacher is trying to tell. We did get a little hint of God's position, and while still being depicted by the dalmatian, we cant say for sure if it is him or just another illusion.
Cassidy and Jesse's relationship is sure to explode in the next few episodes following the revelation of his true relationship with Tulip, and Preacher walking in on them resting together. We have seen them come to blows many times, most notably in the last episode, but it seems what's to come is bigger than anything before. The closing moments saw Gran'ma remind Jesse of his pact, a promise is a promise and Jesse will have to pay up, one way or another.