[Editor's Note: This review may contain spoilers]
Writers: Bill Matheny, Barry Liebermann, Frank Strom, Sam Agro
Artists: Robert Pope, David Alvarez, Walter Carzom, Mike DeCarlo
Colors: Rock Candy, Digital Chameleon, Dave Tanguay
Letters: Saida Temofonte, John Costanza, Mike Sellers
Summary
Wile E. Coyote tries to snare his usual nemesis the Road Runner, however, Speedy Gonzales has other plans as he aids the Road Runner while he nurses a "boo-booed" foot in "The Fast and the Speedy-est"; Daffy Duck and Foghorn Leghorn take on the theatre and Daffy's stubbornness in uttering a phrase no actor should ever utter results in Foghorn being the foil of all that can go wrong in " A Few Important Words…."; "Shaolin Puddy Tat" finds Sylvester a "not so good" role model for a Kung-Fu master and his student in his failed pursuit of capturing Tweety.  "A Bird in the Hand" finds another unsuccessful adventure for Sylvester in his efforts to capture Tweety.
Positives
Writers Bill Matheny, Barry Leibermann, Frank Strom, and Sam Agro capture the essence of a Saturday morning cartoon perfectly.  Those familiar with the Looney Tunes series of old as well as new readers will appreciate the older sight gags as well as the subtle dry humor each writer pops into their stories.  Robert Pope does an excellent job in his pencils in "The Fast and the Speedy-est" and is the closest to capturing the older images associated with Speedy, Road Runner and Wil E Coyote.  And to pair Speedy and Road Runner is perfect, especially rolling the Road Runner around in a wheel chair as he nurses a bad foot.  And as always the colors leap off the page in the art as Looney Tunes as a comic never fails.  This issue is clever in its overall story lines, and is an easy read with numerous smiles.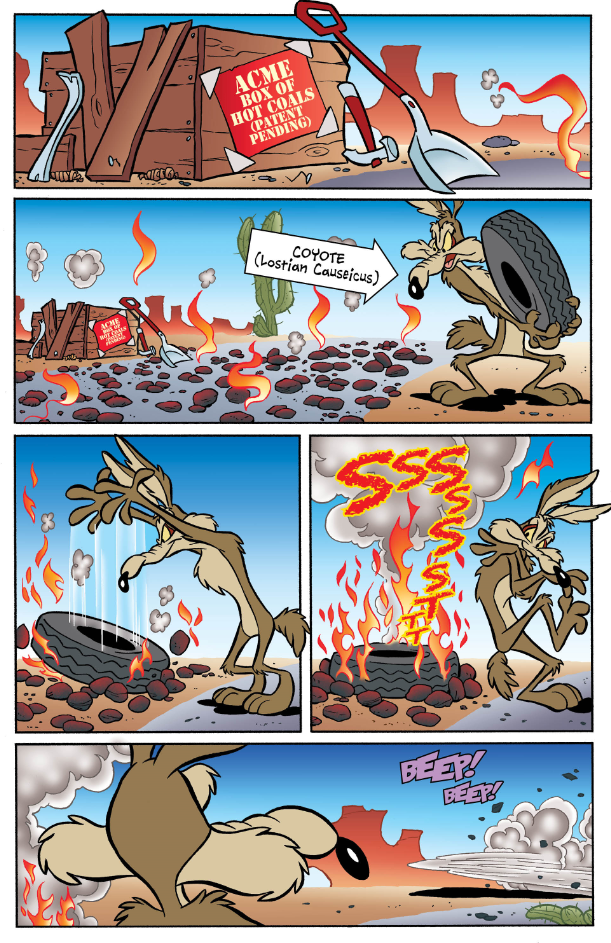 Negatives
Two Tweety and Sylvester stories in one issue is a bit much.  And Looney Tunes has a cadre of characters that they have not explored in some time.  The main man, Bugs Bunny, has not made an appearance in some time, so as always, one expects to see Bugs in a Looney Tunes issue, but he is a rare find these days!
Verdict
Great stories, Great art, and always, the lighter side of Saturday morning cartoons that an older generation yearns for.  Parents who buy comics should invest in the Looney Tunes series for the opportunity to hook their kids into the world of comic books.  Looney Tunes is an easy read for kids, but has the dry humor that is appreciated as well!