[Editor's Note: This review may contain spoilers]
Writer: Dan Jurgens
Artists: Scot Eaton, Wayne Faucher
Colors: Jim Charalampiois
Letters: Tom Napolitano
Summary
DC has found a new niche in the comic market with the 100-page Giant-Sized comics that each feature four stories – three reprinted tales and one brand news story.  This review features only the new story, "Dead Reckoning", however the issue features other Teen Titan stories as well as a Super Sons versus Batman and Superman story.  Dan Jurgens, DC comic innovative writer, puts his touch on a story that features the "mirror" image opponents of the Teen Titans.
The Fearsome Five is almost a throwback to the old Squadron Supreme comic, however, these villains are all designed to simply buy time for the Hive to put is plan into place to take over San Francisco.  While Disrupto, the leader of the Fearsome Five, is working on his part of the HIVE's ultimate plan, it becomes evident that the Fearsome Five is simply a diversion, if not a sacrifice by the HIVE, to buy time in a battle with the Teen Titans.  Each opponent is tailor made to take down a Titan – Shimmer versus StarFire (who narrates the entire battle), Muscle Mammoth versus Beast Boy,  Psimon versus Raven and Gizmo versus Robin.  And the Titans learn through their leader, Robin, that sometimes retreating is the only option if you wish to save the lives of innocent bystanders.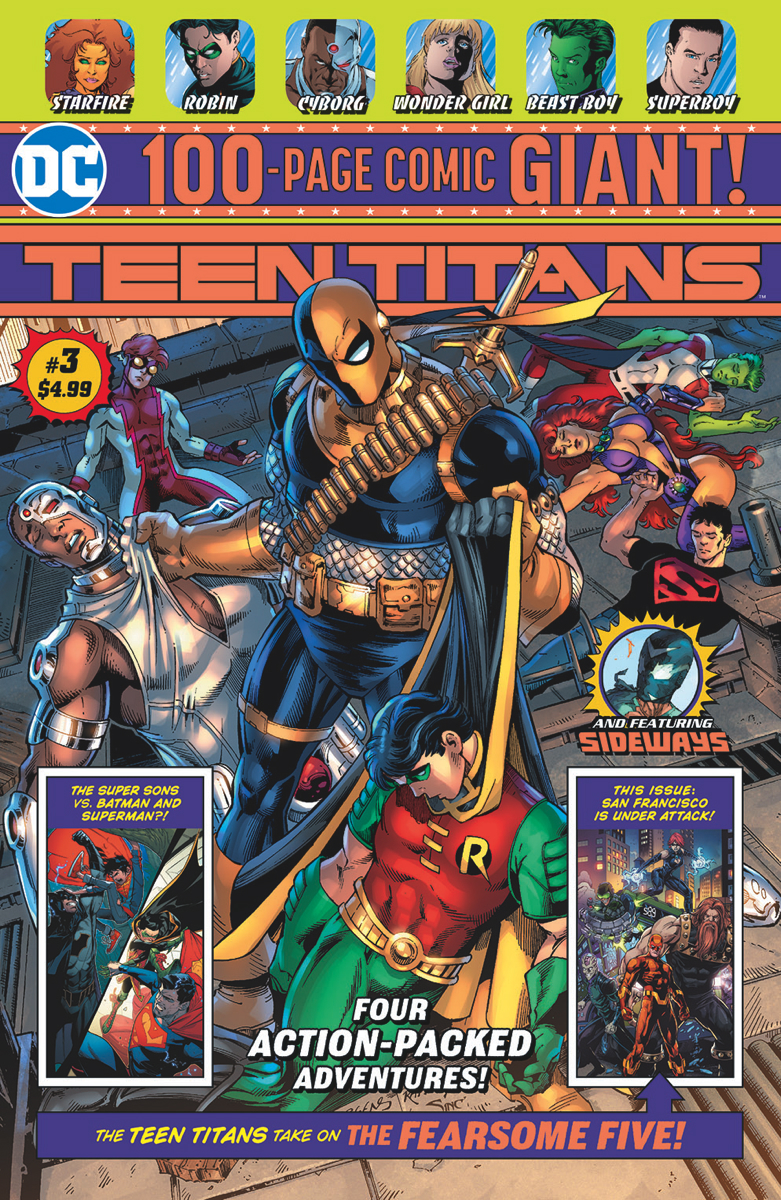 Positives
Any Dan Jurgens story is worth reading.  His reputation alone for what he has done in the Superman universe makes this Teen Titan story worth checking out, and he weaves in a fairly new squad of villains in the Fearsome Five who get their hands dirty carrying out the directives of the HIVE.  He sets the stage for future issues by showing a successful Five who seemed to have carried out the first part of a plan orchestrated by the HIVE and carried out by Disrupto.  The art work is fantastic and reminiscent of the work you would find on any Jurgens' story.  Eaton does a great job in portraying a Beast Boy versus Muscle Mammoth battle that's pretty stellar!
Negatives
You won't find any here as this story entices to reader to pick up the next issue and this is only one of the four stories included in this four story issue…..100 pages….what's not to like?
Verdict
Buy it…you won't be disappointed as any Dan Jurgen's story in the DC Universe is well worth the price of admission!