[Editor's Note: This review may contain spoilers]
Writer: Marv Wolfman
Artist: Pop Mhan
Colors: Lovern Kindzierski
Letters: Saida Temofonte
Summary
The mystical manhunters known only as the Shadow Riders want the young arcanes surrounding Raven for their next prey. And they are all too successful: one of them dies! Introducing…the beginning of a brand-new Night Force.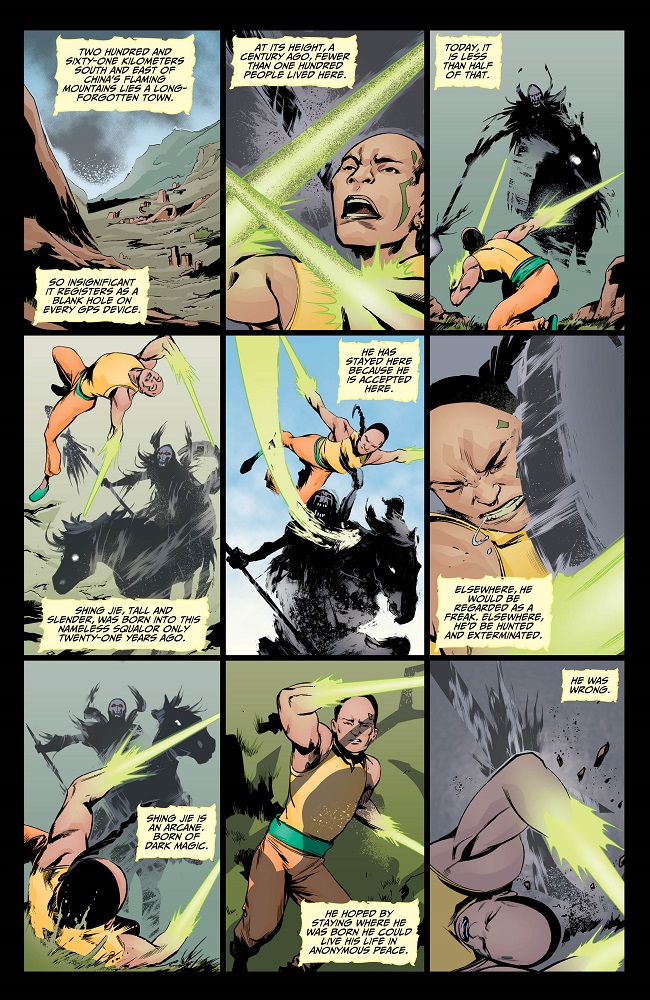 Positives
We are introduced to a new hero by the name of Shing Jie. He is someone Baron Winters wants to join him and Raven to fight upcoming evil forces, so Winters sends Red Devil to recruit him. This is more than a welcome addition as Wolfman dug deep into DC's canon to bring this almost forgotten character back, one that was marred with controversy when he was first introduced due to problematic stereotypes of the time and lack of racial sensitivity.
Another character that gets introduced is Klarion, a witch boy who has a cat named Teekl, who offers a bit of comic relief for the story. He may remind fans of Damian because of his youth and quick wit, but he is much more adept than Batman's son, at his abilities, as he serves as someone equal to Raven. His command of powers is immense, as can be seen in the very first scene he enters.
We also meet Zach Zatara, Zatanna's cousin, who is much younger but just as powerful as his cousin and uncle, as shown during his battle with the Shadow Riders. We also get a confrontation between Raven and Baron Winters, as she senses that he is hiding something from not only her, but the whole team.
Another introduction we get is to the last member, Roberto, an arcane who has suppressed his powers for a very long time. He is accompanied by his husband, Luis, who has no powers, but is the only one can keep him calm. Roberto is by far the most powerful member to the team, as when he his at full power he can destroy everything in his sight, including the Shadow Riders. He is also a very good representation of LGBTQ people, and the way Wolfman writes him is definitely progressive.
Negatives
There are no negatives worth mentioning in this issue.
Verdict
This issue starts out like a heist movie but ends up being what the book was intended to be, a supernatural horror comic, one that has elevated the DC brand. The story by Wolfman feels like a Hammer Horror movie but with superheroes. He knows these characters intimately and wants the reader to be just as invested. The art by Mhan is gorgeous. Altogether, an excellent installment in this miniseries which should really be an ongoing series.