[Editor's Note: This review may contain spoilers]
Writer: Adam Glass
Artists: Bernard Chang & Scott Hanna
Colors: Hi-Fi
Letters: Rob Leigh
Summary
"IT'S LIKE THAT" I so want to be mad at Adam Glass right now! Over twenty odd pages of Teen Titans #22 the writer had me, and the Titans themselves, in a state of emotional turmoil over the apparent death of Roundhouse. Then, on the very last page, Kid-Flash knocks at the door of his friend's house, only to find him there alive and well! Damn these comic-book writers, and the way they make us love these characters. Like I said, I wanted to be mad at Glass for toying with our emotions, but I'm so glad that the bright blue bundle of bounce is O.K. that all is forgiven.
Well… at least until page two of issue #23, that is.
Positives
Roundhouse is alive! Yes! Yes! YES! Ahem… sorry. I went all Daniel Bryan there, for a moment.
It's a testament to how well written this series is, that I'm already invested in characters that have only been around for four months. I've always been a fan of Robin (all of them) Kid Flash (all of them) and Red Arrow (you see where this is going). Adam Glass has made me a fan of Roundhouse, Crush and D'Jinn too. These three teenage heroes feel real. They all have distinct personalities, traits, gifts and flaws. They talk like real teenagers and act like real teenagers. In years to come I believe that they could become as well loved, and well known, as Damian, Wallace and Emiko.
Negatives
One thing I don't remember ever seeing before is Bernard Chang not providing full pencils and inks on one of his stories. This issue features breakdowns (rough pencils) and the art has been finished by Scott Hanna. Don't get me wrong, the art in this issue is still very good, as Hanna is one of the best inkers in the business. I've just gotten so used to Chang inking himself, that I found the effect of someone else doing it, over roughs, a little jarring. Thankfully the color art by Hi-Fi and the always on point lettering of Rob Leigh is top notch, as always.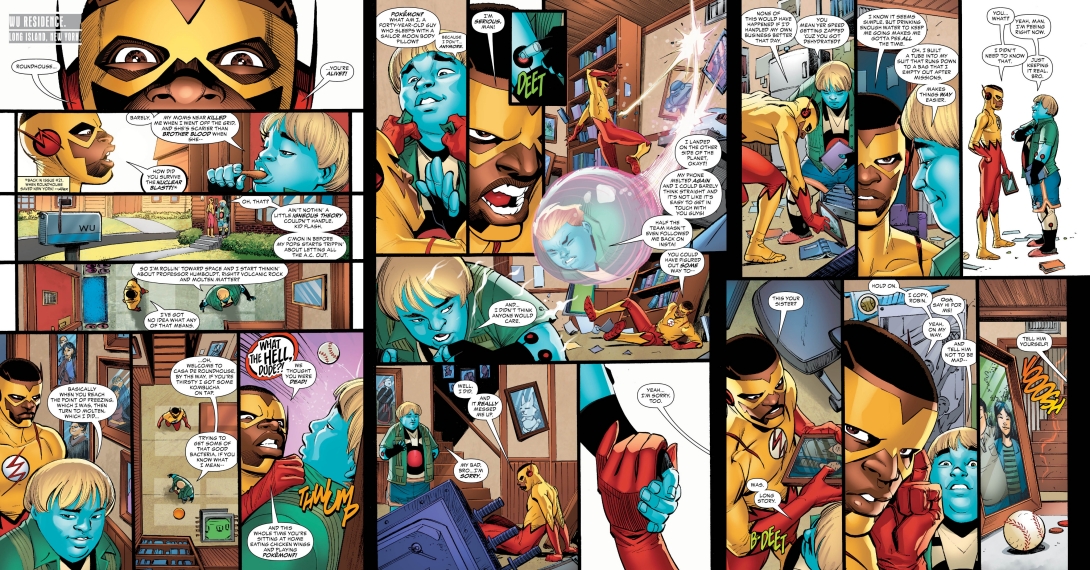 Verdict
Another fun and action packed issue. It was great seeing Lady Vic again, she's another blast from the past. The shock of page two of the issue marries well with shocking events depicted in Batman #55, Nightwing #50 and Heroes In Crisis #1. The ongoing arc in this series, the characters and the consistently attention grabbing cliff hangers always leave me wanting more. The only (very) slight let down was the inconsistent art.
Images Courtesy Of DC Entertainment