[Editor's Note: This review may contain spoilers]
Director: Peter Rida Michail & Aaron Horvath
Writer: Michael Jelenic & Aaron Horvath
Starring: Greg Cipes, Scott Menville, Khary Payton, Tara Strong, Hynden Walch, Will Arnett, & Kristen Bell
Reviewed By: Derek McNeil
I had no plans to watch Teen Titans GO! to the Movies until the review copy showed up at my door. I am drawn towards the more serious faithful adaptations of the DC books rather than the kiddy-friendly stuff like Teeny TItans or DC Superhero Girls. But I tried to get back in touch with my inner child who thought the Super Friends cartoons were the best thing to ever hit TV and imagine what a younger viewer today might think about this. So I popped this into the Blu-Ray player, and settled in with a bowl of Boo Berry to watch it.
I had little experience with Teen Titans GO! before this, only having read and reviewed a single issue of the comic book based on the cartoon. My general impression is that it was a dumbed-down version of the Teen Titans cartoon that proceeded it. And I generally considered that version of the Teen Titans a severely dumbed-down version of the real thing, Marv Wolfman and George Perez's New Teen Titans comic.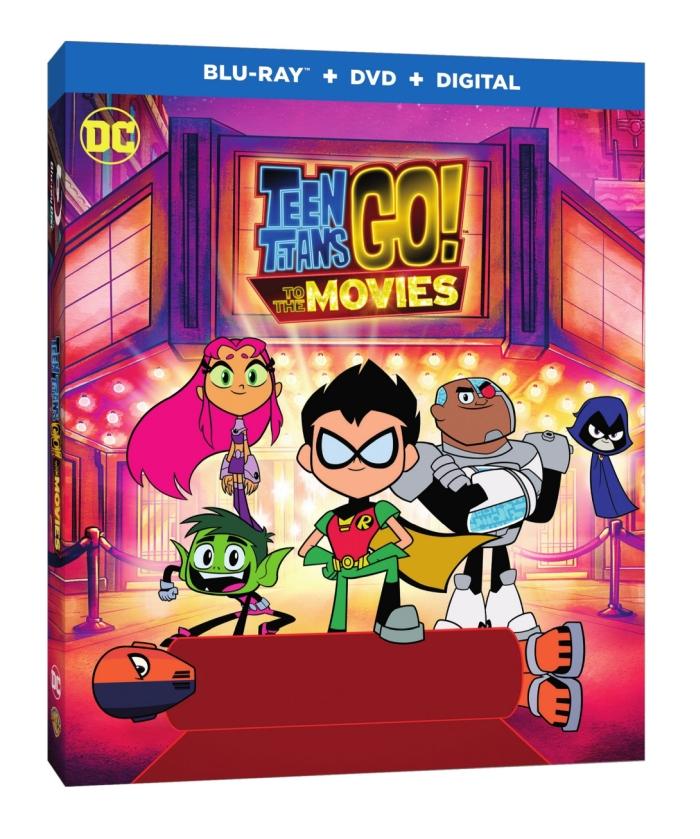 The plotline itself isn't anything particularly groundbreaking. It's a pretty standard story. Robin gets a once-in-a-lifetime chance to hit the big time and star in his own superhero movie, but he has to turn his back on the rest of the team to realize this dream. Eventually, he realizes his mistake and seeks to patch things up again.
Although hardly original, this plot serves adequately as a framework to adorn with an extreme amount of humour. I remember thinking preceding Teen Titans cartoon was a bit too silly to be taken as serious adventure, but I like this version much better, because it lets go of any preconceptions of being serious and embraces the absurdity.
That is the genius of Teen Titans GO! to the Movies. It is a full on parody of superheroes tropes, both in comics and movies. Plus it gives a loving, yet hilarious look at various bits of DC History. While much of the humour is addressed to the kids in the audience, there is much for their parents to enjoy – especially if they are longtime DC fans themselves.
One example is when, exasperated by the Titans, Superman mutters to himself, "Somebody save me." Or when the adult heroes are asked if they have ever had their own movies, John Stewart says, "There was a Green Lantern movie… but we don't talk about that." And while younger kids might not recognize Challengers of the Unknown, some of the older fans may understand how truly unappreciated the Challengers are.
And the favourite satirical target is the proliferation of superhero movies and TV shows that we are currently seeing. To drive home the point that this trend is out of control, the Titans witness a trailer for a movie about Alfred, which is slightly prescient considering the recent news that an Alfred TV series is being planned.
The key to enjoying this cartoon, for an adult, is to let go of the idea that it has to make sense and enjoy it for the non-sensical comedic romp that it is. You will be frustrated if you try to think things through logically. When the Titans go back in time to prevent Bruce Wayne from becoming the Batman, you don't want to get hung up on thinking, "but won't that negate Robin's origin too?"
There is a end-credits scene that teases the return of the Titans from the previous cartoon version of the team. Revealing that here isn't much of a spoiler, considering that the Blu-Ray autoplays a teaser trailer for Teen Titans GO! Vs. Teen Titans. Anyone who never saw the movie in the theater gets the surprise spoiled for them as soon as they start-up the disc.
I'm not sure how they will handle mixing the characters, considering their different styles of animation, but I hope they somehow work in an appearance of the team from the Filmation version – the real original animated Teen Titans.
Special Features
In keeping with this being a release primarily marketed for kids, the special features are the kinds of things that will keep the kiddies entertained, and not much of the kind of things that home video collectors love to dig into. There are no making-of features, although there are two Storyboard animatics, and one deleted song which is also presented in animatic form.
There is a short series of clips showing how the series sounds in international releases. This allows you to hear what the voices used for the Titans around the world sound like compared to the English-speaking actors' voices. Plus, it allows you the unique experience of hearing a fart in 6 different languages.
The three main songs are presented as separate sing-a-longs, as well as a music video by Little Yachty. This last I recommend you leave to the kids and only watch yourself if you are a bit of a masochist – or perhaps I'm just too old to appreciate that style of music at all.
Finally, there are a couple of new cartoon shorts. DC Super Hero Girls: The Late Batsby didn't do much for me, but will be a treat for any budding DC fangirls in the family. On The Red Carpet is presented as a short, but appears to be an extended trailer for the main feature.
Finally, there is a bizarre live-action feature with actors in Teen Titans mascot costumes bedevilling a security guard at the WB Studios lot. This seems to be attempting to ape the humour of old-school WB cartoon shorts, or Animaniacs, but the slapstick humour really doesn't live up to the source material. Really small kids will probably find it funny, but older kids and adults will likely want to skip over this.
The DVD (included in the Blu-Ray/DVD Combo pack) has none of these special features, except for the two animatics). On the whole, while this is far from being a bare bones set of features, it still is somewhat underwhelming. I would have much preferred for a collection of the trailers and TV spots to be included, as well as a proper behind-the-scenes feature – if only a short one.
Verdict
Overall, I found the main feature to be much more fun than I expected it to be, and I will give it repeat viewings whenever I need a good comedy to give me a boost. And I will add it to my arsenal of videos that I use to indoctrinate younger family members into DC fandom, alongside my DVDs of the Super Friends. But I do feel a little disappointed at the selection of special features.
Film Score: 4.5/5
Special Features Score: 3/5
Overall Blu-Ray Score: