[Editor's Note: This review may contain spoilers]
Writer: Brian Michael Bendis
Artist: Nick Derington
Colors: Dave Stewart
Letters: Josh Reed
Summary
"BATMAN UNIVERSE" PART 2 – Batman heads to Amsterdam in pursuit of the Riddler, and discovers other good guys – and bad guys! – also on the hunt for the crown prince of conundrums.  What about the Riddler's stolen cargo makes everyone want to have it?  Batman must track him down to find out!
Positives
Part two of this new story really ramped things up.  We started off with Batman going to this small town and meeting a new character, Jinny Hex, the great-great-granddaughter of the baddest hombre around, Jonah Hex.  For those of you unaware, the writer of this story, Brian Michael Bendis, will be launching a new DC comic line called "Wonder Comics", and in it will be a brand new Young Justice series, with none other than Jinny Hex.  So this is the official introduction to this character, and I have to say, I loved her!  She's spunky and full of attitude and will be a great addition to the Young Justice line up for her personality alone.  We don't know anything else about her, but I'm excited to find out more when the Wonder Comics line finally launches.  And that was just the first half of this issue.
In the second half, Batman makes his way to Amsterdam and tracks down the Riddler, who is hiding out in a nightclub.  Derington does a great job of conveying the fear Riddler is experiencing as he worries that the Bat will find him… and he was right.  From here things get crazy as Deathstroke steps in to take on Batman.  He was hired to keep Riddler safe, and he really throws down with the Dark Knight.  Josh Reed does a fantastic job at utilizing exposition within Alfred's speech bubbles to introduce Deathstroke to all the new readers out there, as these Giant-Sized books are geared to those picking up these characters for the first time.
This story is so fast paced, yet feels much longer than it is seeing as it clocks in at the usual 12 pages that these Giant-Sized issues have been providing.  And unlike the previous issues, this one felt full, and didn't leave me wanting.  Bendis' story beats combined with the beautiful artwork by Nick Derington and Dave Stewart makes for the perfect telling of this chapter to this new Batman story.
Also, GREEN ARROW!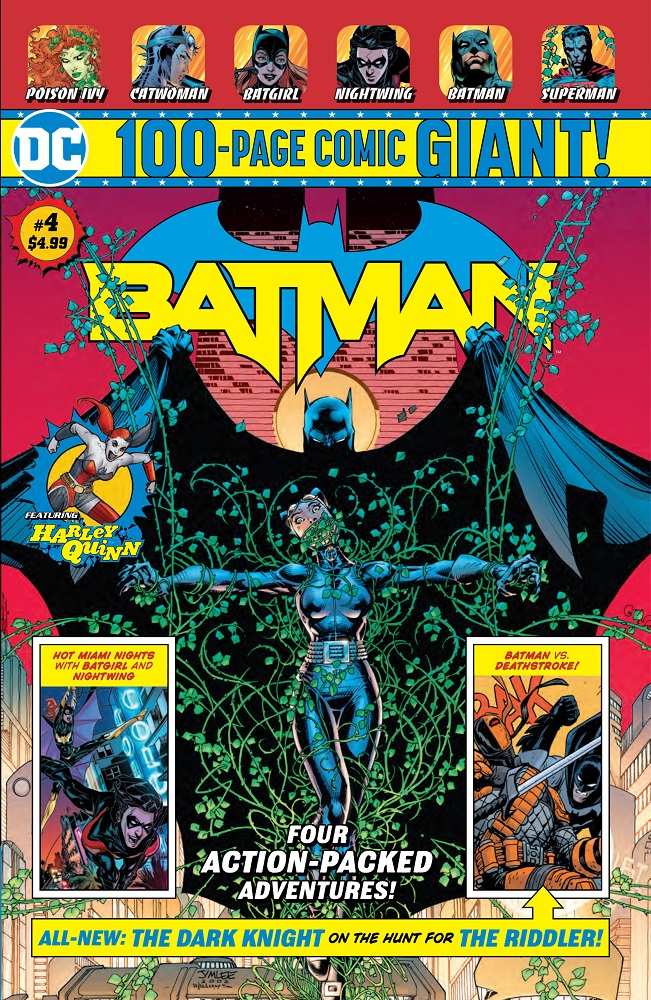 Negatives
I am ecstatic to say that there are no negatives in this issue for me.  It was a perfectly done piece and I don't say that very often.
Verdict
This has been the best issue of Batman Giant so far, and I am really looking forward to seeing where it goes.  Bendis' take on Batman is perfect and I really hope he gets the chance to branch out into other books and characters as time goes on.