[Editor's Note: This review may contain spoilers]
Director: Oz Scott
Writer: Pat Charles
Starring: Cress Williams, China Anne McClain, Nafessa Williams, Christine Adams, Marvon Jones, James Remar
Summary
This week on Black Lightning we learn more about Freeland. Specifically, South Freeland. Now we know that North Freeland, between the gangs, Greenlight, corruption, and Tobias Whale can have a slew of dangers. South Freeland can be even more dangerous thanks to Looker. She is creepy and aloof and has the entire neighborhood under her control. All that and we get to meet a clan of moonshiners called The Perdi.
Lynn might strong, but even people ass torn gas her can suffer from depression. Tobias and Khalil.. its hard not to have a little sympathy for Khalil. He's learning how dangerous Tobias can be, but he may be in over his head.
Positives
Looker is an intriguing villain, especially because she's a villain unlike any we have seen on the show before. She's dangerous, detached and ruthless. When the season started I thought Tobias was going to be the one to watch, the seasons big bad, now with the arrival of Looker I'm thinking it might be her instead.
Gambi- he may be gone, but his impact is still being felt which, however fleeting, makes his absence a little easier to take. And is another example of well this show hits those emotional beats so well. You care about the men and women behind the masks. Oh and maybe there is a.. twist
Which brings me to Khalil. It would be easy to make him a one note character. In a lesser show he would be, but here we find ourselves sympathizing with him.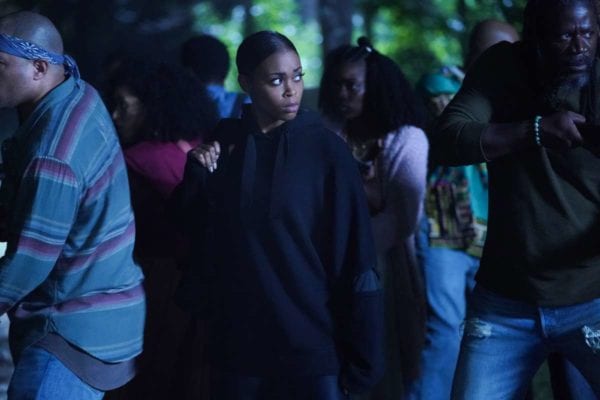 Negatives
It's a pretty small quibble, but Black Lightning can suffer from a common problem for network TV shows which run for 20+ episodes. With that much time to fill there is bound to be filler. This episode had a bit.
The Gambi twist – still not so sure if the audience was being played or not..
Looker, and the metaphors to power that she represents.. will there be missed story telling opportunities missed in order to keep the metaphor going? It never works to sacrifice the plot to make a point. Trust the story. The symbolism will take care of itself.
Verdict
Another strong showing in a strong season. Looker is new villain who ups the stakes yet again on show that doesn't shy from consequences. Another example that Black Lightning is a show with something to say besides watching metahumans fight.