[Editor's note: This review may contain spoilers]
Writer: G. Willow Wilson
Pencils: Cary Nord
Inks: Mick Gray
Colors: Romulo Fajardo Jr.
Letters: Pat Brosseau
Summary
It's a standoff of mythological proportions when Wonder Woman combats the resurrected God of War, Ares! While trying to stop a war, Wonder Woman appeals to Ares to intervene with her, but he thinks the two parties should fight it out and resolve it themselves. Guess dying and coming back didn't do much to soften Ares' M.O.
Positives
The cover by Terry Dodson and Rachel Dodson is very cool. I love that Diana is so confident even when this giant fist has a hold of her. It's a badass image.
I really like what Wilson is doing with Ares. He wants redemption but he doesn't really know how to go about it. And in addition to that, his mere presence causes war and chaos. Can war even be just?
The ending is cool and I'm excited to see where it goes and how it ties into the Ares story. Although I wish it hadn't been spoiled in DC's official summary.
Negatives
I'm still not loving the art. I do think it's better than it was in the last issue; I didn't find it to be nearly as distracting. But, stylistically, it does nothing for me.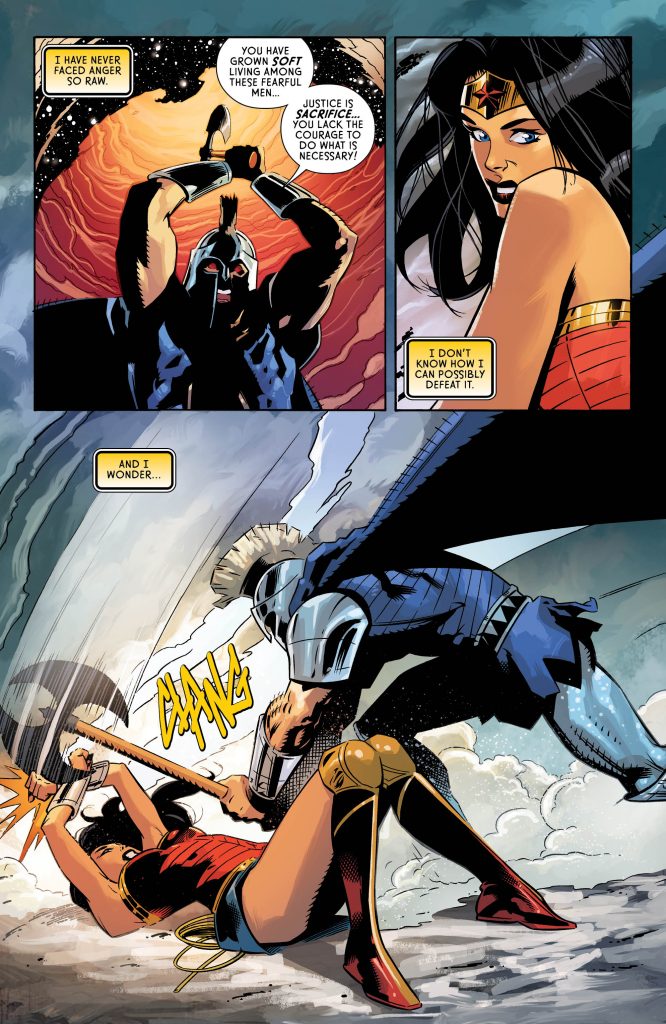 Verdict
This is a fine issue. I really like the conflict between Diana and Ares; Wilson has really found a way to make that dynamic fresh again. I am a little bored with Steve's subplot but the ending makes me more curious. It's a solid issue overall.