After years of teases, foreshadowing, misdirection, and subplots, Gotham will finally see The Clown Prince of Crime in all his glory in the series finale.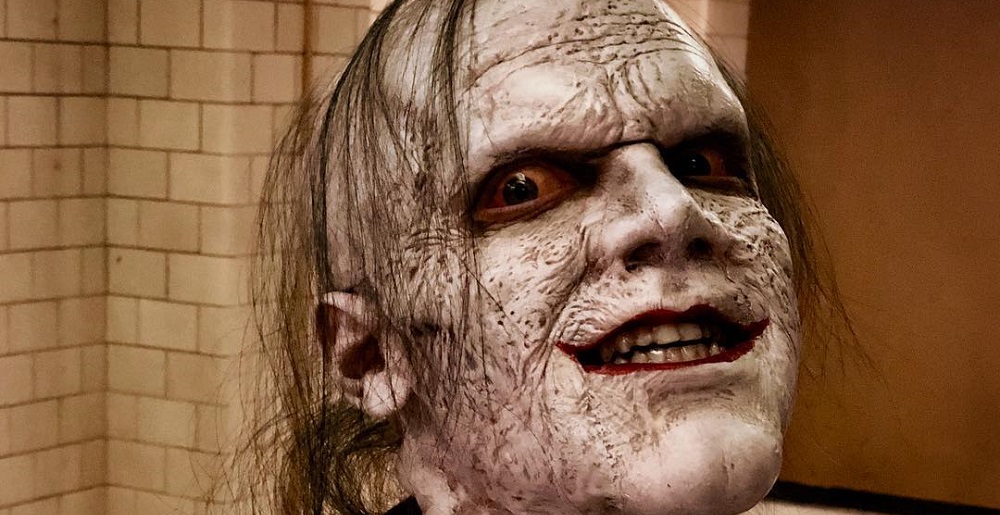 After a first look at his appearance in an official poster, actor Cameron Monaghan (formerly Jerome Valeska and currently twin brother Jeremiah) released on Instagram a better look at his version of The Joker. Set five years from the second-to-last episode of the season, Jeremiah still bears the heavy acid damage to his face and hair from his fall in the Ace Chemical vat of acid during his struggle with Bruce.
In the trailer you can see his skin tone appears relatively normal in Arkham Asylum, so there is speculation that – like in Frank Miller's The Dark Knight Returns – most of the makeup is applied rather than bleached in. Jeremiah's naturally-bleached skin and resulting insanity was the result of exposure to a compound the psychotic Jerome had made specifically for his brilliant, normal sibling with help from The Scarecrow.
The accentuated chin and subdued grin are reminiscent of the makeup Jack Nicholson wore for Tim Burton's Batman in 1989. Of course, that version had a permanent grin, whereas Monaghan's apparently has more facial control.
Cameron first appeared as the psychotic Jerome in the first season, and had long been billed by fans as the precursor to The Joker despite the writers and producers' counter arguments until his death. The creation of Jeremiah gave writers the opportunity to craft a different precursor in Jeremiah, an architectural genius living under mortal fear of his brother finding him.
The 180-degree turn after the gas exposure was the highlight of last year. The complete opposite of his destructive brother, Jeremiah was a different kind of maniac; his sympathizing with Ra's Al Ghu's designs for Gotham was in keeping with his desire to build, albeit after mass muder and destruction to lay the foundation.
Despite the inclusion of Harley Quinn and trademark purple suits, Monaghan's performance offered a more controlled insanity without the laughter until his fall into the vat. The teaser suggests further mental damage and the full imagining of Jeremiah as the one, true Joker.
Catch the series finale of Gotham on FOX April 18th at 8/7 Central.