Review: MERA: TIDEBREAKER
[Editor's Note: This review may contain spoilers]
Writer: Danielle Paige
Artist: Stephen Byrne
Colors: David Calderon
Letters: Joshua Reed
Reviewed by: Joshua Raynor
Summary
Princess Mera is teenage royalty and heir to the throne of Xebel, a colony ruled by the other no-so-lost land under the sea, Atlantis. Her father, his court, and the entire kingdom are expecting her to marry and introduce a new king. But Mera is destined to wear a different crown….
When the Xebellian military plots to overthrow Atlantis and break free of its oppressive regime, Mera seizes the opportunity to take control of her own destiny by assassinating Arthur Curry—the long-lost prince and heir to the kingdom of Atlantis. But her mission gets sidetracked when Mera and Arthur unexpectedly fall in love. Will Arthur Curry be the king at Mera's side, or will he die under her blade as she attempts to free her people from persecution?
An astonishing story that explores duty, love, heroism, and freedom…all through the eyes of readers' favorite undersea royalty.
From New York Times best-selling author Danielle Paige (Dorothy Must Die) and artist Stephen Byrne comes a Mera and Aquaman story that explores Mera's first steps on land, and her first steps as a hero or villain, forcing her to choose to follow her heart or her mission to kill.
Positives
The new DC Ink line of graphic novels from DC Comics aims to take classic characters and make them more accessible to a younger audience.  Mera: Tidebreaker does just that, taking a great character like Mera and giving her a youthful relatability that was previously lacking in comics.  Even though she's a young teenager here, Danielle Paige manages to capture the iron-willed, warrior spirit of the character of Mera in such a perfect fashion.
We get to see Mera and Arthur as teenagers, something previously unseen, at least as far as my knowledge goes.  This allowed for a very specific style of storytelling that Danielle Paige knocked out of the park, merging a great action story with a young adult romance tale.  Paige took this strong, independent character, and placed her in this romantic situation while managing to maintain the core of who Mera is, and that's one of the things I loved most about this book.
Showing the ever-growing tension between the peoples of Xebel and Atlantis created a perfect background for this story.  It's a topic that's very relatable today, yet will hold up throughout time, as these types of situations will likely never go away within our society.  Seeing Mera, a princess of Xebel, taking action into her own hands, whether it's carving an anti-Atlantis symbol into the side of the Atlantean embassy, or taking on the mission to assassinate the future King of Atlantis, Arthur Curry, better known to most readers as Aquaman.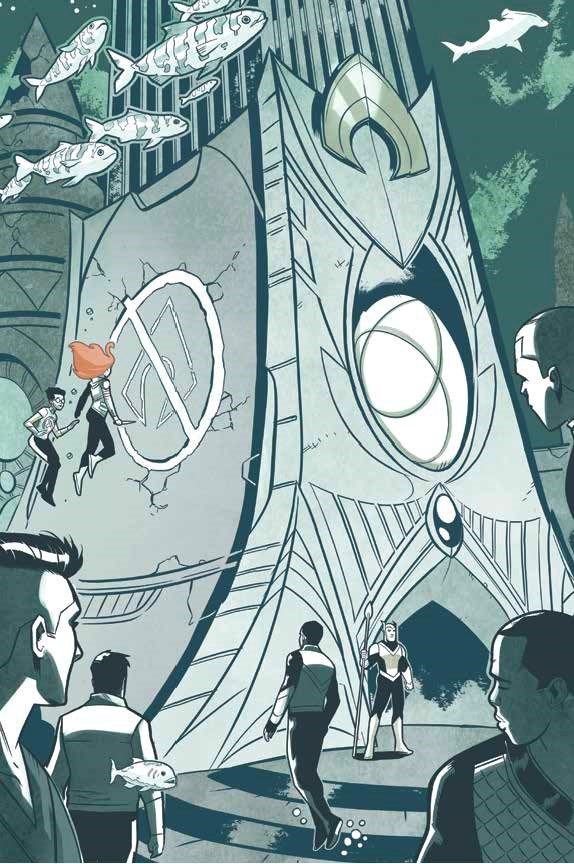 Now, those who know anything about the character of Aquaman know that he and Mera eventually get married and have a child, however Danielle Paige refrained from making that the endgame here, which was a surprisingly delightful turn.  As this is a Young Adult graphic novel, I was expecting it to end with them together, but instead we see her independence in full effect, and that is a much more satisfying ending, and one that will, hopefully, be inspirational to young readers checking out this book.
The other thing I really wanted to highlight in this book was the art by Stephen Byrne and David Calderon.  Mera: Tidebreaker is essentially a "black & white" book, but instead of using grayscale, he used what I'm calling "greenscale" with some simple pops of orange throughout.  It's absolutely stunning to look at.  The pops of color really force you to focus on those parts of the panel, whether it's Mera, her father, or something small in the background.  This is a style I wish we would see more in comics, so it's wonderful to see this brand new, self-contained story utilize this technique is such a beautiful way.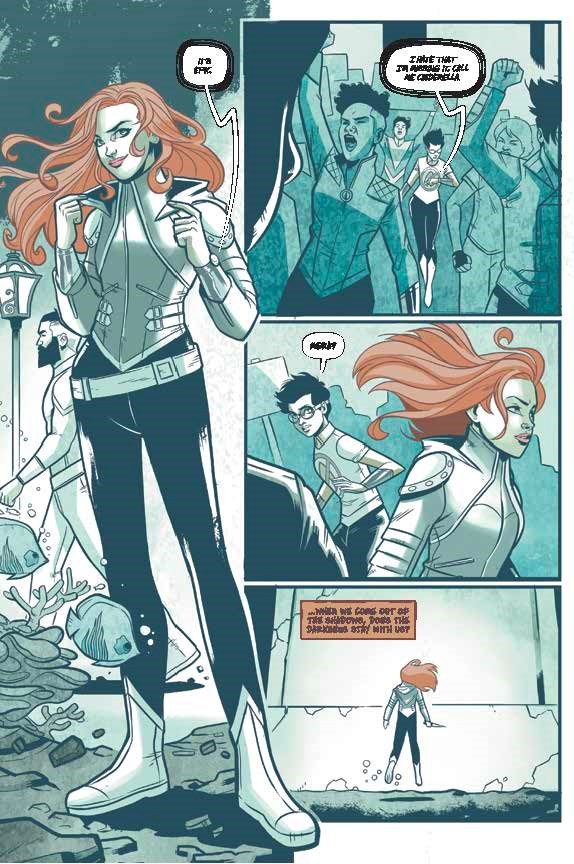 Negatives
There really wasn't much not to like in this book.  Since it's a YA story, there are certain tropes you have to understand are part of the genre, and if it's not something you're used to or something you care for, then it may turn you off here, but they're done in such a great way that I didn't really mind.
However, the one thing that did kind of bug me was the look of Arthur Curry.  Mera looked perfect here, yet Arthur looked like they were trying to make a mix between the classic comic book version and the movie version, mainly with the short, black hair.  If his hair had been blonde, it would've looked more classic, and if it had been a bit longer and shaggy, it would have resembled Jason Momoa's portrayal in the recent film.  Now, I get that maybe Byrne was going for a more unique look for this story, but it made it more difficult for me to connect that this character was the one I knew from the comics.  It's a minor thing, yes, but something worth mentioning.
Verdict
This is a great story for young and old readers, and will hopefully be the start of a new, necessary era of books for a younger audience through the DC Ink and DC Zoom imprint lines.  I am excited to see what Danielle Paige does next, and I hope it's something within the superhero genre.  She went underwater here, maybe go to space next?  We'll have to wait and see.  But in the meantime, check out Mera: Tidebreaker, share it with your friends, your children, your young nieces and nephews, because everyone should be checking this one out!