We last heard from Sideshow Collectibles when they announced their new Joker and Mr. Freeze figures. Now the company is mining the DC catalog again with a Premium Format Starfire.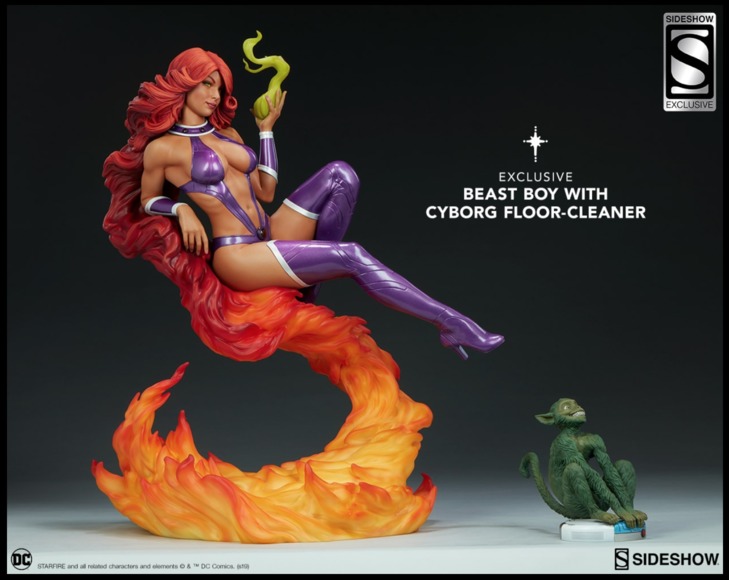 Sideshow's description is below:
"The world can be so beautiful. Why inhibit yourself with silly taboos?"

X'Hal! Sideshow presents the Starfire Premium Format™ Figure, joining our lineup of DC Comics collectibles.

The Starfire Premium Format™ Figure measures 19" tall as the powerful princess of Tamaran reclines effortlessly against a base formed from her own fiery hair.  Starfire's luscious orange locks descend into vibrant and volumized tongues of flame that hold her aloft, creating her stylish and alluring airborne pose.

The Starfire Premium Format™ Figure is entirely sculpted in polystone and PVC elements, and features Koriand'r in her signature purple costume designed to soak up ultraviolet rays! Her metallic bodysuit, heeled boots, and gauntlets are all detailed with textured paneling, white accents, and red jewels to complete her iconic look. The Tamaranean Titan also has a green starbolt charged up in her left hand, matching the bright green tone of her alien eyes as she coyly smiles at whoever crosses her path.
As is typical with Sideshow Collectibles, if you order the Exclusive Edition directly through their site, you get a bonus feature — in this case, a Beast Boy figure with a Cyborg floor-cleaner.
Starfire is scheduled to arrive in 2020, and carries a price tag of $565.