Review: DOOMSDAY CLOCK #10
[Editor's Note: This review may contain spoilers]
Writer: Geoff Johns
Illustrator: Gary Frank
Colors: Brad Anderson
Letters: Rob Leigh
Reviewed by: Cameron Tevis
Summary
Carver Colman was an A-list actor from the fifties. Colman had been a big name for years, but by 1954 something went very wrong. Something was obviously troubling him because he couldn't remember any of his lines or stay focused on set. Colman was mysteriously murdered in early June of that same year.
Doctor Manhattan turns back the clock and revisits Carver Colman's life. At a young age Colman always wanted to break into film. But when he finally had his foot in the door, he witnessed something that changed his life forever. It put him on a path that led to a chance encounter with Doctor Manhattan.
Colman looked at Manhattan like a guiding angel. He would turn to him for advice and guidance for his next move to become one of the Hollywood elite.
While Colman's career grew, Manhattan's interest in Superman also grew. Doctor Manhattan grew more and more intrigued by the fact that every generation somehow had Superman at the center of it.  Superman was a driving force for what Manhattan called the Metaverse.
Colman eventually learned that Manhattan was never his guiding angel. Meanwhile, Doctor Manhattan comes to terms with the fact that he may very well be the villain of this story.
Positives
Gary Frank's artwork in Doomsday Clock #10 is as beautiful as ever.  Praising his art can get redundant but is well-deserved. His character illustrations are among the most expressive I have ever seen.
But the true achievement of this issue is not necessarily the artwork, but the writing. Geoff Johns introduces the reader to the DC Universe, Metaverse. A universe that helps define all other universes in the multiverse.
By doing this, Johns manages to make every version of Superman in history play a part in this story. Since his creation in 1938 Superman has had many reboots and updates, but Johns makes all of those exist with equal importance. They each played a part in the metaverse and in turn the multiverse and ultimately in the world of DC Comics as a whole. Johns doesn't just show that Doctor Manhattan may have created the world of the New 52, he shows that Manhattan is aware of all previous versions of the DC Universe.
The thing that intrigues Manhattan the most is that it doesn't matter where he goes in history or the multiverse, Superman is always at the center of everything.  This elevates the importance of Superman to exactly where he should always be, on top. Historically, he is the first superhero as well as the most important and this story reminds the reader of that.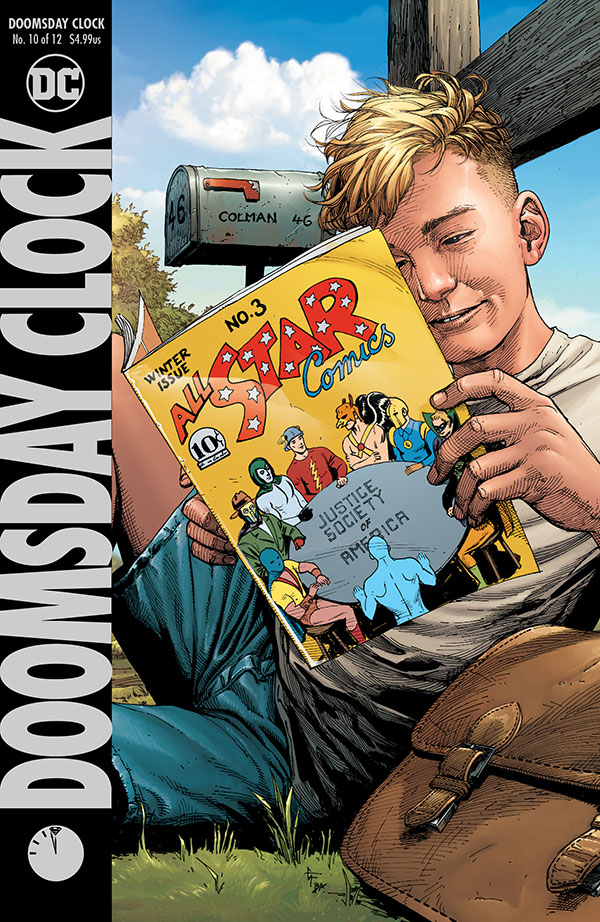 Negatives
Once again, I have nothing negative to say. Even with the delays, the final product is so good, it is worth the wait.
Verdict
Issue after issue Geoff Johns and Gary Frank have given readers an amazing comic book. The first few issues introduced the world to new characters from the Watchmen universe. Following that they reminded audiences of how great Superman really is. Now with this issue, not only do they show us how important Superman is, but they show us Doctor Manhattan's fascination with Superman.
I cannot recommend this title enough. I think this title would be equally impressive to new and old fans alike. It is laced with DC history for the veteran fans, but it is presented in such a way that even the newest reader can get pulled in.
I anxiously await the final two issues.