Review: SWAMP THING 1×02 – "WORLDS APART"
[Editor's Note: This review may contain spoilers]
Director: Len Wiseman
Writers: Mark Verheiden & Doris Egan
Starring: Crystal Reed, Virginia Madsen, Andy Bean, Derek Mears, Henderson Wade, Maria Sten, Jeryl Prescott, Jennifer Beals, Will Patton, Kevin Durand, Ian Ziering, Leonardo Nam, Selena Anduze, Kelly Walker, Given Sharp,  Elle Graham, Dorothy Recasner Browne, Charline St. Charles, Justin Miles, Guy Whitlock, Michah Fitzgerald, Keith Arthur Bolden, Harrison Stone
Reviewed By: Ari Bard
Summary
After Alec goes missing, Abby is eager to search the swamp but is met with some resistance from Sheriff Lucille Cable.  Her continued investigation of the disease leads back to the Sutherlands, which are hiding some secrets of their own.  Avery Sutherland meets with Dr. Jason Woodrue, the developer of the biological accelerant, and tells him to fix this mess, while Maria turns to Madame Xanadu to ease pain from the past. There's no time to worry about that, however, because Susie Coyle, A.K.A. patient zero, has escaped from the hospital!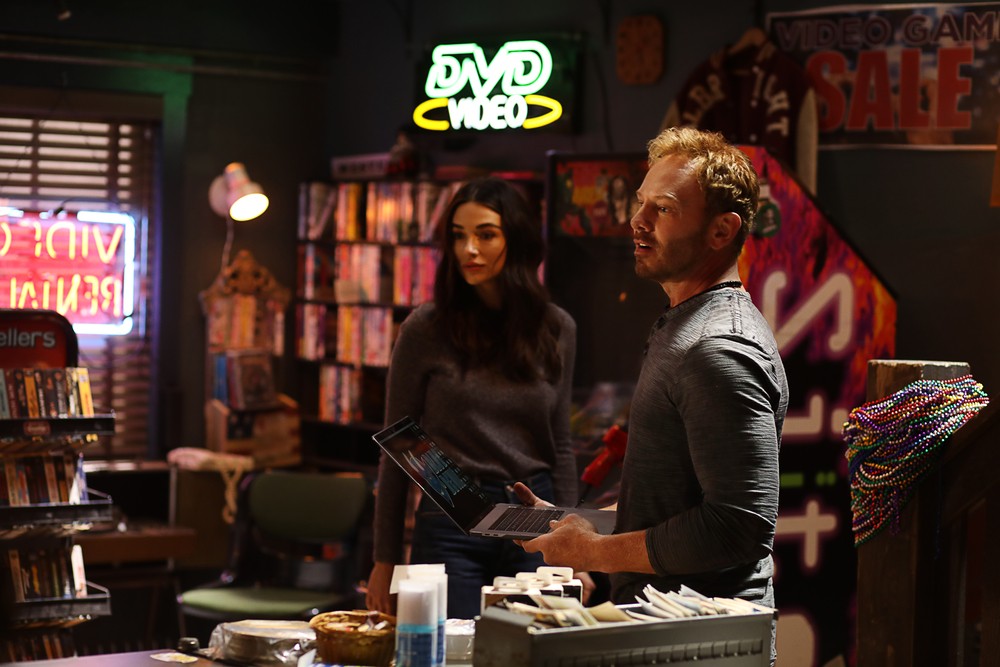 Positives
Swamp Thing 1×02 gives a phenomenal follow-up episode to the thrilling premier of a sci-fi-mystery-horror episode unlike anything else out there.  This episode takes on a much more dramatic feel and really focuses on the characters and inhabitants of Marais.   This feels like a very full town with more inhabitant than we're seeing.  There may be characters we rarely or never see again, but they help give Marais a character and community that didn't exist in Doom Patrol or Titans.  Whether it be the Sutherlands, Madame Xanadu, or Matt, people other than Abby are going through problems and dealing with issues, which is refreshing to see.
There are great uses of parallelism, camera angles, and other editing effects in this episode.  This is an extremely well put together show that knows what it's doing.  There is a phenomenal scene between Suzie and Swamp Thing in the beginning of the episode that showcases the true power of both the character and the editing.  There are also phenomenal visual and audio effect as well.  The score is extremely subtle but also extremely effective.  There are always quiet sounds in the background that keep you invested and don't get in the way.  Sometimes their light and sharp strings that grow into a full orchestra.  Other times there are blaring horns that decrescendo as the crisis dissipates.
The show continues to be carried by Crystal Reed's performance as Abby Arcane.  She elevates the emotional weight of every scene she is in.  Her character and performance exudes empathy, and you feel there is weight to every conversation.  There is no one in Marais who is unaffected by what is happening.  People are approaching a metaphorical tipping point, and it looks different for everyone. This also leads to Abby and other characters making poor and reckless decisions, but it doesn't feel out of place because you know the emotional state that they're in.  Swamp Thing 1×02 sets up an unparalleled emotional narrative that keeps you on the edge of your seat the entire time.
Negatives
Swamp Thing isn't quite sure about what it is yet.  On the sliding scale between drama and horror, episode one managed to keep a fairly delicate balance.  Swamp Thing 2×02, however, is a bit more erratic.  For most of the show, the tone is extremely dramatic.  This is about Abby and her relationship with members of Marais first and foremost.  We see a lot of emotional beats and conversations take place between Abby and the Sutherlands, Liz Tremayne, Matt, and more to that resonant but are often interrupted by a split second of horror.  For those hoping to feel the horror, however, it doesn't shine through until the last ten minutes when it switches gears completely.  There's such a dramatic tonal shift that it throws you off for a moment.  This is likely due to the budget and the need to balance the visual effects, but it just felt too lopsided in this episode.  Hopefully we'll see a more identified tone in the remaining episodes.
The color palette also remains an occasional issue.  There should never be a moment where no matter your settings on your TV or computer, you should never see 80 percent black during an action sequence.  It's extremely frustrating to know something cool is happening, but to be unable to see it.  Luckily, that's rarely the case, and the show got much brighter in certain scenes as well.
Verdict
Swamp Thing 1×02 is an extremely compelling and dramatic episode that proves the pilot wasn't a fluke.  This is a very unique show with plant-based horror that everyone should be watching.