Review: SPAWN #298
[Editor's Note: This review may contain spoilers]
Writer: Todd McFarlane
Artist: Jason Shawn Alexander
Letters: Tom Orzechowski
Colors: Fco Plascencia

Reviewed by: Carl Bryan
Summary
"I am Al Simmons.  Once you accept that, everything the military says about my death is a cover-up." – Spawn
Spawn vs. the full might of Heaven's newest Godsend—ROUND 1! TODD McFARLANE and JASON SHAWN ALEXANDER up the ante in this lead-up to SPAWN's record-setting 300th issue, featuring TODD McFARLANE's special parody recreation of one of his own classic comic book covers!
Al Simmons is interviewed by Marc Rosen in his attempts to start exposing the major political and underworld threats that have plagued him since the beginning.  Heaven sends some agents to shake down Marc, but they don't anticipate Spawn making an appearance to both defend Rosen but to also to mix it up with the Redeemer.
Who's that issuing orders in Albania in a hidden forest and what role are they playing in the war that's coming?  Mix in Nyx, who knows where the lines are being drawn in this upcoming conflict and a new Heaven creation…The Rapture (Heaven's answer to the Four Horsemen).  The only thing that makes sense to Spawn now is to fight!
Issue 300 is almost here!
Positives
Journalism is at the forefront with Todd McFarlane's Spawn and you have to appreciate the power of the press.  McFarlane has never deviated from his news screens or reporter elements in his work with Spawn and reporter Marc Rosen is helping Spawn take down Heaven, Hell, and all that's in between.
I have never seen a more powerful Al Simmons as he made short work of the Redeemer in this issue.  There's more to this beef and we see that in the cover art for issue 299.
Speaking of cover art, is everyone picking up the homages that McFarlane is providing to his run on Spiderman?  Check out issue 1 for Spiderman and Issue 8 and 231  for Spawn.  McFarlane's pays homage a lot with his Spawn character and Spidey and the Easter Egg of covers continue to mount up.
He does the same for this issue as well.  Check out Spawn 298 and Amazing Spiderman 298.  Thanks Todd… that is part of the fun!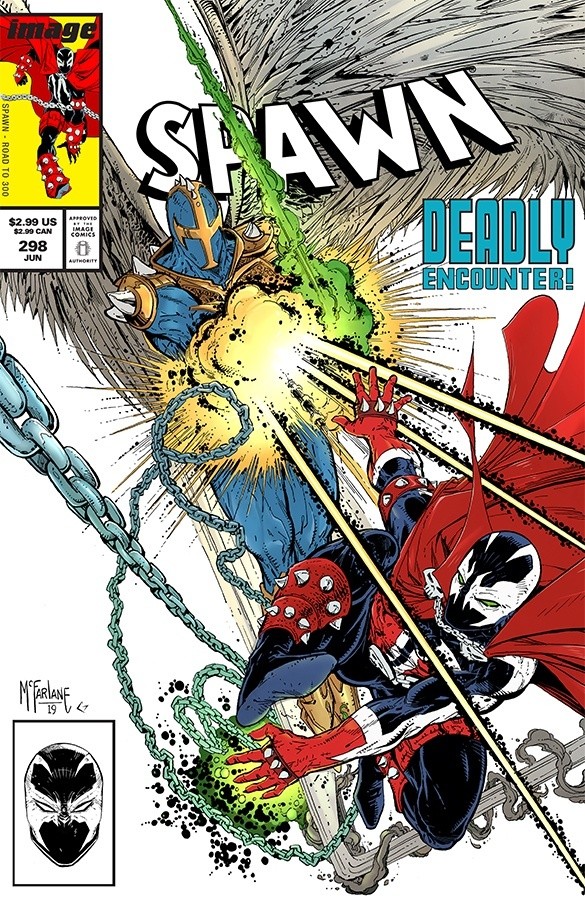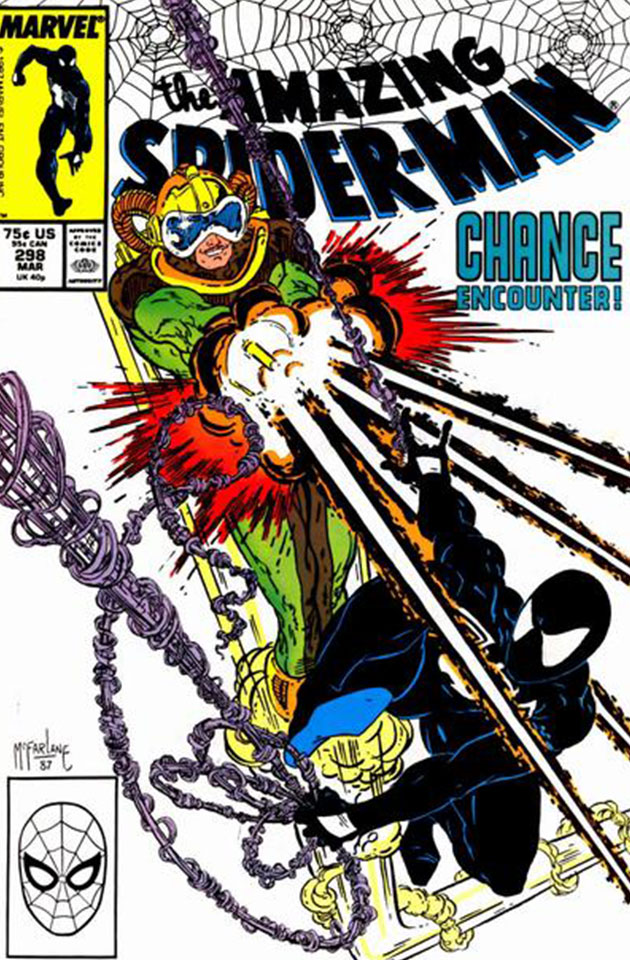 Negatives
None to mention…McFarlane is marching us to Issue 300 and he knows his long term fans are with him.
Verdict
This issue serves as a catapult for a couple of new entities in the world of Al Simmons… Nyx and The Rapture.  Hat's off to Todd McFarlane for keeping this character relevant while increasing the supporting cast of characters.  It takes a lot to develop a playground and the "Todd Father" has done that and more!