Review: DEATHSTROKE #45
[Editor's note: This review may contain spoilers!]
Writer: Priest
Pencils: Fernando Pasarin
Inks: Jason Paz and Wade Grawbadger
Colors: Jeromy Cox
Letters: Willie Schubert
Reviewed by: Steven Brown
Summary
Although Deathstroke is dead–he still has unfinished business! Taking on the mantle and the suit of her father Slade Wilson, Rose takes on his last unfinished contract. The termination of a terrorist seeking to overthrow a minor European country, Rose believes this to be a quick and easy kill. However once a former competitor of Deathstroke's shows up for the same contract–things become more complicated!
Positives
Priest starts our story with Rose infiltrating the hideout of a terrorist known as Lovac. A terrorist that specializes in nanobots that does his every bidding. Taking out the subordinates with ease, Rose corners Lovac with the intention of killing him, until she's interrupted by Shado–another mercenary! Lovac runs away in terror, using his nanobots as a distraction while being pursued by Shado. Priest does a wonderful job of showing us Rose's determination in this issue with finishing her father's final contract. Deathstroke always fulfilled his contracts and Rose seeks to keep that record intact. Rose's determination soon makes things complicated with her brother Joseph however, and I believe that the brother and sister may find themselves fractured after this issue.
Negatives
Thanks to the revelation from Shado about Deathstroke's killer, Rose now has her sights set on killing the Teen Titans, especially Red Arrow, the one who killed Slade in the first place! Initially needing Joseph to save her life, she soon comes into blows with her own brother. Thanks to Shado, Rose finds out that Joseph was the one that told Teen Titans Slade's location in the first place, ultimately leading to the encounter that ends in his death. Rose doesn't take the news in kind, leaving her brother almost broken on the rooftops of the city. I have no complaints about this issue with Priest as it shows that even in death Slade still causes misery around him.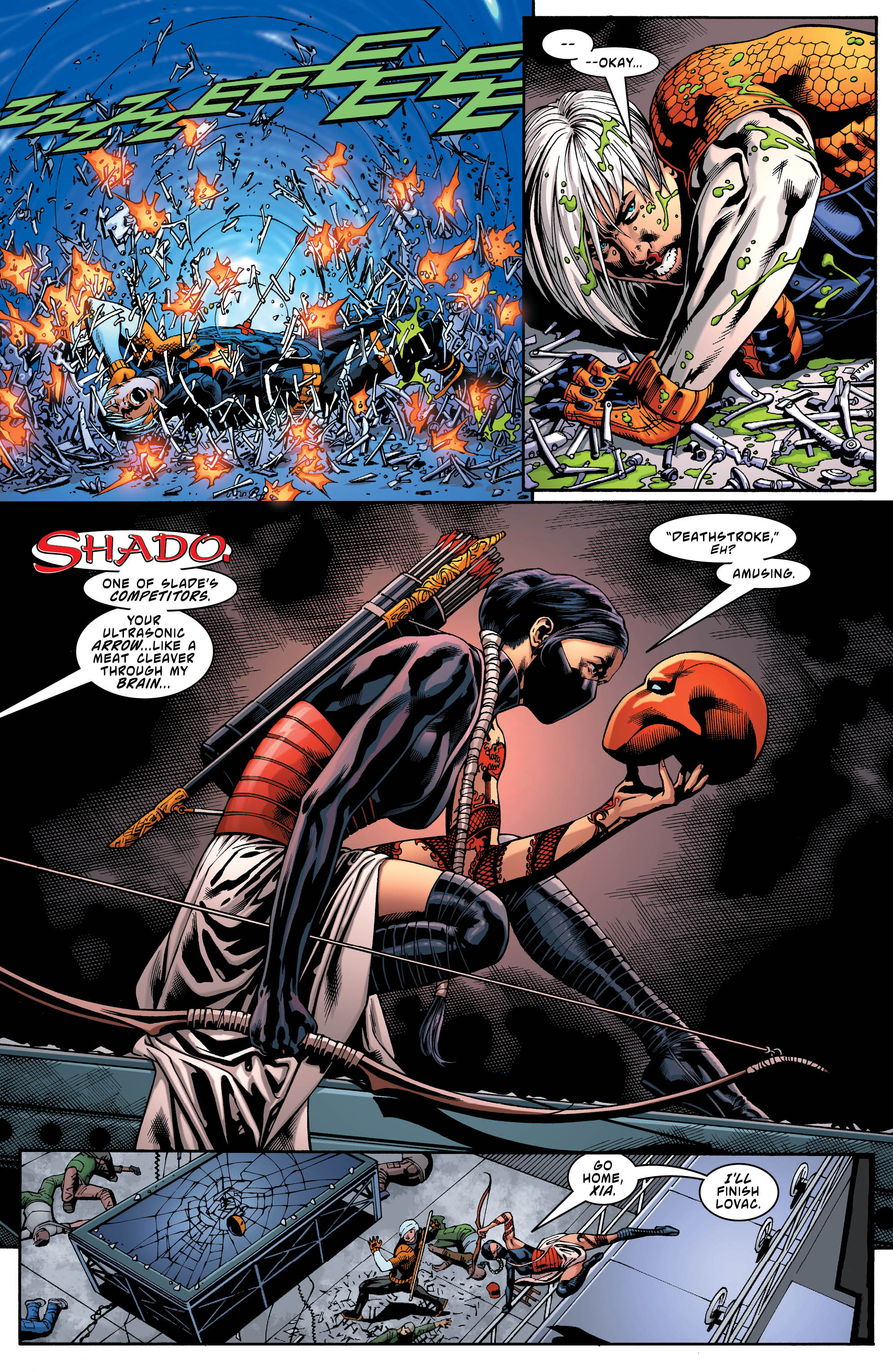 Verdict
Overall I thought that Deathstroke #45 was a great read. At first I thought that without Deathstroke this book would be dead in the water. However Priest gave us a great issue showing us how deadly Rose can be wearing the Ikon suit as well. Although she has rookie moments as the suit's A.I. sarcastically points out, I actually enjoyed her being the main character in this issue. I'm eager to see how exactly her encounter with the Teen Titans plays out, and exactly what the larger consequences of it could be.