Review: 
SWAMP THING
1×10 – "Loose Ends"
[Editor's Note: This review may contain spoilers]
Director: Deran Sarafian
Writers: Rob fresco, Erin Maher and Kay Reindl
Starring: Crystal Reed, Derek Mears, Andy Bean, Will Patton, Jennifer Beals, Kevin Durand, Henderson Wade, Jeryl Prescott, Virginia Madsen, Maria Sten, Ian Ziering, Selena Anduze, Given Sharp, Al Mitchell, Michael Beach, Jake Busey and David Kallaway
Reviewed By: Steve J. Ray
Summary
The title "Loose Ends" is very fitting, not just as a tribute to the comics' source material, but because there's still so much story left to tell. The show does get a somewhat satisfying ending, but the mysteries, machinations and monsters that started the whole story rolling are still out there, and need to be addressed. Rather brilliantly this episode feels more like an opening chapter, or prologue for what is yet to come.
Positives
So that's it… it's all over. I'm so happy that this series got made, but sad that it was taken away, far too soon. Not only has this been one of the very finest comic-book adaptations I've ever seen, it's one of the best TV productions, in terms of quality, passion and performance, that I believe has ever been committed to screen.
From the very first episode this show has delivered horror, worthy of being seen in theatres and given the full IMAX and THX surround sound treatment. Swamp Thing's cast have given performances that deserve globes, masks and statuettes galore. This is the kind of TV that proves comic-books, and fantasy/horror/sci-fi have all well and truly come of age.
Let's not forget that the Swamp Thing comic book series was initially cancelled after just 24 issues, only 13 of which were written, and 10 drawn by the character's creators, Len Wein and Bernie Wrightson. Volume Two, Saga Of The Swamp Thing was close to being shut down too and was only saved by writer Alan Moore, who was brought on with issue 20 – also titled "Loose Ends." Moore's 50 issue run (49 regular and one annual) not only changed the character forever, but all of comics too.
Since that time the series has been cancelled and brought back many times, proving that you can't keep a good monster down. Who's to say that this show may not come back one day too?
The power of fandom is immense. The show Lucifer was cancelled, but was given two more seasons on Netflix, thanks to fan support. The legendary Firefly was cancelled after one joyous, masterful series, but came back as a full length theatrical feature film, with Serenity.
The Swamp Thing series finale contains all the scares, thrills, visual excellence and powerhouse performances that one has come to expect over the last ten weeks. Crystal Reed and Derek Mears have shone throughout. Will Patton, Virginia Madsen, Maria Sten, Jennifer Beals and Henderson Wade have been far more than supporting characters, they've been real people from day one. Even the guest stars, DC Comics' supernatural heroes like Blue Devil, Madame Xanadu and the Phantom Stranger have all been given seriously great screen time.
Andy Bean's Alec Holland received a fond farewell, and Kevin Durand as Jason Woodrue had a hunger for knowledge that went straight to heart of the matter; proving that sometimes you really are what you eat!
With this episode, just like with summer blockbusters, don't switch off when the titles start rolling, make sure you stay on right to the end. Trust me, you'll receive a great big bunch of flowers as a thank you. Well… you'll get something floronic.
Negatives
Nothing directly tied to the episode itself, just sadness at its abrupt ending. Yes, some loose ends have been left dangling, but in a way that leaves the audience hopeful. Certain characters receive their just desserts, and others get to see their dreams come true… sort of.
Verdict
For the last three and a half months the DC Universe service has given us one of the finest examples of horror ever to grace the screen. In this episode we saw a Devil released, flowers bloom, one mother made whole while another was made holey. We've seen the Swamp Thing unleash his true power and form a partnership for the ages. The seeds of love have borne strange, but ultimately beautiful, fruit.
While some may paint themselves as heroes and saviours, all the while they are being consumed by the darkness within. Others may look like monsters on the outside, but are beautiful inside… where it really counts.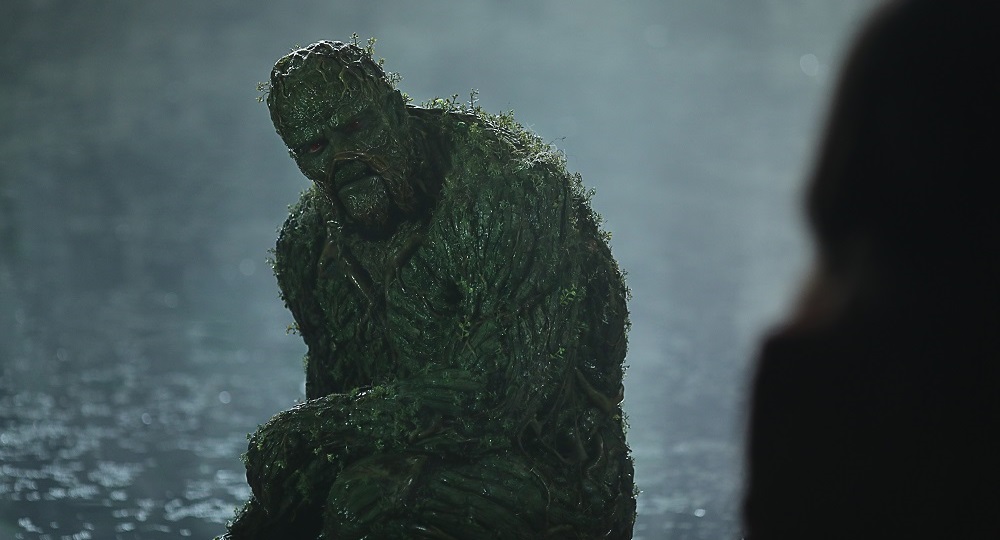 Alan Moore once wrote:
In the heart of darkness, a flower blossoms, enriching the shadows with its promise of hope… in the fields of light, an adder coils, and the radiant tranquility is lent savor by its sinister presence. Right and wrong, black and white, good and evil… all my existence I have looked to one or the other, fully embracing neither one… never before have I understood how much they depend on each other.
That, in a nutshell, is what this series has taught us. I'm hopeful that the the lesson isn't fully over, just yet.
Images Courtesy Of WBTVD
//pagead2.googlesyndication.com/pagead/js/adsbygoogle.js (adsbygoogle = window.adsbygoogle || []).push({ google_ad_client: "ca-pub-9882021783221697", enable_page_level_ads: true });