Darkseid is.
…the main villain of the upcoming DCEU New Gods movie, according to director and co-writer Ava DuVernay. She took to Twitter to answer fan questions while promoting her TV mini-series When They See Us; the subject turned to the New Gods, which DuVernay is scripting alongside Tom King.
When a fan asked about the Lord of Apokolips, the answer came back simple and direct:
Another person sent a question about the Female Furies, Big Barda's crew from the time before she met Scott Free: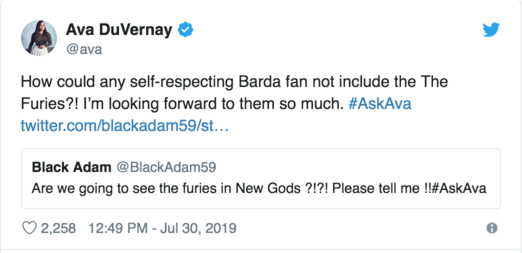 When the subject turned from villains to casting, which is still in the most preliminary stages, DuVernay had this to say:
We've already seen Jack Kirby's Fourth World represented in Justice League (with the Parademons and Steppenwolf), but let's hope DuVernay and King can deliver the cinematic vision the New Gods saga deserves.