Review: DCEASED #4
[Editor's note: This review may contain spoilers]
Writer: Tom Taylor
Artists: Trevor Hairsine & Stefano Gaudiano
Colors: Rain Beredo
Letters: Saida Temofonte
Reviewed by: Danny Saab
Summary
Dceased #4 has our heroes preparing a response to this multi level threat, but the fate of the world may already be sealed.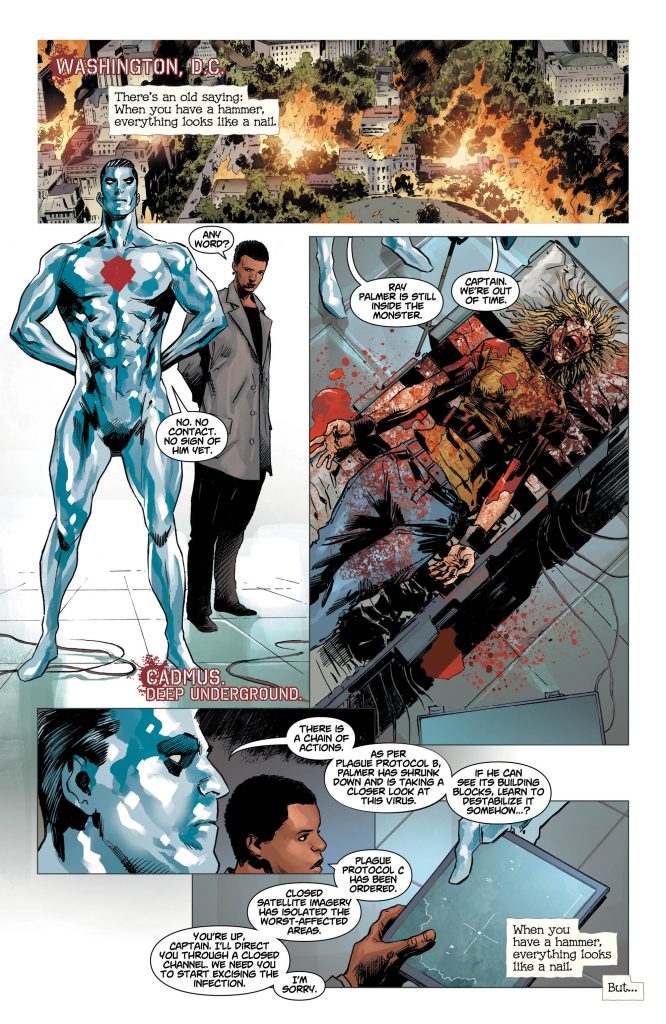 Positives
In the first 3 issues, DCeased has explored the depths of the zombie apocalypse in the DC Universe. We've seen the threat extend as far away as Apolcalyse. What we were missing was action, a response from our heroes as to how to handle this universal threat. DCeased #4 was that response and then some.
DCeased #4 was by far the most action packed and fast paced issue in this series, and with a cliff-hanger that you have to read to believe. From the battle with Giganta, to the idea of how Caption Atom got infected was simply great. Tom Taylor really thought of everything in this issue, including what Superman does to prevent himself from getting infected. Taylor did a great job of coming up with different ideas, and really thought this issue through.
Taylor also does a great job at reuniting many of our heroes together, and also finally bringing Wonder Woman into the series. Alfred returns to Damian, Ivy and Harley get together, and we find out what happens to Mera and where she ends up.
One thing I really enjoyed about this issue is how Tom Taylor seemingly gives us and our heroes hope at the beginning and middle of this issue by reaching out to survivors, and calling out for all heroes and villains alike to join the fight. After my last review of DCeased #3, it was about time to be honest. What I didn't expect was the ending of this issue. Taylor does a complete turnaround at the end, and well, once again, you must read to believe. Suffice it to say, it was a "what the hell just happened" moment.
The writing wasn't the only amazing part of this issue. The artwork by Hairsine, Gaudiano and Beredo was fantastic. There was so much action and story going on, and their artwork was vibrant, expressive and visually expressive. It rounded out the issue perfectly.
Negatives
DCeased #4 had no negatives to mention.
Verdict
The series of DCeased so far has been great, but this issue was the best of the series so far. Fast paced action, story moved incredibly well, beautiful art, and a fantastic cliff-hanger that makes you want to buy DCeased #5 yesterday. An amazing read and continuation to this series.