Review: MARTIAN MANHUNTER #8

[Editor's Note: This review may contain spoilers]
Writer: Steve Orlando
Artist: Riley Rossmo
Colors: Ivan Plascencia
Letters: Andworld Design
Reviewed By: Ari Bard
Summary
In Martian Manhunter #8, it's time we read something we've never read before and something you may have never considered: Diane's story.  Along with this comes the life of the real John Jones and the fate of Ashley Addams!
Positives
DC Comics is all aboard the maxi-train.  With Freedom Fighters, Mister Miracle, and Martian Manhunter just to name a few, DC comics is allowing creators to tell deeper, personal, twelve-issue stories outside of continuity.  These are classic characters given a new spin by some of your favorite creators, and Steve Orlando, Riley Rossmo, Ivan Plascencia, and Andworld Design have truly transformed the way we look at J'Onn J'Onzz.  The are able to make the story of an alien from Mars, one of the last of his kind, deeply personal and deeply human, rising to the occasion and creating a new standard for Martian Manhunter.
With Martian Manhunter #8 things may look a little different and a little more formal, but that's intentional.  Diane's world isn't Mars.  She lives by her strict code on Earth, and there's a certain sense of formalism that comes with that.  The color palette is more rooted in saturated grays, browns, and greens, the color palette of a 1970s police procedural.  We quickly learn that Diane has also experienced a lot of pain in her life and that this story has become deeply personal for Steve Orlando.  Orlando has been outspoken about his bisexuality in the past and has been a champion for queer representation in comics, and he's clearly able to let out a lot of thoughts and feeling in Martian Manhunter #8 with Diane's story.  Diane's origin is more than just a detective who moved precincts and found a trusted partner.  It's about a bisexual woman who was a damn good detective but was let go for who she was and who she loved.  Orlando doesn't hold back any harsh comments he made have heard through his own experiences over the years including, "Bisexual?  It just means you won't choose."  As if sexuality has sides.  Orlando and Rossmo put it all out there as J'Onn learns that Diane experienced a similar episode of pain and loss in her life.  While the experiences are dramatically different, the pain they share and the fact that they both had to restart their lives is not.  The new level of depth and emotion given to Diane Meade's character gives us someone else to root for and appreciate in J'Onn's life story, and we all needed that.
Later on in the issue, we get a chance to learn about and appreciate the real John Jones. If the first part of the issue shows how Diane can relate to J'Onn, his pain, and some of the experiences he faced, the second part shows how John Jones was a hero and an ordinary human.  John Jones is someone who could relate to person Martian Manhunter could be; the Martian Manhunter we know and love.  John Jones shows the power of second chances, but most importantly, shows kindness and compassion by intentionally giving Diane one.  Diane and John did not become partners by sheer luck.  John chose Diane for her work and record and chose to fight alongside her, the sign of a true partnership.
Orlando's writing is raw and personal, and the art matches these beats every step along the way. Riley Rossmo continues his stellar work on this serious by devoting a lot more attention to the textures and expressions in the panels the some of the background elements in some of the more Martian issues.  Even with a more rigid and formal panel layout, Rossmo still finds room to go wild.  Whether it be the body language from Diane, Carol, and John that give as much away about the relationships between them as do the words on the page, or the close-ups on plates of food that just say it all, is seamlessly exceptional and perfectly flawed.  Supplemented with Plascencia's phenomenal colors, it's clear that the entire team has an intimate knowledge of these characters.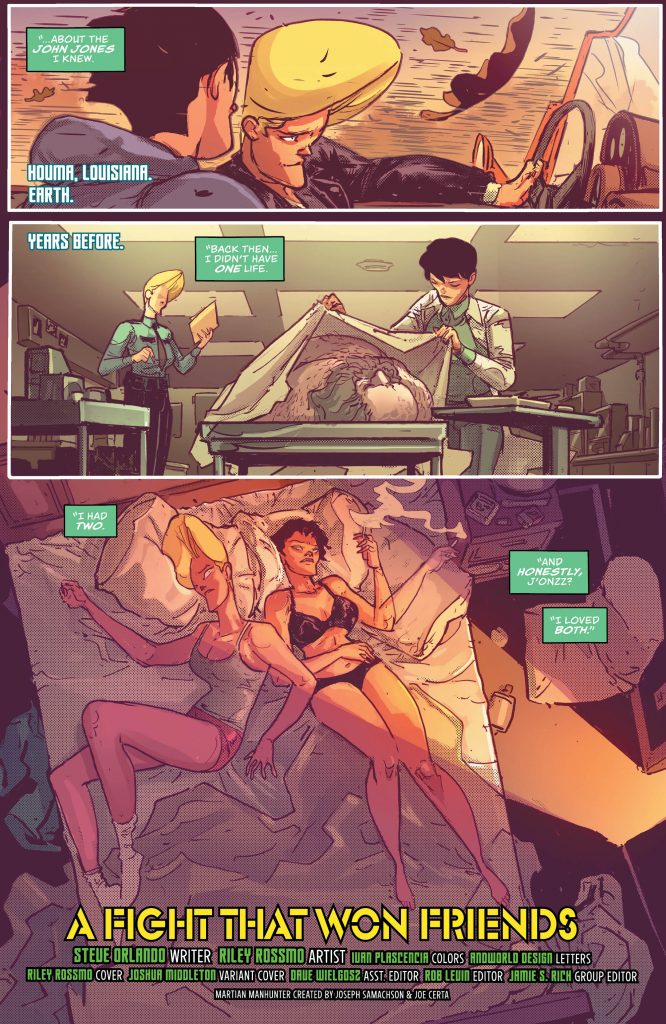 Negatives
No negatives here.  Martian Manhunter #8 perfectly captures the personal and emotional story of Diane Meade.
Verdict
With Orlando's raw and powerful script, Rossmo and Plascencia's gorgeous, evocative art, and Andworld Design's explosive and impactful lettering, Martian Manhunter #8 provides and intimate story for Diane Meade and John Jones while proving why the book is one of the best books at DC right now.