Review: TITANS 2×02 – "ROSE"
[Editor's Note: This review may contain spoilers]
Director: Carol Banker
Writers: Akiva Goldsman, Geoff Johns and Greg Walker
Starring: Brenton Thwaites, Anna Diop, Teagan Croft, Ryan Potter, Curran Walters, Conor Leslie, Minka Kelly, Alan Ritchson, Seamus Dever, Iain Glenn

Summary
Titans 2×02
– The Titans pick up another runaway stray. Hank and Dawn have adapted to a new life. Donna and Kory are on a stakeout.
Positives
If I'm Robin…then who are you? – Jason Todd.  "That's a great question!" – Dick Grayson.  And here we go….. Can someone get this man a Nightwing costume?
The tower is not in the shape of a T, but the same mission applies.  Easter Eggs are the theme with this episode as a true Teen Titans fan will not fall short in exploring the connections.  And we really get to see how much Dick must be adored by Bruce Wayne….a tower complete with a battle area and a surveillance van complete with all the bells and whistles.  Access to the Wayne checkbook is great!
Hank and Dawn are helping kids with addiction problems at a farm in Wyoming. Donna Troy and Kory Anders are staking out a minor villain.
I like that the titans are split into different segments for story telling purposes.  Duos and Trios among the entire team make for future rich story telling so the writers have that down pat!
Positives (continue)
Titans 2×02 does well in examining life after three months together.  This time jump allows the characters to both be training and a lot of inferences to be made or either gathered from comic canon.  Audiences will appreciate that the series consider them to be up to date on all things Titan!
Incidentally…silver hair…eye patch…if that is not a heavy handed alluding to Rose being related to Death Stroke, then what is?  We Are Family….Sister Sledge foreshadows really well here!
The fight seqences are great and lighted appropriately.  And Dove is best suited for the vigilante life, whether Hank/Hawk can deal with it or not.  I hope this doesn't foreshadow future conflict with them, but she's too good of a hero at this point to not mentor with Dick.
Dr. Light gets into the mix and as with all supervillains, this catalyst is a great reason to bring Hawk and Dove back into the fray with the rest of the Titans.  The cast is best when all are ensembled in one location, but the story telling and screen time can be a bit too much for the small screen.  The producers do a great job of putting all of this together!
Finally, I love Donna Troy.  She's an Amazon and a Jessica Jones figure all rolled into one!  She's the one we need when all purgatory will eventually break loose in the season!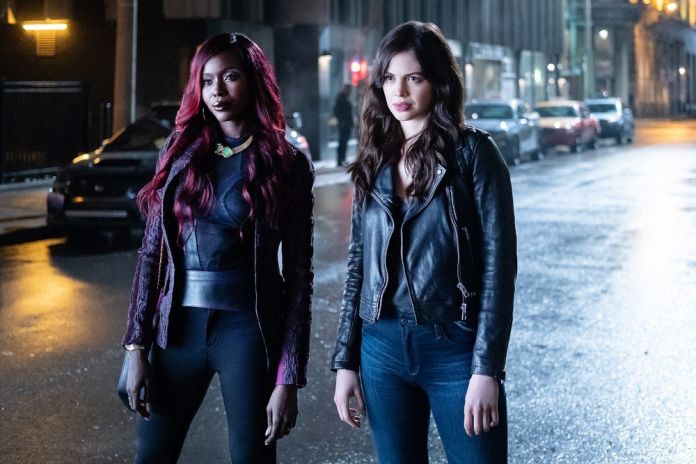 Negatives
The Shimmer battle is a bit cheesy, not in the CGI as I love the magic lasso being used, but in how casually they run into Shimmer on the street.  If you are a super villain, do you simply roam the streets like that…shimmering?
Batman…I'm not getting it!  Well…it appears we all are not getting it as he is an older Bruce Wayne which doesn't really fit into this time line.  Why does the world's greatest detective with an awesome cave sit at a laptop in his cavernous mansion?  Correct character traits for Bruce, but the producers need him to "cape up" once in a while!
Verdict
Titans are in for a long haul.  There is a lot of substance here to pull from in comic canon.  Dick is maturing into the leader we expect him to with touching base with Bruce.  And we need him to be as this team needs to be more relevant in the DC television landscape!