Review: Looney Tunes #251
[Editor's Note: This review may contain spoilers]
Writers: Arie Kaplan, Frank Strom Ivan Cohen
Artists: Leo Batic, Walter Carzon
Colors:  Silvana Brys, David Tanguay

Letters:  Gabriela Downie, Mike Sellers, Sal Cipriano
Reviewed by: Carl Bryan
Summary
Three Looney Tunes tales accompany this issue.  In Lights, Camera, Traction!   With his Road Runner documentary, a complete snoozefest, studio executive Throckmorton decides to consult a real expert to turn the show around before its big premiere. He's smart. He's enthusiastic. He's Wile E. Coyote. Brought on location to motivate the movie's star, the Road Runner, will Wile E. save the movie-or will he run it into the ground?
Speaking of a prospective movie star, in Talent for Disaster, Claude the Cat has been enlisted to aid Elmer Fudd rid his house of Hubie And Bertie.  But these two mice have an eye for talent and convince Claude that they must represent him in his quest to be a known thespian.  It's method acting over the top!

Finally in Everyone's a Critic,  Tweety and Sylvester are two movie critics who disagree on the direction of a film.  It's claws up and beaks down in this hilarious tale of a movie studio in a bit of disarray!
All the big names are dropping in on this issue of Looney Tunes.
Positives.
The writers of the Looney Tunes comics never fail to please in that they take topical subjects and apply their brand of "tongue in cheek" commentary.  Little kids get the jokes and the slapstick!  Older kids like the dry sense of humor.  So all in all, a family can trust this comic to always deliver.
All the egos are on display in each of the stories as Wile E Coyote, Claude the Cat and Sylvester are the comic foils in each of these tales.  If their heads were not so big, we could wrap ourselves around them more.  But as always, the Looney Tunes formula is built around this type of mayhem.  It is tried and true as we would not expect anything less!
Again, the art work is perfect as the formula of drawing these timeless characters is never strayed from!  We don't want it to be.  Some things should remain constant and Looney Tunes artwork is one of them!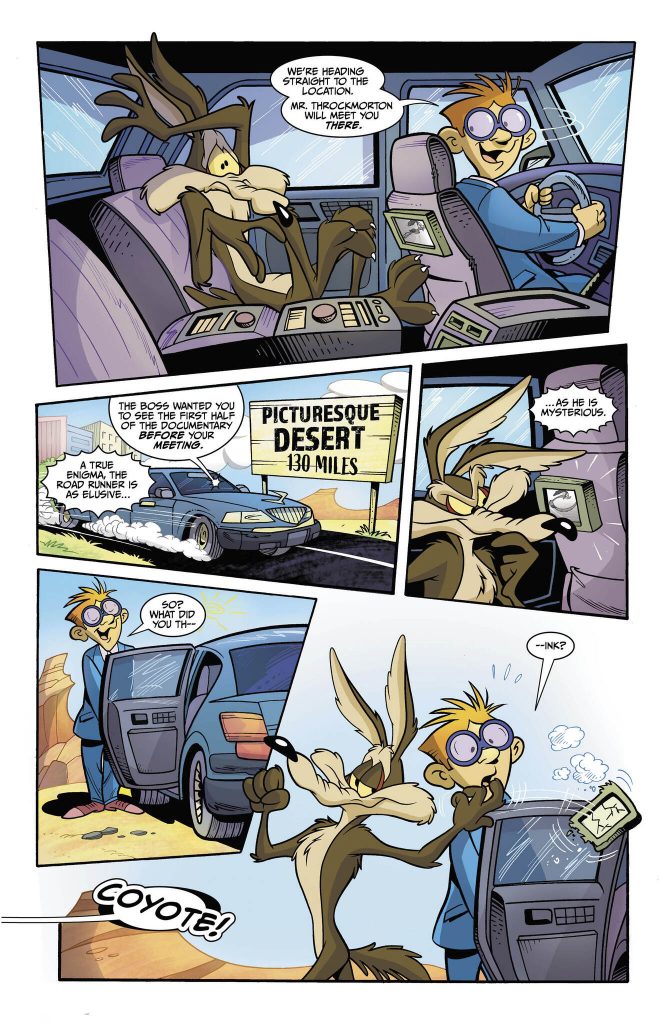 Negatives

None in this issue as all the commentary is dry and funny, and some lesser known characters have their fun in this issue as Claude the Cat and Hubie and Bertie have not been heard of in a while!
Verdict

If ego is the order of the day, then this comic fulfills.  Settle in with a bowl of cereal and pretend it's Saturday morning as you read this one!  Looney Tunes never fails to please!