Image Comics Review: SPAWN #301
[Editor's Note: This review may contain spoilers]
Writers:  Todd McFarlane, Scott Snyder
Artists: Todd McFarlane, Francesco Mattina, Greg Capullo,  Jason Shawn Alexander,  J. Scott Campbell, Jerome Opeña 
Letters: Tom Orzechowski
Colors: Fco Plascencia, John Rauch, Greg Menzie Jay Fotos, Peter Steigerwald, and Matt Hollingsworth  
Reviewed by: Carl Bryan
Summary
" At that same moment around the globe, a spark is triggered.  And a new breed of HellSpawn has been born!" – Narration in Spawn #301
TODD McFARLANE returns to pencil and ink SPAWN #301—with GREG CAPULLO, JASON SHAWN ALEXANDER, CLAYTON CRAIN, JEROME OPEÑA, and FRANCESCO MATTINA, and even more surprises to come in the record-breaking, longest-running creator-owned comic book in history!
Positives
The Todd Father, Todd McFarlane, enters into uncharted territory in Spawn #301 as it is now in the Guinness Book of World Records as the longest running Independent Comic.  And Spawn begins his new chapter with one of the biggest bangs ever…bringing both Clown and Godsend together as Spawn's Symbiote costume exploeds in the hands of the Clown.  And that blast is one heard around the world as six new HellSpawns are created. 
Most importantly, the power meter is reset at 0:0:0:0.  Does it click forward now, or are we to believe it is not an influence on any of these new Spawns? 
And what makes it interesting is , we only get scant portrait glimpses at these new additions to the Spawn mythos.  The She-Spawn….ultimately she looks like shades of Angela past (for those familiar with Angela and her ties to both Thor and Spawn). 
This  Fedora adorned Spawn with a cigarette hanging out of his mouth…. What a beginning. Todd knows what butters the bread and he acknowledges his readers!  Love the fact that he dedicated this one to Spawn Fans Everywhere!
The Cover homage…I'll let you explore online what Spidey cover and arguably what former Spawn cover issue #301 is paying homage to.  Todd has a body of work that compliments and provides the Easter Egg find to his fans.
Positives (even more accolades)
The big bang occurs and the book is divided into chapters. "Adversaries" explores how the mainstream media is treating Spawn.  Al Simmons…superhero…reincarnated war hero…thorn in the side of Heaven and Hell.  And Al Simmons…he is giving grief to evil around him.  He's serving warning to those that cross him. 
In "Arsenal"  – a remnant of his symbiote costume remains after the explosion and Al is trying to grow it as he knows he needs access to what the costume provided even though he has new powers.  He's a bit reticent in that he has brought things this far in his war, and he begins to accumulate weapons to bring to the battle.  Spawn confronts one of the new Hell Spawn in that this horned creature can be both stronger than Spawn, but as thin as a vapor to pass right through.  He warns Spawn that Heaven and Hell are not the only players in the game now as Spawn's actions have brought out new players that could unleash horrors yet to be seen.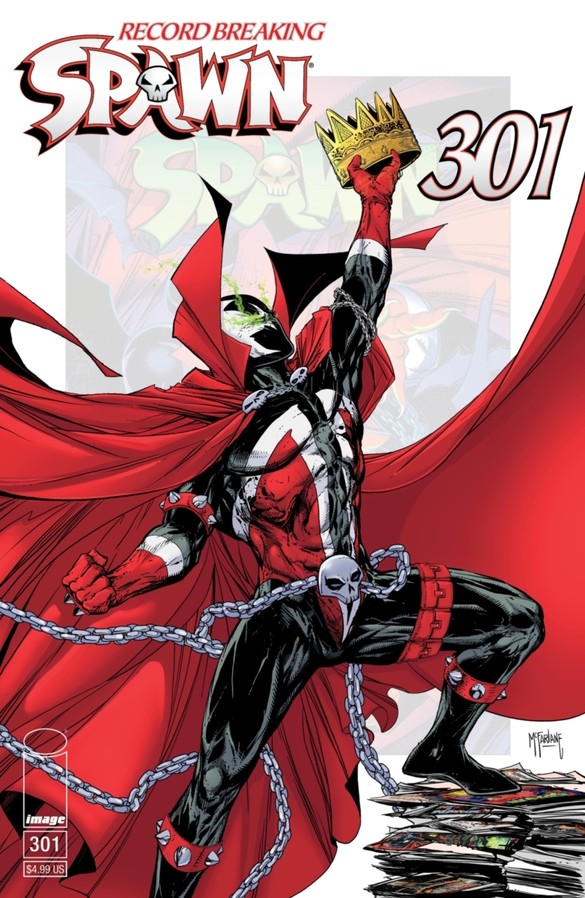 "Brotherhood" explores Greg who is on a six year search for his brother, only to find out he is now part of the Spawn's resurrected Blood Gang.  Things don't end on a good note for these brothers!
"Sacrifice" provides that sometimes you have to give some to get some.  McFarlane introduces a new Spawn to the mix that arguably isn't part of the new Hell Spawn that was introduced in the earlier pages. Never has such an array of Spawns been in one issue.  McFarlane shows that his vision is on the long game with this issue and he succeeds as these Hell Spawns paths will cross in a myriad of different ways!  Let the war begin!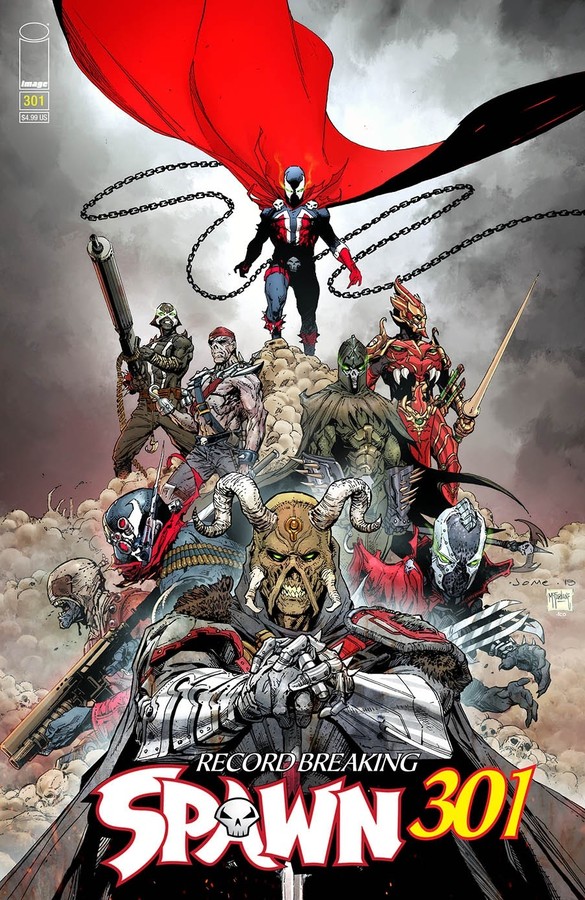 Negatives
Why can't we have this creative team together ALL the time?  This issue will spoil you if you are a McFarlane fan, a Spawn fan, a Capullo fan, a Snyder fan… you get the picture!  These past two issues have been a fan's dream.  And I hope #302 will continue to take Spawn to the top of the comic pile!
Verdict
Okay…now is the time where you go to the internet and buy all the Spawn comics #1 – #300.  Seriously…where in your lifetime do you have the opportunity to see a character evolve like this?   This issue of Spawn turns a HUGE corner and creates a new landscape for Al Simmons.  The only thing missing is Wanda…or is she?