Review: SPAWN #302
[Editor's Note: This review may contain spoilers]
Writers:  Todd McFarlane,
Artists:   Jason Shawn Alexander, 
Letters: Tom Orzechowski
Colors:  Greg Menzie and Peter Steigerwald
Reviewed by: Carl Bryan
Summary
" Sorry for my friends's rude behavior.  They won't bother you again." – Note left by Spawn/Al Simmons after he decimates a duo of bad guys in a diner
"HELL HUNT," Part One In the aftermath of the record-setting SPAWN #300 and #301, new heroes—The Reaper and Jessica Priest: She-Spawn—join Spawn's war against the forces of Heaven and Hell. The next evolution in the mythology and power of the Hellspawn begins NOW. THE HUNT IS ON


Positives
Todd McFarlane now moves into uncharted territory as all the celebrations have ended over the historic issues #300 and #301.  And I have to admit, McFarlane has set the bar or rather the meter very high!  Spawn's meter has crept up (???) to 0007.  This is a reverse from the traditional Spawn as the meter crept downward, so did Spawn exhaust his powers.  But now that the meter hit 0000 in prior issues, Al Simmons is on the power surge.  Albeit it is very slow.
So any attack from an enemy can be quite fatal, but Spawn has unleashed some new powers that have been assimilated by some others in his world.  And I have to say, I like have a universe with some new incarnations of Spawn happening at the same time in Al Simmons' timeline.  And I like that Al can take the form of his symbiote costume or his natural Al Simmons form.  And I don't think Heaven nor Hell likes it when he is in either.
Spawn has gone full vigilante, but as Jessica Priest (aka She-Spawn) indicates to him "Somethings happening with your powers Al – and it s affecting more than just you!"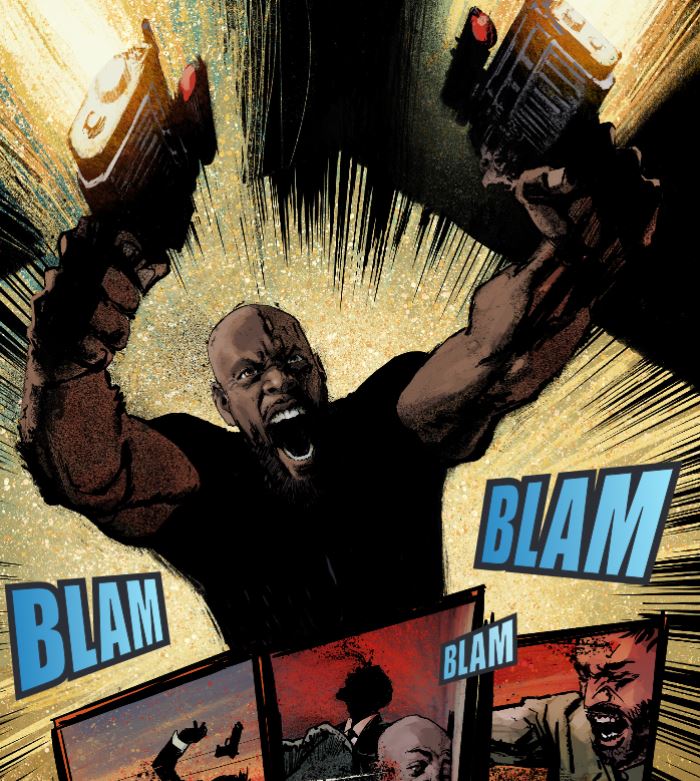 Positives (even more accolades)
I'm smelling some spinoff issues.  There is no way that She Spawn is not going to have her own series.  Mcfarlane and company have answered the call with a wonderfully drawn Jessica Priest (part Black Widow/Part everything you always wanted in a Spawn alter ego, and She-Spawn  – a motorcycle vigilante with a head full of red hair and a Spawn mask to boot!
Hell and the Violator doesn't like that Al's powers have been redistributed to others.  And the battle that ensues between Jessica and the Violator is pretty intense!  Thanks Jason Shawn Alexander for the black and white pencils!  Great touch!
Accolades for Tom Orzechowski
Tom Orzechowski has lettered every single issue of this book since its inception (except for issue #44).  BRAVO!

Negatives
The story is cut very short in this issue as the latter pages promote a new Image comic Killadelphia.  I get it in that Independent houses such as Image have to get their readers hooked in by using their mainstay comics, but come on!  You spoiled me with Issues 300 and 301 and we only get so much of Al and Jessica in this one!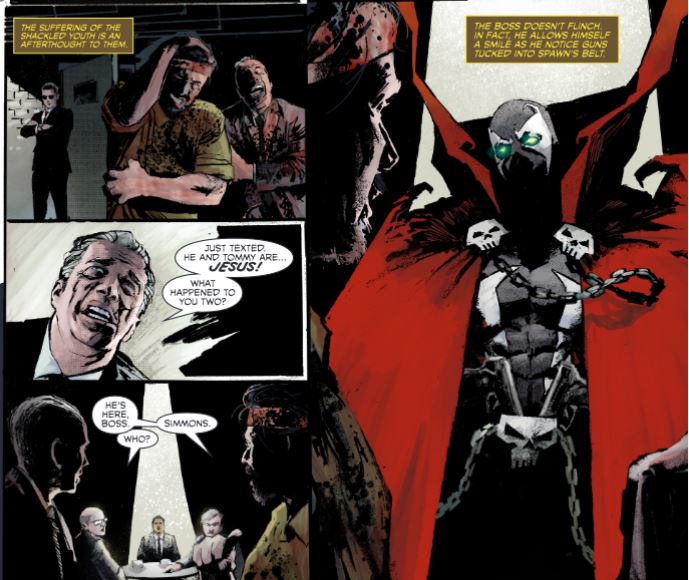 Verdict
I'm in!  I'm so in for the next billion issues of Spawn.  And the Todd Father has played us like a fiddle.  Who can't be along with this journey as others with Spawn powers are in the mix?  It's like the four Supermen that appeared after Superman died.  But these are so much darker!