Review: BATMAN #83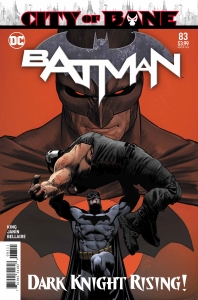 [Editor's Note: This review may contain spoilers]
Writer: Tom King
Artist: Mikel Janin
Colours: Jordie Bellaire
Letters: Clayton Cowles
Reviewed By: Derek McNeil
Summary
Batman #83: It's chapter nine of "City of Bane," and it's time for a reckoning in Gotham City! Thomas Wayne has joined forces with Bane, and that alliance threatens to throw a monkey wrench into Batman's plans. And as Bane's evil army begins to crumble, the Caped Crusader must face the real force behind it all. As the end of this epic tale grows near, Batman and his allies have a choice: let Bane stay in power and guarantee the city's survival, or risk everything to break free!
Positives
Batman #83 starts with an emotional punch to the gut. After having his fight with Bane interrupted last issue, Bruce awakens to a recording of Alfred reciting a poem. As he becomes aware of his surroundings, he finds he is sharing the room with Alfred's body.
This is where Bruce learns about Alfred's death, which readers saw back in issue #77. In this sequence we see that the Batman is ultimately human. The ersatz Batman has set this revelation up to happen in the most painful and cruel manner possible, which breaks through Bruce's emotional barriers.
Alfred was not just not butler to Batman. He was so much more: assistant, medic, friend, confidant, mentor, and most importantly, Alfred was the man who raised Bruce after the deaths of Thomas and Martha Wayne. Perhaps out of respect for the memory of the Waynes, they didn't commonly address each other as parent and child. But Alfred essentially was Bruce's father.
I was somewhat surprised to find that Alfred really is dead, given that Bruce had earlier told Selina that Alfred had informed him that he had gotten safely away from the Flashpoint Thomas Wayne. Plus, we had also learned that Clayface had been acting as an agent of Batman in Bane's Gotham. Clayface could have easily been posing as Alfred to fake his death.
Positives Cont.
But it turns out that this was a double bluff on King's behalf. These weren't really hints that Alfred was okay. Instead they allowed for Bruce to continue thinking that Alfred was still alive until this issue. The recording of Alfred informs us that he lied to Bruce about having gotten to safety.
Because of this, despite seeing Alfred actually die several issues ago, it still hits us as if it just happened. King extended hope and now he has pulled that hope away. But Alfred informs us that there is hope: "And so you must ask? Why the lie? The is as you might suspect. I am again putting my ideal above my current need. I choose not to be an instrument of your downfall but to be a cause of your salvation. I will die here. I choose to die here. There is such joy in you, Master Bruce. I know who you can become. I have seen it. And, no matter the consequences, I will not allow anyone to break you. I will not be there, but there is a day coming when you shall smile again."
King has posed the question of whether Bruce can be happy and still be the Batman. The idea that he couldn't is why Selina left him at the altar. But Alfred eloquently puts forth the opinion that Bruce can and will be happy. He also affirms that Bruce's life of Batman is worthy of living, "But there are good lives. And you my son, are living one. Your parents would be so very proud of you. What is more, Master Bruce. I am very proud of you."
Positives Cont.
The primary hallmark of the Rebirth era is that the DCU is in a struggle between hope and depair, good and evil, Justice and Doom. Although Alfred's death seems a reason to give into despair, Alfred gives us a final ringing affirmation of hope.
And Bruce takes that affirmation as he goes on to face his father's doppelganger. When Thomas Wayne asks, "Is that enough? Will you finally stop? Is it done?!".
Bruce simply replies, "It's never done."
King has garnered a reputation for writing depressing stories that kill beloved characters. This is certainly a bleak story and we do indeed lose a beloved character, but there is a strong note of hope at the centre. Hopefully, Bruce will take his adoptive father's optimism to heart as he processes his grief.
I also have to commend Mikel Janin's artwork for this landmark issue. He has managed to masterfully capture Batman's anger and grief as he reacts
Negatives
It's hard to see Alfred's passing as anything but a negative. However, King has used it to incredible effect to produce a touching turning point in the Batman mythos. This is a hefty price, but hopefully this will motivate Bruce to honour Alfred's memory by allowing himself a measure of happiness while continuing his crimefighting career.
Verdict
In an interview, Tom King claimed that he was going to do "something no one's ever seen for the character. It's something that's going to change the character for a generation, or maybe more. Maybe forever." And with Batman #83, he has delivered on this promise. The question now is where does the Batman go from here?